In this Post, I am going to review about 3CX Phone System , which is VMware Ready and Windows server 2012 certified status. In this modern datacenter era, need of physical hardware for your workload is reduced a lot due to the benefits of Server Virtualization. 3CX is the developer of 3CX Phone System which is an open standard unified communications platform for Windows that works with standard SIP phones and replaces any proprietary PBX. 3CX Phone System is more manageable than standard PBX systems and delivers substantial cost savings while increasing productivity. Some of the world's leading companies and organizations use 3CX Phone System, including Boeing, Mitsubishi Motors, Intercontinental Hotels & Resorts, Harley Davidson, City of Vienna and Pepsi. 3CX Phone is not an vAap. It is a software installer and it can be installed on Windows machines either on Physical server or Virtual Server. VMware vSphere 5.x and above is a supported virtualization platform, but you can also use Hyper-V. Even a 3CX Phone System can be found within the online VMware Solution Exchange (VSX).
Virtualize your PBX Solution

3CX Phone System is available in three different editions – Free, Standard and Pro! 3CX technical support is available via their support portal for 3CX Partners (free) or with a 3CX Support package (Extra charge).  You can  compare various features available with all 3 editions in edition comparison page. One big advantage is it's software only which reduced time to benefit because it differs from the traditional model using hardware. Inexpensive to expand and easy to install & manage. When I'm talking about installations and management 3CX is performing well in this category. Because 3CX runs on Windows, it is easily installed and managed by Windows IT administrators without the need for special telecom or Linux skills. It's preconfigured to work with popular IP Phones, VoIP Gateways and SIP trunks.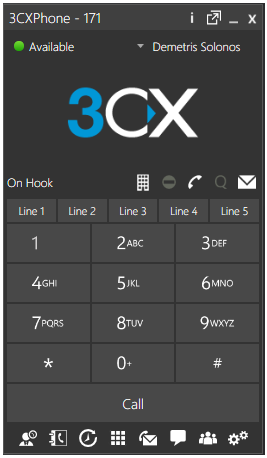 3CX Phone System is a IP Phone System for Windows that runs virtually on VMware, allowing companies to rid themselves from proprietary black boxes and consolidate their telecoms infrastructure onto their VMware platforms.A software based PBX & Unified communications platform that allows a company to replace a traditional proprietary hardware PBX and virtualize the PBX on VMware. The server part collaborates with clients which can be either software based phones (Windows, Mac, Android and iOS) or hardware based IP phones (snom, Yealink, Fanvil, Htec). The architecture is completed by a VoIP/PSTN gateway which connects to traditional phones, in addition to IP based phones.The SIP protocol, which is the main protocol used as a communication channel, allows the SIP clients to register with the server and make the receiving and transmitting of the communication possible.
Take your Extension Anywhere:
3CX includes clients for smartphones and Mac or Windows laptops that allow users to use their office extension from anywhere, seamlessly integrated as if they were in the office. Not only are all calls to the office free of charge, but employees can leverage one single number and make a professional impression.
Reduce your Telephone Bills and Increase Sales:
With 3CX, companies can reduce their telephone costs by up to 80%, by leveraging SIP trunks, WebRTC, free calling to remote extensions and offices and reducing the number of rented fixed telephony lines. With the CRM integration agents get a customer name rather than a number.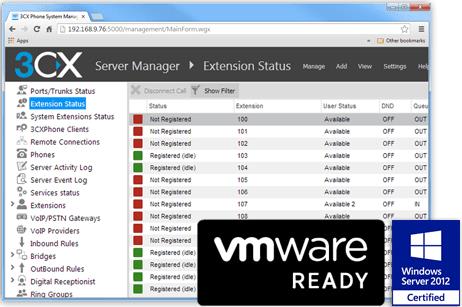 Evaluate the 3CX phone on your Virtualized Platform:
Download the VoIP IP PBX for Windows 3CX Phone System and take advantage of all the advanced features it has to offer you. Take your VoIP IP PBX to the next level with 3CX and take your extension with you anywhere with smartphone and laptop clients. Attend face-to-face conferences with the integrated web conferencing.
Don't delay, Download the free version of 3CX Phone System and evaluate on your VMware Virtualized platform. Be proactive and virtualize your PBX solution to save your organization call costs and operational costs.I hope this is informative for you.  Thanks for Reading!!!. Be Social and share it social media, if you feel worth sharing it.