This post was real surprise for me. I never know that we can access the ESXi host Direct Console User Interface (DCUI) using SSH such as Putty. Today, I just come to know from the trainer on the vSphere Design Workshop training session. It was surprising for me but I was thinking what will be the use case of accessing DCUI using SSH. DCUI will be mostly useful when you are performing initial configuration after your ESXi host install and also during the situation when your ESXi host is not reachable in the network. I found one main use case of accessing DCUI using SSH is to restart the management agents of ESXi host who are not aware to restart the management agents using command line and also to view the system logs.
Before accessing the DCUI via SSH session, it is important to note that making any changes to network settings may lead to management issues through vCenter Server, vSphere Client or SSH. Networking changes should only be made through a console session (for example through DRAC, iLO, KVM) to avoid host management issues. Changing network settings using this command may make the host unusable and can necessitate a reboot to recover.
How to Access the ESXi host DCUI using SSH
Connect to your ESXi host using Putty and type the below command
dcui

You will get the DCUI screen using putty as exactly as same as the DCUI accessed using your console connections such as ILO or DRAC.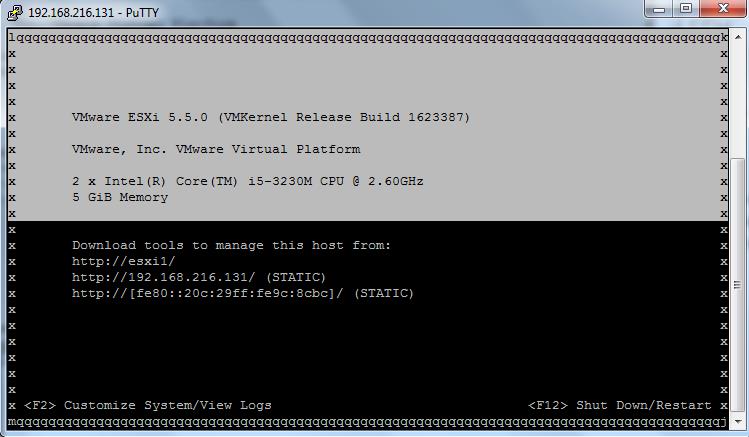 That's it. I hope this is informative for you. Thanks for Reading!!!. Be Social and share it in social media ,if you feel worth sharing it.