Farms simplify the task of managing RDS hosts, RDS desktops, and applications in an enterprise. You can create manual or automated farms to serve groups of users that vary in size or have different desktop or application requirements. A manual farm consists of RDS hosts that already exist. The RDS hosts can be physical or virtual machines. You manually add the RDS hosts when you create the farm. An automated farm consists of RDS host that are linked-clone virtual machines in vCenter Server. View Composer creates the virtual machines based on the parameters that you specify when you create the farm. The virtual machines are cloned from a single parent virtual machine and are linked to the parent in a mechanism that reduces the amount of storage that the virtual machines require. When you create an application pool or an RDS desktop pool, you must specify one and only one farm. The RDS hosts in a farm can host RDS desktops, applications, or both. A farm can support at most one RDS desktop pool, but it can support multiple application pools. A farm can support both types of pools simultaneously. This post helps you with the procedure for creating Remote Desktop Session host farm from Horizon View administrator console.
Creating Remote Desktop Session Host Farm
Logon to View Administrator, https://<View-Connection server IP or Hostname>/admin. Under Inventory, expand Resources and click Add under Farms.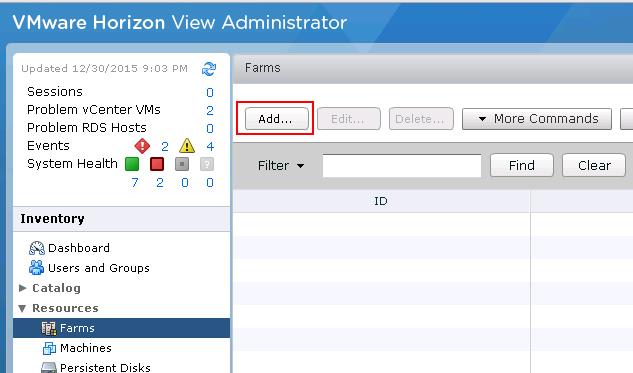 Enter the Name for the Farm in the ID field and Configure the Farm settings like ( Display protocol, session timeout, log off disconnected sessions, etc) as per your organization needs and click on Next.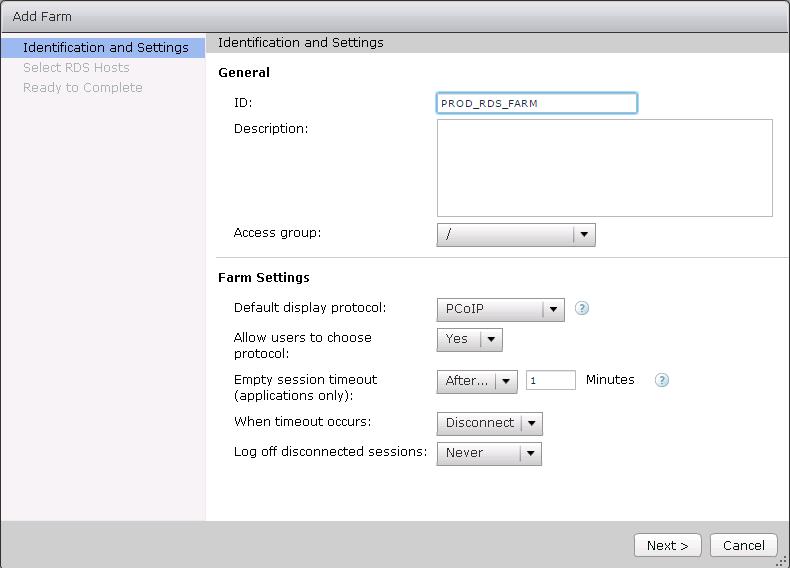 Select the Remote desktop session (RDS) hosts which we have prepared in the previous steps. Select the Hosts under the RDS hosts list and click on Next.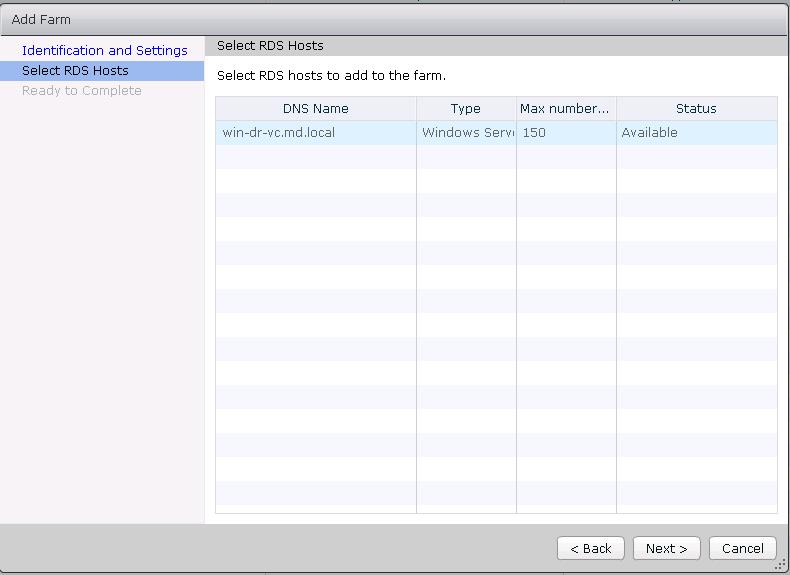 Review the Farm settings and click on Finish to create the Farm in Horizon view.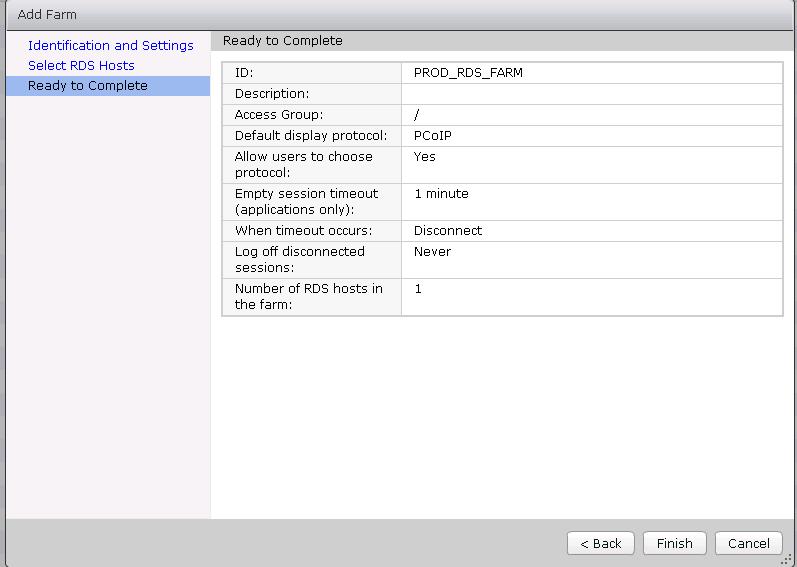 Once you created the Farm, you will be able to see the created Farm under Forms in VMware Horizon View administrator console.

That's it. We are done with the creation of the Farms in the horizon view. We will discuss in detail about configuring application pools in horizon view in upcoming posts. I hope this is informative for you. Thanks for Reading!!!. Be social and share it in social media, if you feel worth sharing it.
Horizon View 6 Related Articles:
VMware VDI – Horizon View Overview & Components
VMware Horizon 6 – Install View Connection Server
VMware Horizon 6.x – View Composer Installation
Create ODBC Connection for VMware Horizon View Composer Installation
Horizon view licensing – Overview and Configuration
Configuring VMware Horizon View Administrartor – Virtual Desktop Infrastructure
Configuring VMware Horizon View Event Database
VMware View Agent Download and Install on Win7 Master Image
Understanding VMware Virtual Desktop Pools – Horizon View 6
Creating Manual Desktop Pool -VMware Horizon View 6.x
Creating Linked Clone Desktop Pools in VMware Horizon View 6.X
Install Remote Desktop Session Host to Setup RDS Host Farm in Horizon View
VMware View Agent Installation on Remote Desktop Session Host
Creating Remote Desktop Session Host Farm in VMware Horizon View
Creating RDS Hosted application pools in VMware Horizon View