VMware vSphere 6.5 released with a lot of coolest features and increased configuration maximum as compared to vSphere 6.0. With the release of vSphere 6.5, VMware added lot more features such as vCenter Native HA and embedded Update Manager with vCenter Server Appliance as compared to the Windows version of vCenter Server. In addition to vSphere 6.5, VMware released vSphere 6.5 Update 1  on 27-July-2017 with little more enhancements and fixes for the issues. Providing differences between vSphere versions is one of the famous article styles of VMwareArena. In this article, I am going provide you with the key difference between  VMware vSphere 6.0 & vSphere 6.5 in simplest tabular form.
Some of the Popular Comparision articles of VMWareArena
Difference between vSphere 5.0, 5.1, 5.5 and vSphere 6.0
Difference Between vSphere 5.1 and vSphere 5.5
Difference between VMware ESX and ESXi
Difference between Standard Switch and Distributed switch
Difference between ESX 3.5 and ESX 4.0
Difference between vSphere 4.1 and vSphere 5
Difference Between vCenter Server Appliance 5.5 and vCenter Server 5.5 on Windows
Difference Between VMFS 3 and VMFS 5
Difference between Upgraded VMFS 5 and Newly created VMFS 5
Difference Between Clone And Template
Difference between VMware vSphere 6.0 & vSphere 6.5
Below comparison table with the difference between VMware vSphere 6.0 & vSphere 6.5 shows only the considerable changes between the 2 vSphere releases. There are a lot of configuration maximums which are similar in both vSphere 6.0 & vSphere 6.5. I didn't include that in the below table.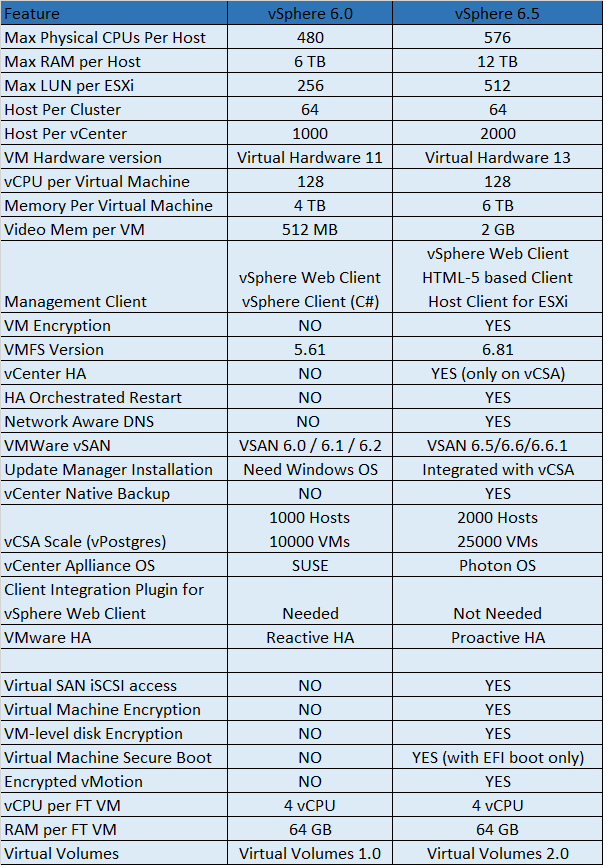 I hope this article which explains the key difference between VMWare vSphere 6.0 & vSphere 6.5 will be informative for you. Thanks for Reading !!! BE social and share it with social media, if you feel worth sharing it.
vSphere 6.5 Blog posts:
What's New with VMware vSphere 6.5?
vSphere 6.5 -What's New with vCenter 6.5?
What's New with Virtual SAN 6.5? – New Features Overview
vSphere 6.5 -What's New with vSphere 6.5 HA & DRS
vSphere 6.5 – What's is in VMware vSphere 6.5 Fault Tolerance?
Download VMware vSphere 6.5 – Get your Copy to Evaluate!!!
vSphere 6.5 – Deploying vCenter appliance 6.5
Deploying vCenter 6.5 External Platform Services Controller
Deploying vCenter Server appliance 6.5 with External PSC
vSphere 6.5 – Configuring vCenter Server 6.5 HA
vSphere 6.5 – vCenter 6.5 Native HA Failover Testing
vSphere 6.5 Configuration Maximums – What's New?
vSphere 6.5 – How VM's are Secured using vSphere 6.5 Security Features?
Migrate Windows vCenter Server 6.0 to vCenter Server appliance 6.5
vCenter Server Appliance 6.5 Posts
The Ultimate Revelation Of Reset VCSA 6.5 Root Password in 60 seconds
6 Basic Commands to Interact with VCSA 6.5 Embedded VPostgres Database
6 Tips for Configuring Firewall To Manage VCSA 6.5 Postgres Database Remotely You Can Learn From VMwareArena
How to Connect VCSA 6.5 Embedded Postgres Database using pgAdmin (With GUI) -VMware Unsupported
WinSCP Connection to VCSA failed – "Received too large SFTP packet"
How to Backup vCenter Appliance 6.5 Embedded Postgres Database
How to Monitor vCenter Server Appliance 6.5 performance using vimtop
Become an Expert on vCenter Server appliance Log File Location in 120 seconds
How to Backup And Restore VCSA 6.5 – The Ultimate Cheatsheet
How to Join VCSA 6.5 to Active Directory Domain from Web Client
How to Configure Active Directory Authentication for vCenter Server 6.5