VMware vRealize Log lnsight delivers heterogeneous and highly scalable log management solutions. Integrating Log Insight with multiple VMware Products such as vSphere Integration and other products such as VMware NSX, VMware vRealize Operations, VMware VSAN is important to collect the logs and events on that. Install and configure the vRealize Log Insight Content Pack for NSX for vSphere for log visualization and alerting of the NSX for vSphere real-time operation. You can use the NSX-vSphere dashboards to monitor logs about installation and configuration, and about virtual networking services.
The NSX for vSphere Log Insight Content Pack provides powerful operational reporting and alerting visibility for all sources of log data within NSX. Each major NSX functions (logical switching, routing, distributed firewalls, VXLAN gateways, and edge services) are represented within this content pack via custom dashboards, filters, and alerts. This graphically rich, content pack is essential for analyzing and identifying NSX configuration, performance, security and trend related problems. In this article, I will explain the detailed procedure to install vRealize Log Insight Content Pack for NSX.
Install vRealize Log Insight Content Pack for NSX
To Install the Log Insight Content pack for NSX, Login to the vRealize Log Insight user interface using the web browser https://<name or IP of LogInsight>. Click on Admin option -> Select Content Packs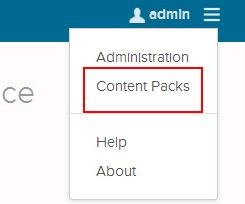 Under Content Pack Marketplace, Select Marketplace, In the list of content packs, locate the VMware-NSX vSphere content pack and click on it to start the installation. This option works only, when your Log Insight server has access to internet. If you don't have internet to log insight server, You need to install the Log Insight content pack for NSX in the offline method.
Download the Content pack for NSX from the VMware solution Exchange and save the vlcp file in the local directory. Click on Import Content Pack option to import the Log insight content pack for NSX in offline installation.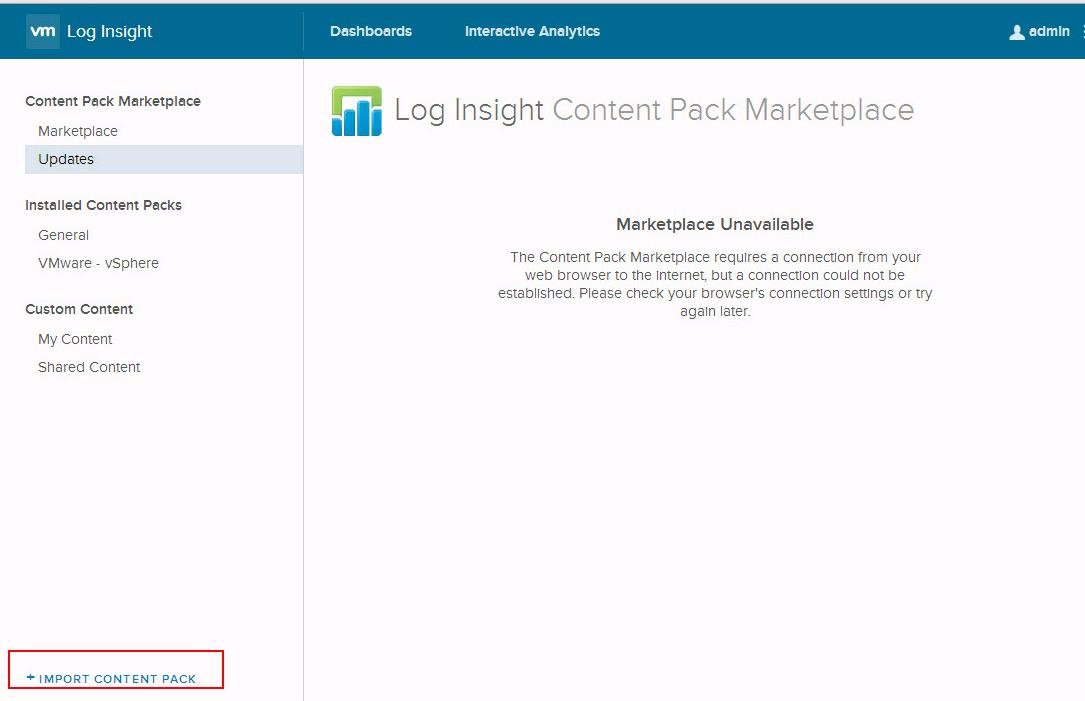 Select the option "Install as Content Pack" and click on Browse to select the content pack location.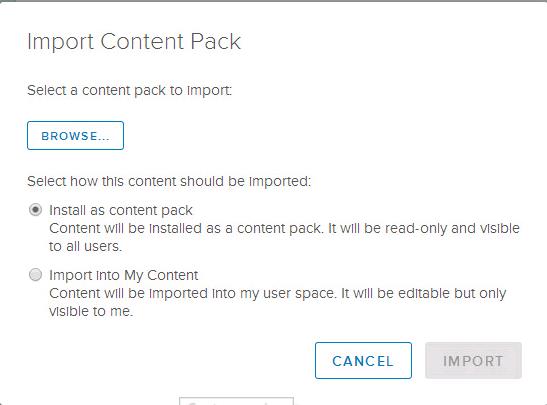 Select Log insight content pack for NSX, which is in .vlcp format. Click on Import option.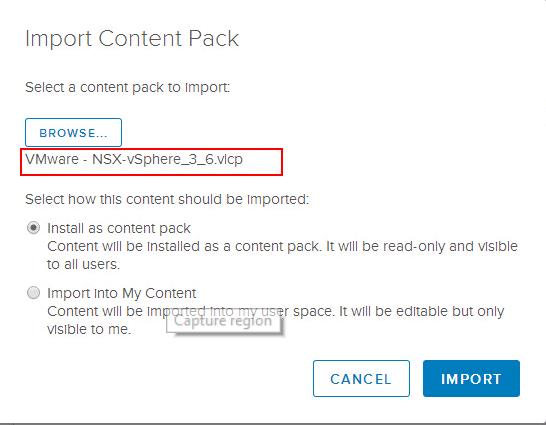 Review the VMware-NSX-vSphere setup instructions to forward all logging components such as NSX Manager, NSX Controllers and NSX edge devices. Click on Ok to start the import.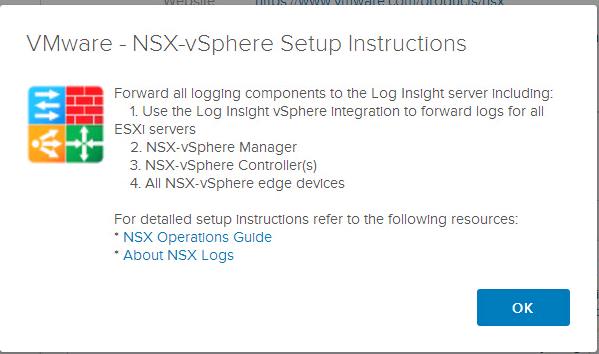 Once the installation is complete, the VMware – NSX-vSphere content pack appears in the installed content list in the left side of the Log insight portal. Click on VMware -NSX-vSphere to browse towards the Log insight Content pack for NSX.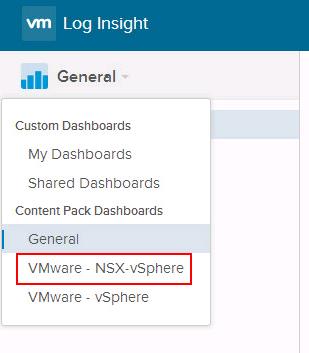 You can monitor the logs and events related to NSX under VMware-NSX-vSphere Content pack dashboards. Before that you need to configure the NSX Manager for the management cluster and the NSX Manager for the shared edge and compute cluster to send audit logs and system events to vRealize Log Insight. I will explain the procedure in upcoming posts.
That's it. We are done with installing the Log Insight content pack for NSX. I hope this article is informative for you. Thanks for Reading!!. Be social and share it in social media, if you feel worth sharing it.