Data is very much essential for running any business smoothly. Ensuring availability and recoverability of data is  also most important for any organization. Every organization should be having some sort of backup mechanism to make a copy of important data and also ensures it to be reused to avoid the data loss ,when there is disk or server failure happens. Backup's are important aspect of infrastructure to run to business incase of data loss due to server crash, hard disk failure and also in disaster situations.
Backing up important data is one of the disaster recovery practice. In this Modern cloud era, most of organization moved their workloads into virtualization environment.  The way servers were backed up in traditional physical servers is completed changed when they are running in virtual environment such as VMware vSphere or Microsoft Hyper-V.  No need to install any backup agents in the servers to backed up in virtual environment. Take a look at my article which compares VMware vSphere vS Microsoft Hyper-V
Not many of the small scale environment can afford for the backup of their virtual machines. Not to worry. There are many free backup software's are available to backup virtual machines with very good features. I am going to list some of the Top 5 best free backup software for virtual machines running in VMWare vSphere  and Microsoft Hyper-V.  Order listed here may not have any preference of  1 or 2 or any order. I have explained some of the important features of each of the free backup software in a infographics style for better understanding.. This order purely based on my views.
Veeam Backup Free Edition (VeeamZIP)
Veeam has pioneered a new market of Availability for the Always-On Enterprise by helping organizations meet recovery time and point objectives (RTPO) of less than 15 minutes for all applications and data.
Veeam Backup, master in the virtualization backup industry offers it's free version of  Virtual machine backup called "Veeam Backup Free Edition" for both VMware vSphere and Microsoft Hyper-V virtual machines. Veeam Backup Free Edition is a must-have FREE tool for ad-hoc virtual machine (VM) backup, restore and management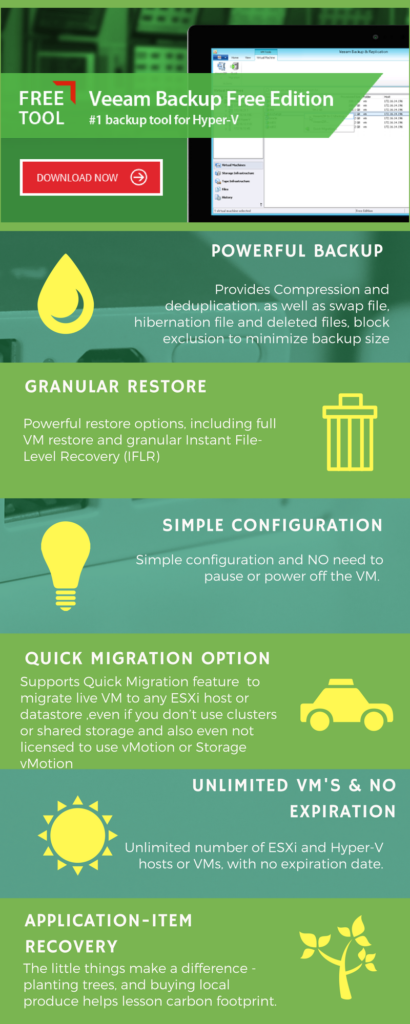 Veeam Backup Free Edition is the perfect solution because it provides handful of Backup features for Virtual machines in both VMware vSphere and also for Microsoft Hyper-V
Unlimited number of ESXi and Hyper-V hosts or VMs, with no expiration date
Clone, copy, export and manage virtual machines in both VMware vSphere and Microsoft Hyper-V.
Simple configuration and NO need to pause or power off the VM.
Provides Compression and deduplication, as well as swap file, hibernation file and deleted files, block exclusion to minimize backup size
Powerful restore options, including full VM restore and granular Instant File-Level Recovery (IFLR)
Supports Quick Migration feature  to migrate live VM to any ESXi host or datastore ,even if you don't use clusters or shared storage and also even not licensed to use vMotion or Storage vMotion
Export VMs without downtime on Hyper‑V
Provides powerful file management capabilities
Support for VMware vCloud Director
Supports Direct Restore to Microsoft Azure
Provides Application-item recovery and eDiscovery such as SharePoint, Exchange , Active Directory, Microsoft SQL explorers, it has standard Veeam Explorers built in, meaning you can restore the individual objects from the backup.
Vembu BDR Suite Free Edition
Vembu backup offers Vembu BDR Suite simplifies Backup, Recovery and Disaster Recovery at affordable pricing thus empowering small businesses with an enterprise level product. The products under Vembu BDR Suite caters to all types of requirements of a small and medium businesses varying from simple IT setup to complex & sophisticated  data centers in varied IT environments. Vembu BDR Suite  is designed for diverse environments like VMware vSphere, Microsoft Hyper-V, Windows, Linux and Mac. Since the companies are moving towards hybrid deployments, Vembu BDR Suite also provides flexible deployment options like offsite, cloud, on-premise and hybrid cloud.
Vembu Backup also offer Free Version of backup software called "Vembu BDR Suite Free Edition"  which offers Backup and Recovery for both virtual and physical environments forever with no costs involved. With agentless backups for virtual environments, multiple recovery options, in-house file system for efficient storage management and secured data transmission, Vembu BDR Suite presents a free edition software which is best suited for all types of businesses who wish to experience the simple and comprehensive backup and recovery solution.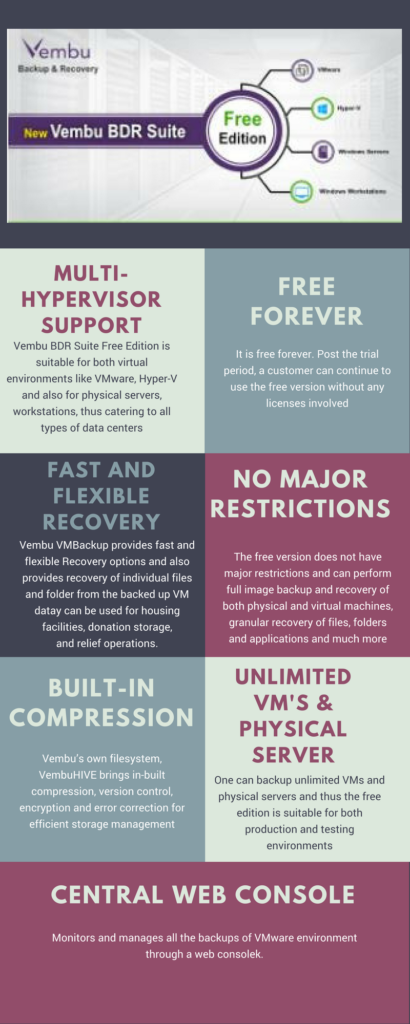 Vembu BDR Suite Free Edition is suitable for both virtual environments like VMware, Hyper-V and also for physical servers, workstations, thus catering to all types of data centers
It is free forever. Post the trial period, a customer can continue to use the free version without any licenses involved
The free version does not have major restrictions and can perform full image backup and recovery of both physical and virtual machines, granular recovery of files, folders and applications and much more
Vembu's own filesystem, VembuHIVE brings in-built compression, version control, encryption and error correction for efficient storage management
One can backup unlimited VMs and physical servers and thus the free edition is suitable for both production and testing environments
Unitrends Backup Free Edition
Unitrends increases uptime, productivity and confidence in a world in which IT professionals must do more with less. Unitrends leverages high-availability hardware and software engineering, cloud economics, enterprise power with consumer-grade design, and customer-obsessed support to natively provide all-in-one enterprise backup and continuity. The result is a "one throat to choke" set of offerings that allow our customers to focus on their business rather than backup.
Unitrends delivers all-in-one backup and more confidence in recovery for IT pros.  Unitrends  also offers Free version of Unitrends backup free edition which protects up to 1 TB of your Hyper-V or VMware virtual machines without limitations on number of VMs or sockets.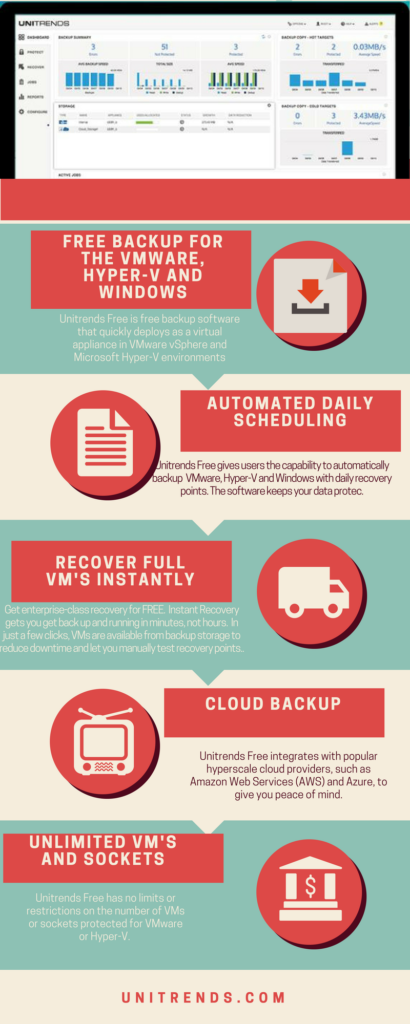 Free Backup for the VMware, Hyper-V and Windows
Automated Daily Scheduling for Your Virtual and Physical Server Backups
Recover Full VMs Instantly
Unitrends Free integrates with popular hyperscale cloud providers, such as Amazon Web Services (AWS) and Azure
Unitrends Free has no limits or restrictions on the number of VMs or sockets protected for VMware or Hyper-V.
Nakivo Free VM Backup and Replication

 
NAKIVO develops a fast, reliable, and affordable data protection solution for VMware, Hyper-V, and cloud environments. Over 10,000 companies are using NAKIVO Backup & Replication to protect and recover their data more efficiently and cost effectively, while over 140 hosting, managed, and cloud services providers are using NAKIVO's software to deliver VM BaaS and DRaaS to their customers.With NAKIVO Backup & Replication, you can increase VMware backup performance, improve backup reliability, speed up recovery, and, as a result, save time and money. Nakivo also offers Free VM Backup and Replication for VMware & Hyper-V.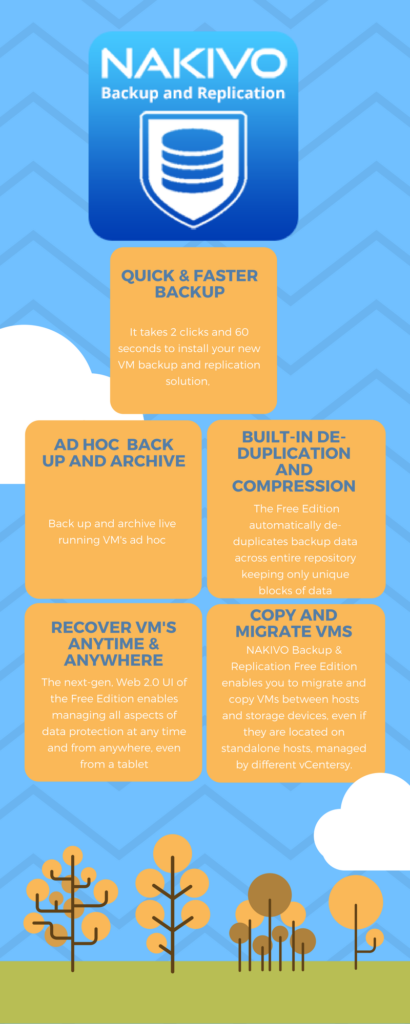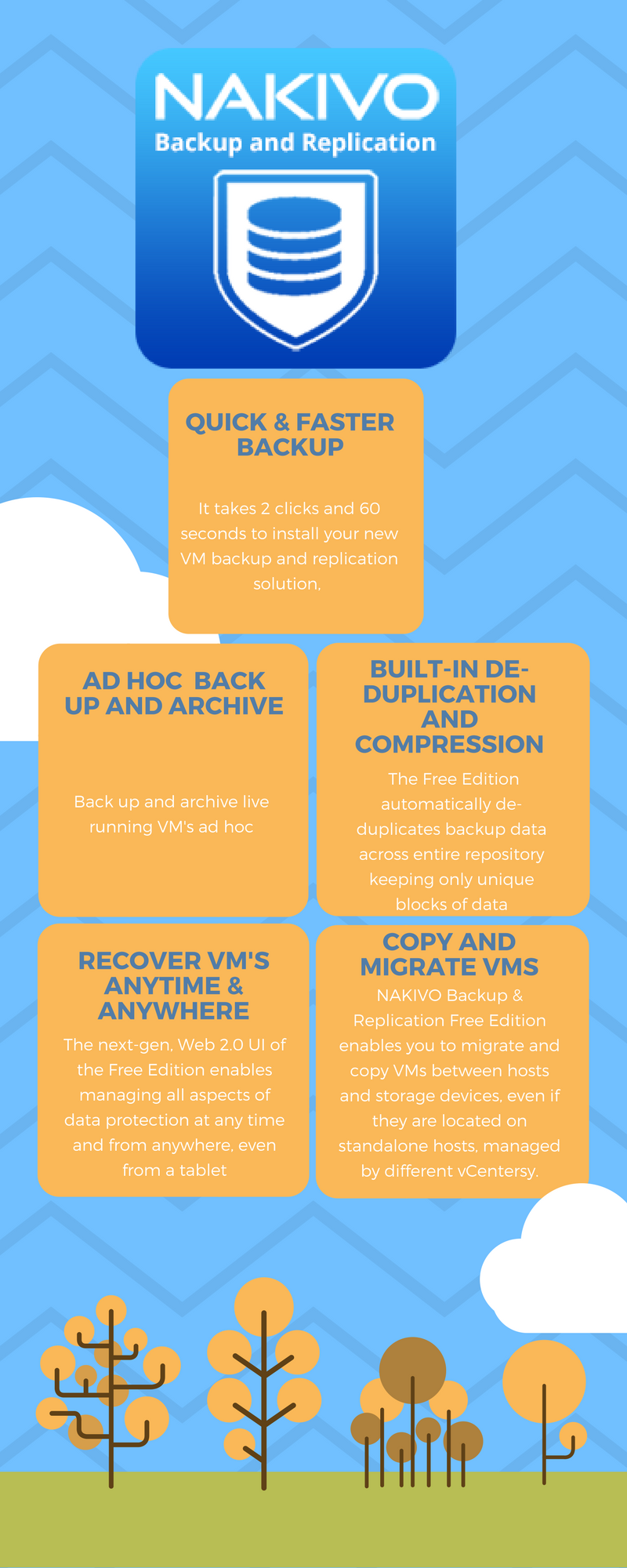 Need a few seconds to create a new ad hoc backup job and protect your live running VMs. The backup includes all VM disks and configuration files
Free Edition includes a license for 2 VMs
Back up and archive ad hoc. Locally, remotely and to cloud.
NAKIVO Backup & Replication supports live Exchange, Active Directory, MS SQL, Oracle, and other applications so all your backups are always consistent
The Free Edition automatically de-duplicates backup data across entire repository keeping only unique blocks of data. The de-duplicated blocks are then compressed to reduce space utilization even further
NAKIVO Backup & Replication Free Edition is designed to recover your VMs in the fastest and most efficient way.
NAKIVO Backup & Replication Free Edition enables you to migrate and copy VMs between hosts and storage devices, even if they are located on standalone hosts, managed by different vCenters, or not even connected to each other.
Altaro VM Backup – Free Edition
ALTARO is one of the Fast-growing developer of user friendly backup solutions for small and mid-market businesses. Altaro VM Backup – Free Edition allows you to back up two VMs per VMware host for free (forever) on unlimited hosts with , the easiest to use solution for VMware backups. Make backing up and restoring your VMware VMs hassle-free and easy.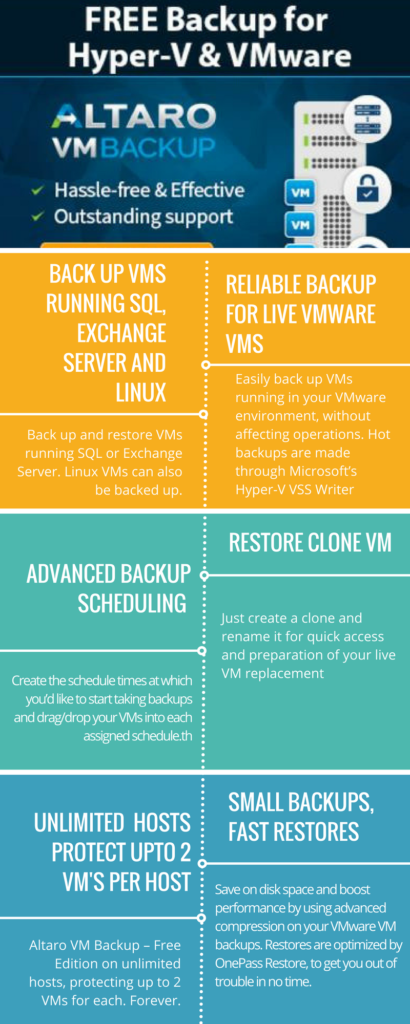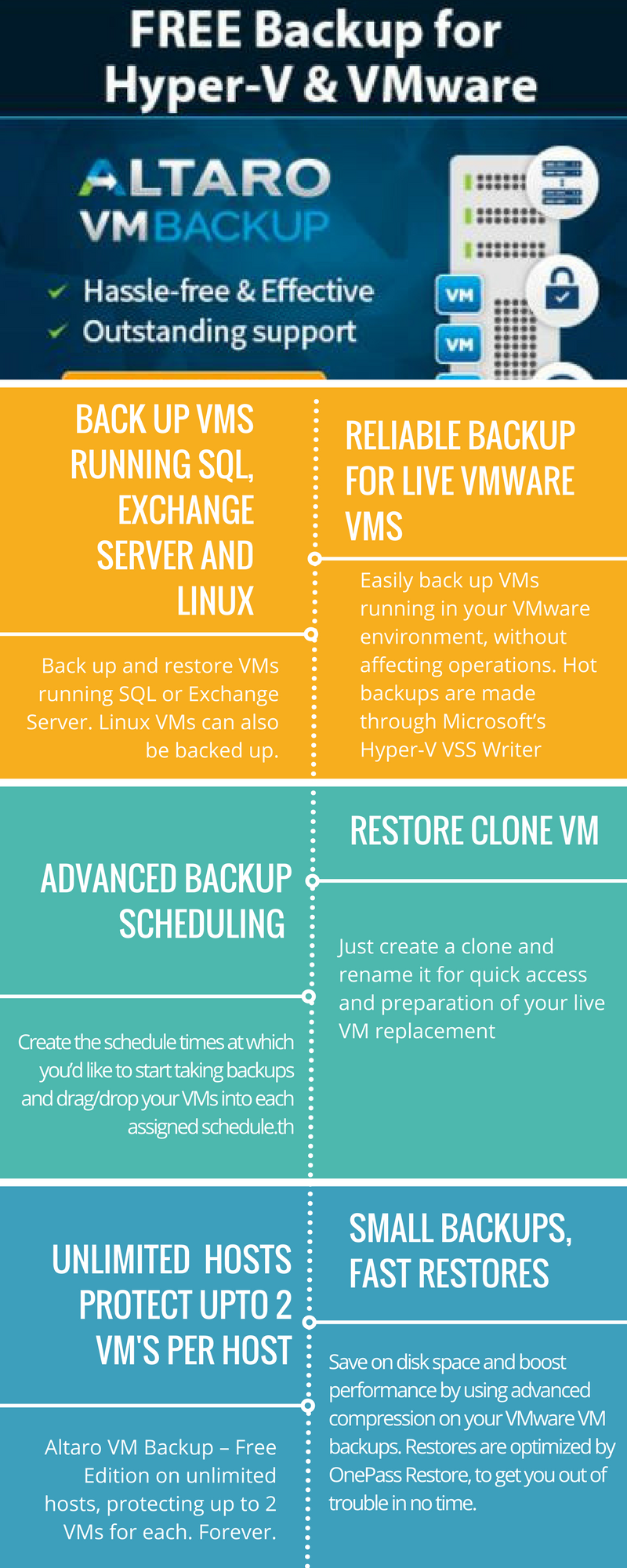 Easily back up VMs running in your VMware environment, without affecting operations.
Hot backups are made through Microsoft's Hyper-V VSS Writer.
Using Microsoft's VSS Writer, Altaro VM Backup – Free Edition makes it easy to back up and restore VMs running SQL or Exchange Server.
Support for backup of Linux VMs
Just create a clone and rename it for quick access and preparation of your live VM replacement.
Straight forward backup schedules.. Create the schedule times at which you'd like to start taking backups and drag/drop your VMs into each assigned schedule.
Save on disk space and boost performance by using advanced compression on your VMware VM backups.
Restores are optimized by OnePass Restore, to get you out of trouble in no time.
I hope this is informative for you to understand the TOP 5 best free backup software for VMware and Hyper-V. Thanks for Reading!!!. Be social and share it in social media using Social media plugins, if you feel worth sharing it.