This post will be useful for the vSphere Home labs. It is not so easy to buy multiple hardware for each ESXi servers running on your lab systems. You may need to run ESXi host as virtual machine on top of your physical ESXi host which is referred as "Nested ESXi host". Have you tried to run 64 bit operating system on your nested ESXi host?. If yes, Then you may have come across the trouble to power on 64-bit operating systems on top of your nested ESXi. Below error message will appear when you try to power on your 64-bit Guest OS virtual machine on your Nested ESXi host (Virtual ESXi host).
The virtual machine requires hardware features that are unsupported or disabled on the target host:"""""""*
Longmode: required for 64-bit guest OS support. On Intel systems, longmode requires VT-x to be enabled in the BIOS. On nested virtual ESX hosts, longmode support normally requires upgrading your VM to ESX 5.1 compatibility level (VM version 9) and enabling the "Virtualized Hardware Virtualization" flag on the outer VM."""
For incompatibilities other than NX/XD or longmode: if possible, use a cluster with Enhanced vMotion Compatibility (EVC) enabled; see KB article 1003212.
CPUID details: incompatibility at level 0x80000001 register 'edx'.
Host bits: 1100:1011:1101:0011:1111:1011:1111:1111
Required: xx1x:xxxx:xxxx:xxxx:xxxx:xxxx:xxxx:xxxx
ESXi 5.0
With ESXi 5.0,virtualized HV is prohibited by default. This feature is used internally within VMware for testing purposes, but it is not recommended for production systems. It is available on hosts that support Intel VT-x or AMD-V, but it is not recommended for systems without second level address translation (EPT or RVI), because of its poor performance without SLAT. You must add the following configuration option to the /etc/vmware/config file on the physical host to run 64-bit Guest OS on your Nested ESXi host.
vhv.allow = TRUE
ESXi 5.1 & ESXI 5.5

With ESXi 5.1 and 5.5, Virtualized HV is fully supported for virtual hardware version 9 or 10 VMs on hosts that support Intel VT-x and EPT or AMD-V and RVI. you no need to add configuration options to run your 64-bit guest operating systems on your Nested ESXi host. You can follow the simple steps mentioned below which will enable you to power on your 64-bit virtual machines on top of your Nested ESXi.
Access your vCenter server using vSphere Web client,Power off your Nested ESXi host(Virtual ESXi host). Right click your Virtual ESXi host (Nested ESXi host) and Edit settings. Ensure that VM compatibility is set as ESXi 5.5 and later. If it is not set, Upgrade your VM compatibility by right click on VM -> All vCenter Actions ->Compatibility -> Upgrade VM Compatibility

Edit your Nested ESXi Virtual Machine using vSphere Web client -> Edit Settings–> Virtual Hardware -> Expand the CPU options. Select the option " Expose the NX/XD flag to guest and select the checkbox "Expose hardware assisted virtualization to the guest OS" on Hardware virtualization option. This option will only be available in vSphere web client not on vSphere windows client.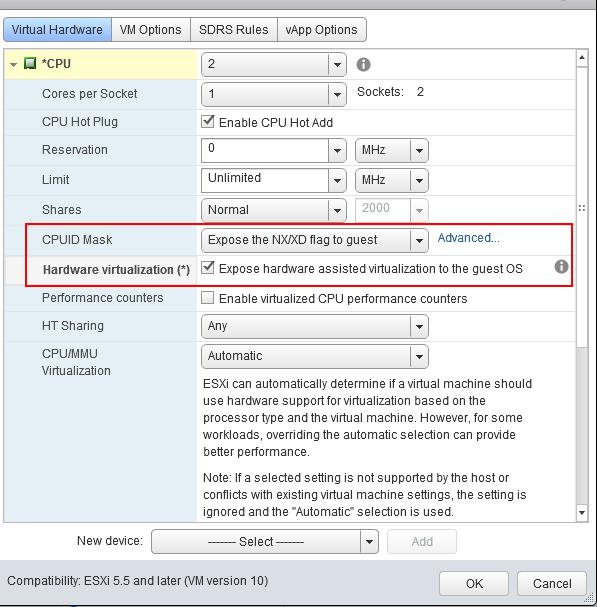 You can set the Guest OS version under -> VM options -> General options -> under Guest OS, Select Other and Select VMware ESXi 5.x under Guest OS version. This is an optional step to track the Guest OS type. Click on Ok and power on your Nested ESXi (Virtual ESXi machine).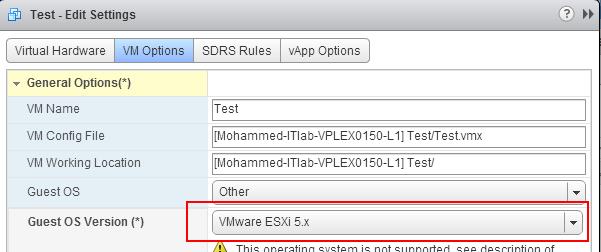 With the above 3 simple steps, you will be able to power on 64-bit guest operating system on top your Nested ESXi host. That's it. I hope this is informative for you. Thanks for Reading !!!, Be Social and share it in social media, if you feel worth sharing it.