With the release of vSphere 6.5, New feature called vCenter Server 6.5 HA to ensure the high availability of vCenter Server is available. This will be only available for the vCenter server appliance and not for windows-based vCenter Server. This Native high availability solution consists of Active-passive deployment along with witness nodes, which are clone from the existing vCenter server. Failover will happen within the vCenter HA cluster will occur in case of host and hardware failure and also during when particular key services failure. In the Previous post Configuring vCenter Server 6.5 HA, We have discussed in detail about pre-requisites and how to configure vCenter 6.5 HA. This post we will walk you through the step by step vCenter 6.5 Native HA Failover Testing procedure.
We have already done with configuring vCenter Server 6.5 HA. Let's see how this vCenter 6.5 native HA is failover to the Passive node when some failure occurs.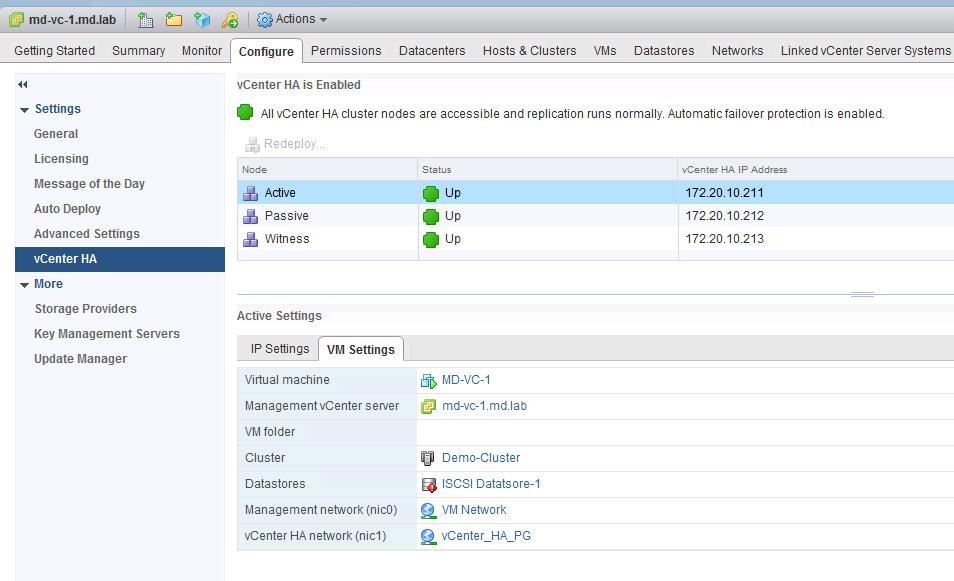 As we already discussed, When we enable vCenter 6.5 native HA, It clone the existing vCenter Server appliance and creates an additional 2 VM's one for Passive node and other for witness. We can see 3 vCenter VM's in the inventory. Let's start evaluating the vCenter 6.5 Native HA Failover Testing. I am powering off the vCenter Active node "MD-VC-1" manually to simulate the failure situation for active vCenter appliance.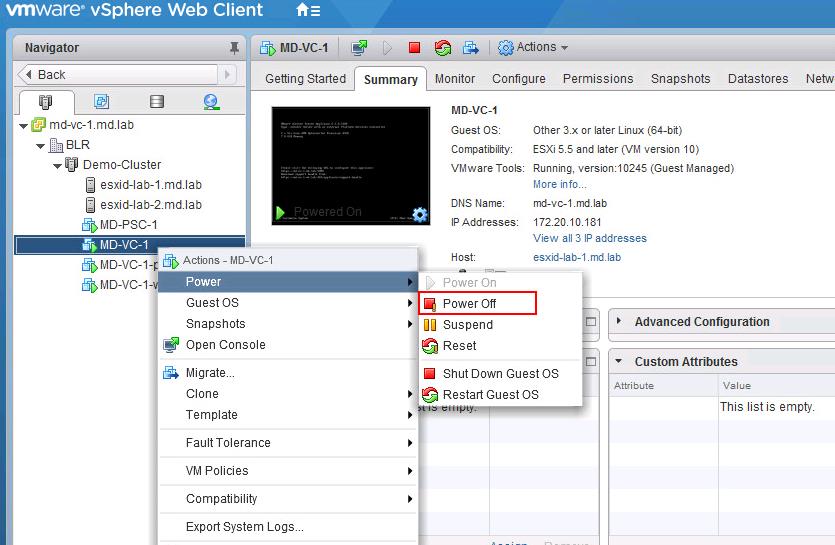 Once Active vCenter node is Powered off, vCenter 6.5 native HA failover will start automatically. You can notice this when you try to access vCenter Server using vSphere Web Client. It shows " Failover in Progress". While a failover is in progress vCenter Server, vSphere Web Client and other services will be unavailable for few minutes.

Active vCenter Server 6.5 node is in powered off state now. You can notice a series of tasks (Download VMX config, Reconfig VM, etc) will get executed to complete the Failover process.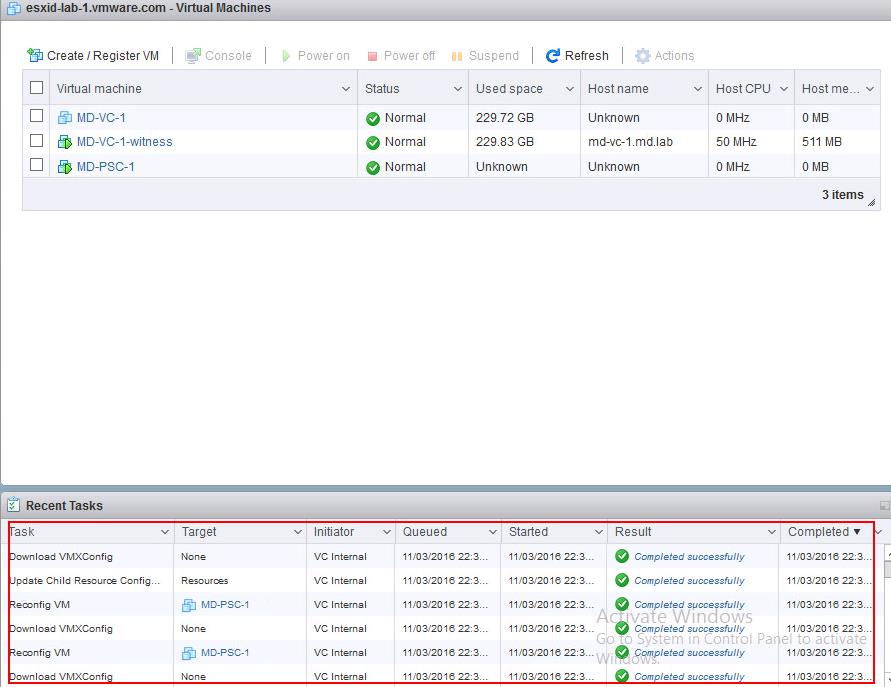 Once vCenter 6.5 Failover is completed, You will be able to notice that the Peer node will acquire the Primary IP address of the existing Active vCenter Server and it will be acting as "Active Now" and provide the vCenter Server Service.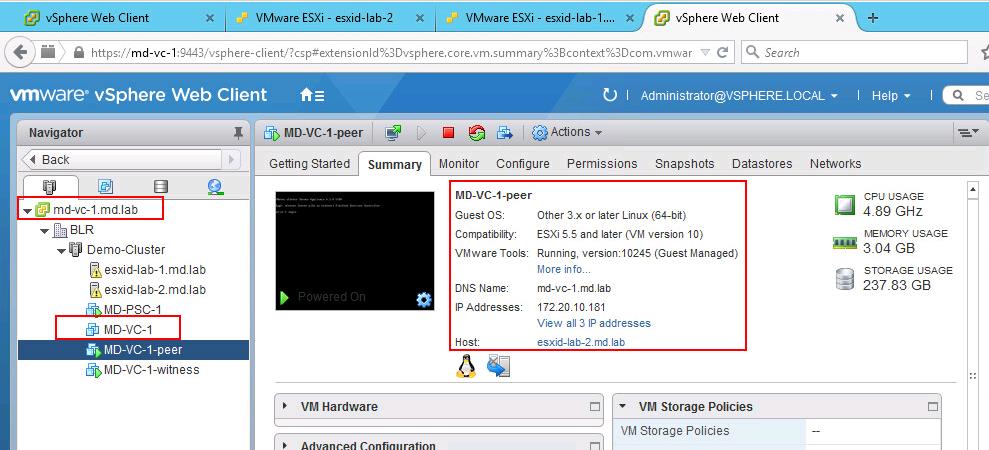 So now, Failed active vCenter 6.5 nodes become Passive and it is down now. Passive node took over the Active role and provide the vCenter Server Service. One of the vCenter nodes is down, replication & configuration sync between active and passive vCenter nodes are not happening.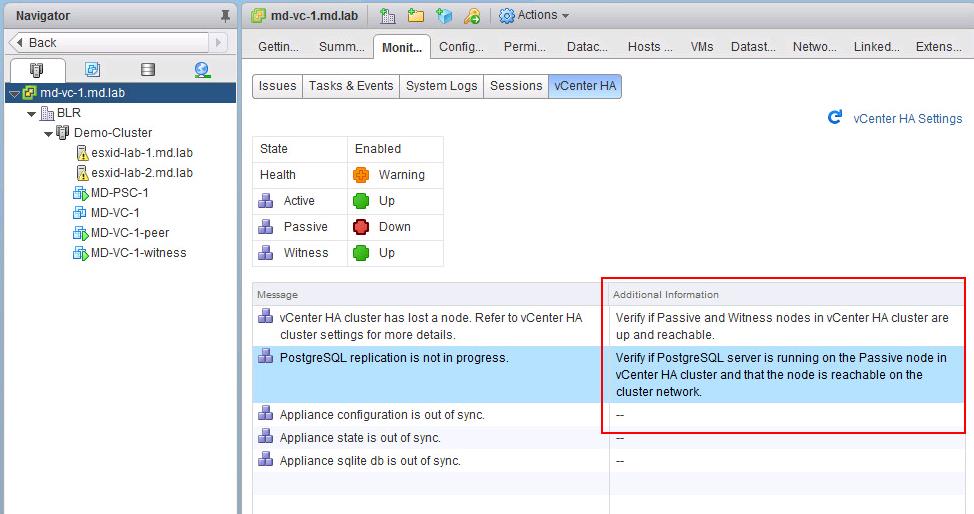 You can find the status of the vCenter nodes under vCenter HA in Configuration Tab of vCenter Server.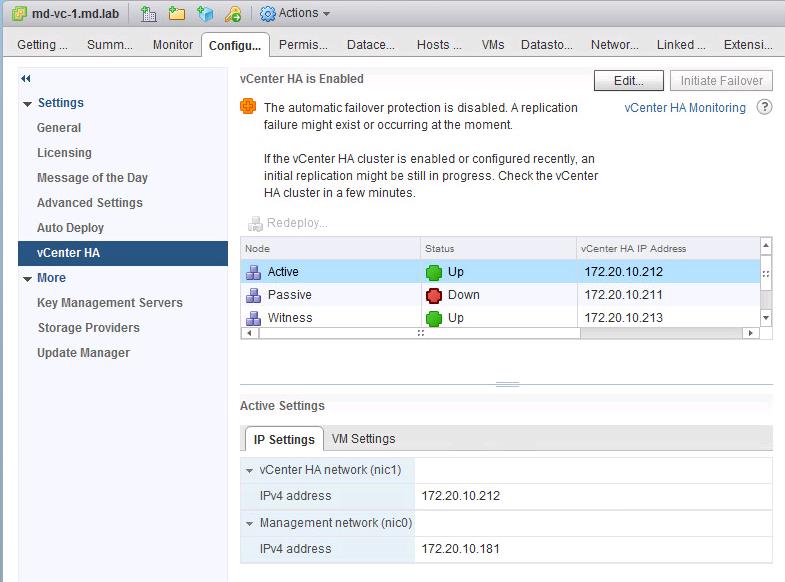 Once I have power on the vCenter Server Appliance, vCenter HA status becomes "Green" now but still, my existing vCenter Server is serving as "Passive".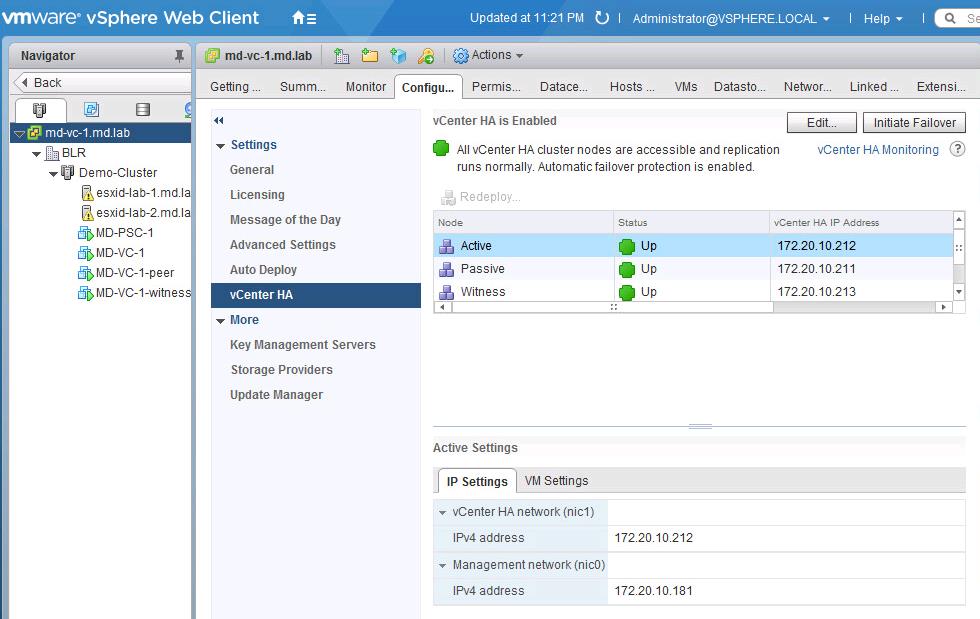 Once the second vCenter node is up, Cluster Synchronization will start for below items:
PostgreSQL replication mode is synchronous
It synchronizes the application configuration between vCenter nodes.
It synchronizes the appliance state between vCenter nodes.
Synchronizes the sqlite DB.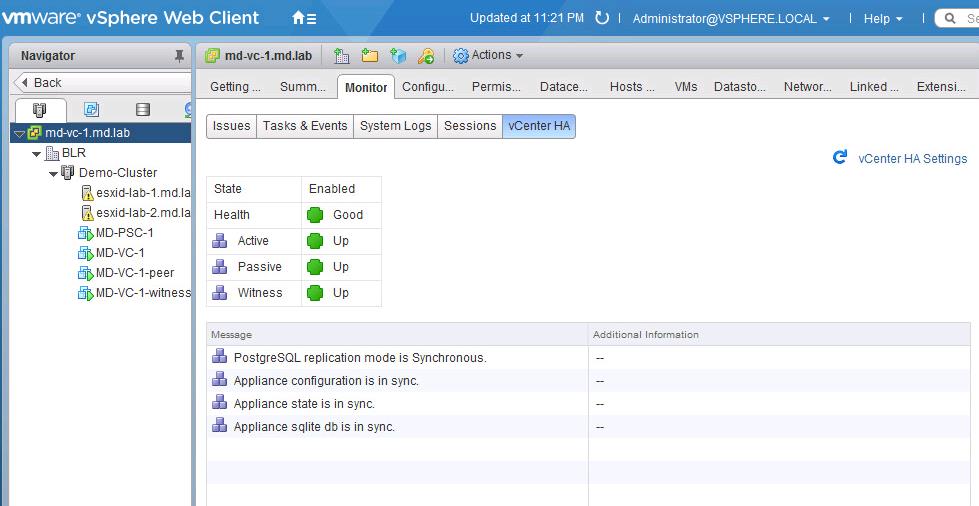 In the above steps, We have simulated the automatic vCenter Failover by powering down the Active vCenter node. You can also manually initiate the Failover using the "Initiate Failover" option under vCenter -> Configuration -> vCenter HA.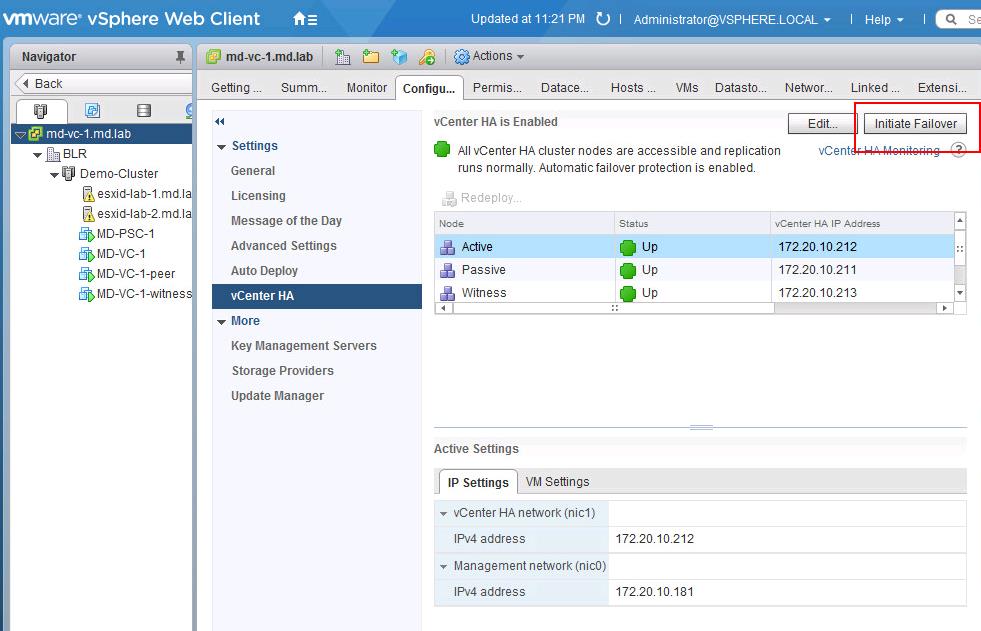 A failover will promote the vCenter HA passive node to Active. While a failover is in progress vCenter Server, vSphere Web Client and other services will be unavailable for few minutes. You can initiate the Failover Forcefully by selecting the Checkbox to continue failover without any synchronization.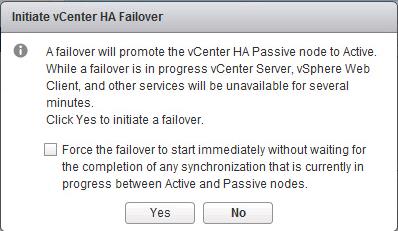 Once the Failover is completed, Active becomes passive and Passive becomes the Active node.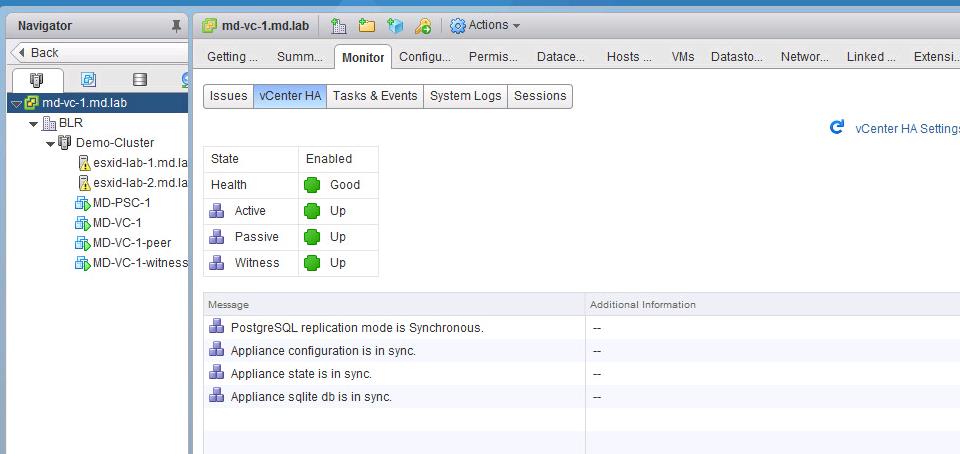 That's it. We are done with Validating vCenter 6.5 native HA Failover process. I hope this is informative for you. Thanks for Reading !!! Be Social and share it on Social media, if you feel worth sharing it.