First step after the Site Recovery Manager installation is pairing the SRM Protected and Recovery sites. This process is called as SRM Site Pairing. Once site pairing is completed, you will be able to see both the 2 SRM sites start appearing under site recovery plug-in in vSphere web client.  Site pairing can be done either at the protected site or the recovery site. SRM site pairing  is a straight forward and simple procedure. let's take a look at step by step procedure to configure SRM site pairing.
Configuring SRM Site Pairing
Login to your Protected Site vCenter server using vSphere web client and click on "Site Recovery" Plug-in in the home page. Select Sites.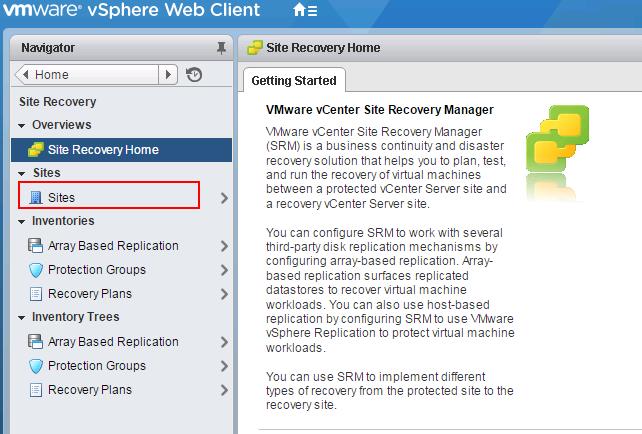 Under Sites, You will be able to see the Protected Site name. Click on Summary Tab and Click on "Pair Sites" under Guide to Configure SRM.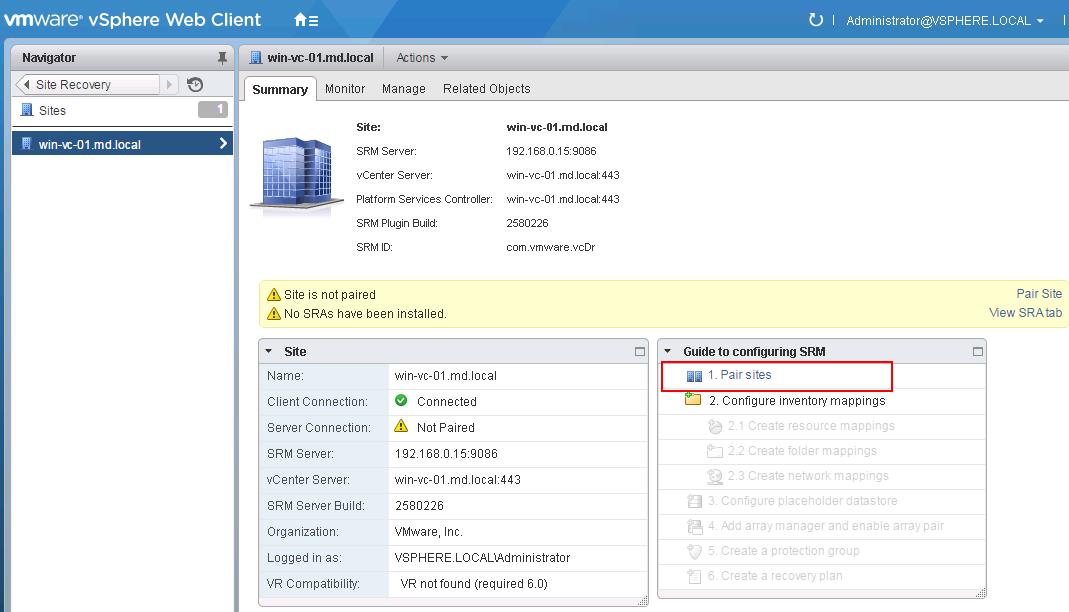 Provide the Platform service controller address of your SRM remote site (recovery site).The address that you provide for the Platform Services Controller must be an exact match of the of address that you provided when you installed Site Recovery Manager Server on the remote site. Leave the Port number as default ,if you dont have any custom port for PSC. Click Next.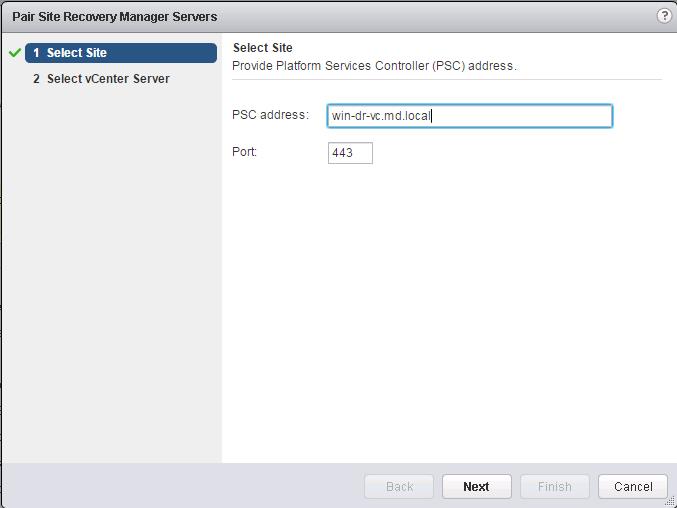 This page displays the vCenter Server instance in which Site Recovery Manager Server is registered on the remote site. Enter the vCenter server Single sign-on (SSO) credentials and click on Finish. The connection process proceeds automatically after authentication with the correct privileges established.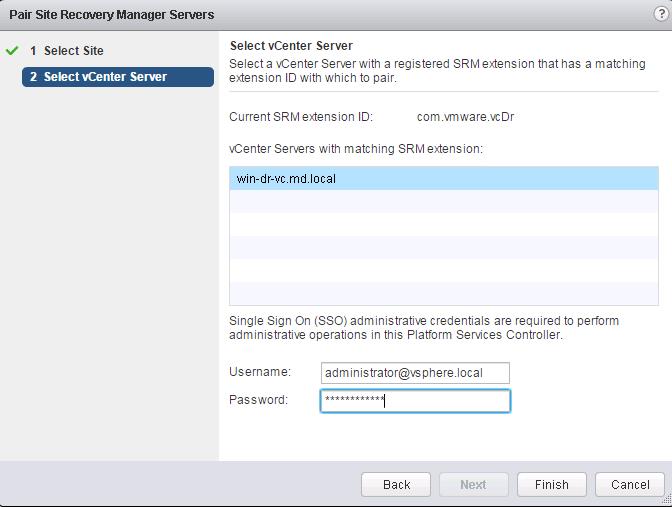 Once site Pairing is established between protected and recovery site. You will be able to see the remote site appears under Sites in the Site Recovery Manager interface. It displays the information about the primary site and Paired site.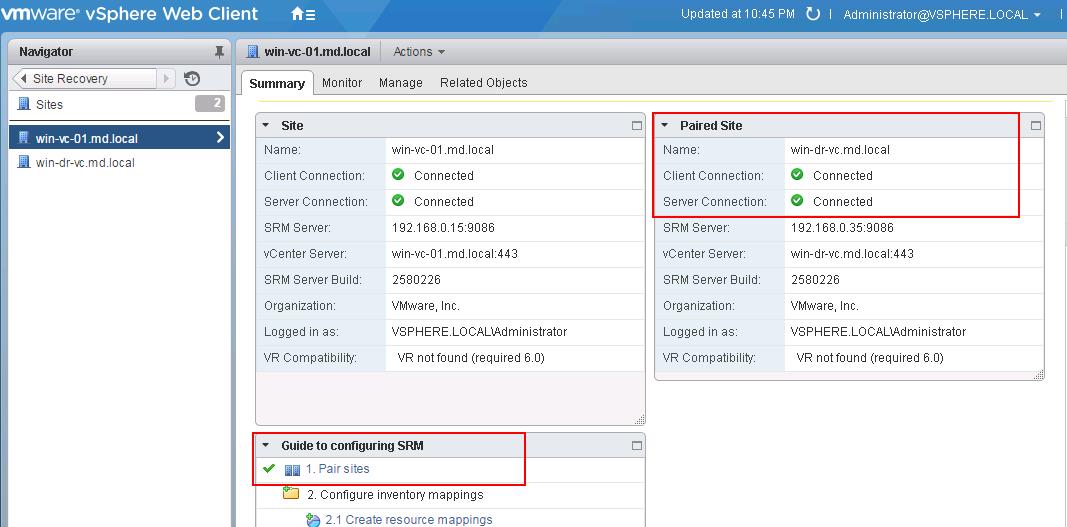 You will be able to see the same information even if you connect to the remote site vCenter server using vSphere Web client. Whereas it displays the paired site as your primary site.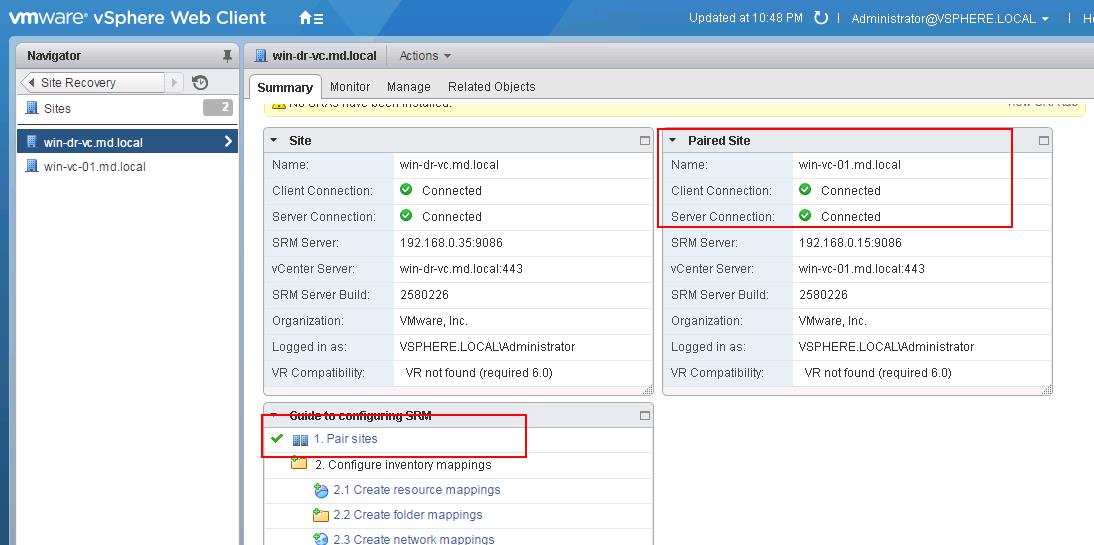 That's it. very simple isn't it. We are done with Site Recovery Manager site pairing. I hope this is informative for you. Thanks for Reading!!. Be social and share it in social media, if you feel worth sharing it.
Disaster Recovery :
VMware Site Recovery Manager (SRM 6.0) Part 1- Overview and Architecture
VMware Site Recovery Manager (SRM 6.0) Part 2 – VMware SRM 6.0 installation
VMware Site Recovery Manager (SRM 6.0) Part 4 – Installing Storage Replication Adapters (SRAs)
VMware Site Recovery Manager (SRM 6.0) Part 5 – Configuring SRM Array Manager
VMware Site Recovery Manager (SRM 6.0) Part 6 – Creating SRM Resource Mappings
VMware Site Recovery Manager (SRM 6.0) Part 7 – Configuring SRM Folder Mapping
VMware Site Recovery Manager (SRM 6.0) Part 8 – Configuring SRM Network Mapping
VMware Site Recovery Manager (SRM 6.0) Part 9 – Configuring SRM Placeholder Datastores
VMware Site Recovery Manager (SRM 6.0) Part 10 – Creating SRM Protection Group
VMware Site Recovery Manager (SRM 6.0) Part 11 – Creating SRM Recovery Plans
VMware Site Recovery Manager (SRM 6.0) Part 12 – Running SRM Test Recovery
VMware Site Recovery Manager (SRM 6.0) Part 13 – Cleaning up Test Recovery
SAN Replication :
VMware SRM 6.0 Array Based Replication Part 1 – Deploying HP Store Virtual VSA
VMware SRM 6.0 Array Based Replication Part 2 – Installing HP Store Virtual VSA Centralized Management Console (CMC)
VMware SRM 6.0 Array Based Replication Part 3 – Configuring HP StoreVirtual VSA Management Group
VMware SRM 6.0 Array Based Replication Part 4 – Adding ESXi host to HP VSA Management Group and Presenting Storage to ESXi
VMware SRM 6.0 Array Based Replication Part 5 – Configuring HP StoreVirtual VSA Replication