In the previous series of posts, We have discussed about deploying, configuring and proviosing HP StoreVirtual VSA to use with SRM Array based replication. This post we are going to discuss in detail about the procedure to install Storage Replication Adapter for VMware vCenter Site Recovery Manager. Storage Replication Adapters (SRA) is a program provided by a storage array vendor that enables vCenter Site Recovery Manager to work with the vendor's array. An SRA is used by an array manager, a vCenter Site Recovery Manager component that helps to identify available arrays and replicated LUNs. Once you have paired the Protected site and recovery site, You must configure an SRM array manager for array based replication. Configuring Array manager is not required if you have used VMware's native replication "vSphere Replication". An array manager uses a storage replication adapter (SRA). An SRA communicates with an array manager over a communication port that is defined by the storage vendor.You must download and install the suitable Storage replication adapter for your storage array. SRA should be installed on the same server where VMware SRM is installed. You can download the Storage Replication Adapters for your VMware SRM in the list.
Storage Replication Adapters(SRAs) performs the below functions:
1.Array Discovery
2.Recongnize the replicated logical unit number (LUNs)
3.Initiation of recovery plan tests and execution
Storage Replication Adapters (SRA) Installation:
Download the suitable SRA software for your storage vendor and model. Double-click SRA installer to begin the installation. I will be installing SRA adapter on my Protected site first. SRA should be installed on the server, where SRM is installed.

Click on Next to begin the HP StoreVirtual Storage Replication Adapter software.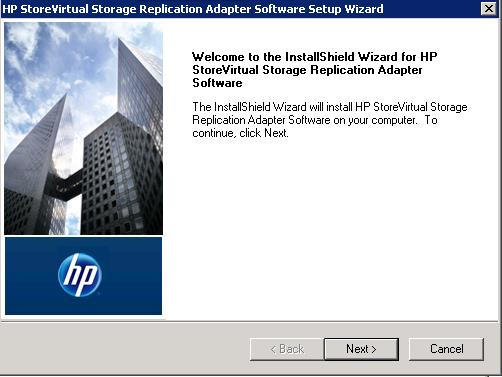 Accept the End-User License agreement and click on Next.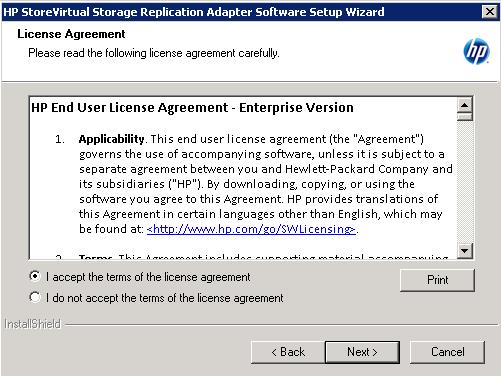 Provide the Username and Company name for the SRA installer and click on Next.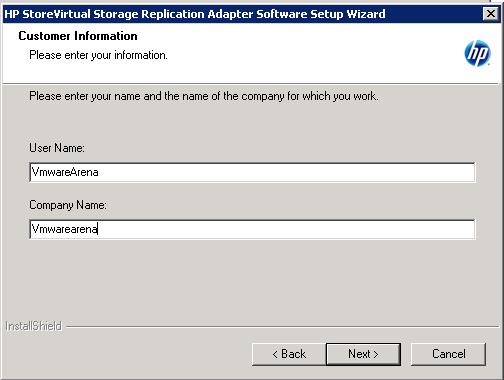 Click on Install to begin the SRA installation.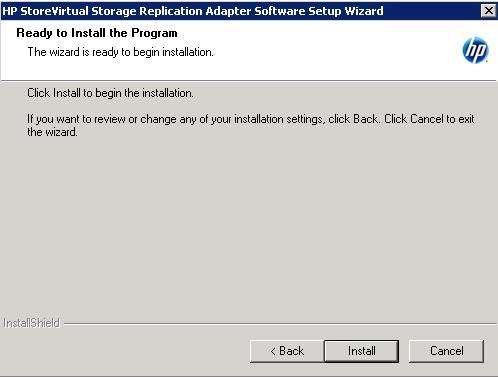 Once installation is completed, click on Finish to close the installation wizard.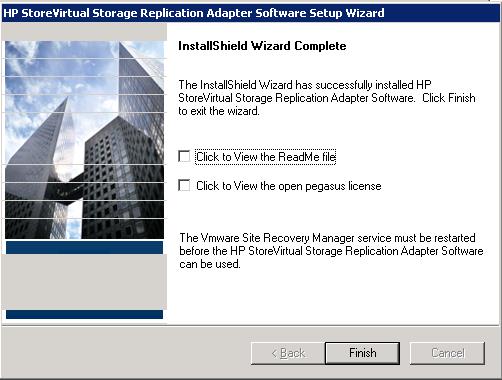 We are done with the installation of HP StoreVirtual SRA on the Protected site. You can see the status of the SRA installation from the vSphere Web client. My primary site detected the SRA installation and it showing error about the SRA at the paired site i.e recovery site.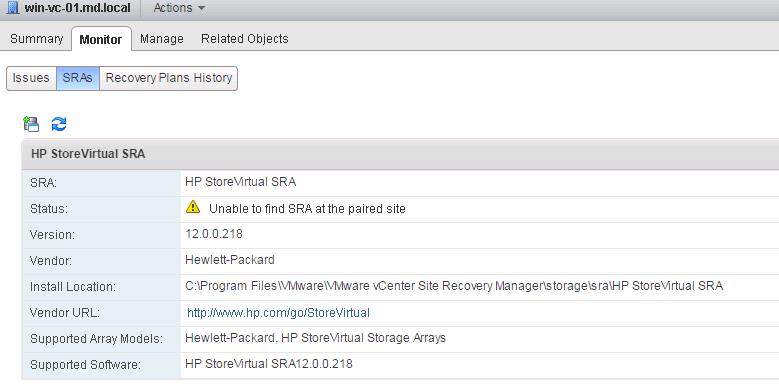 Follow the same SRA installation procedure on your DR site (recovery site) SRM server. Once both the protected and recovery site are installed with Storage Replication Adapters, You will notice the Green Check Mark in the status of SRAs.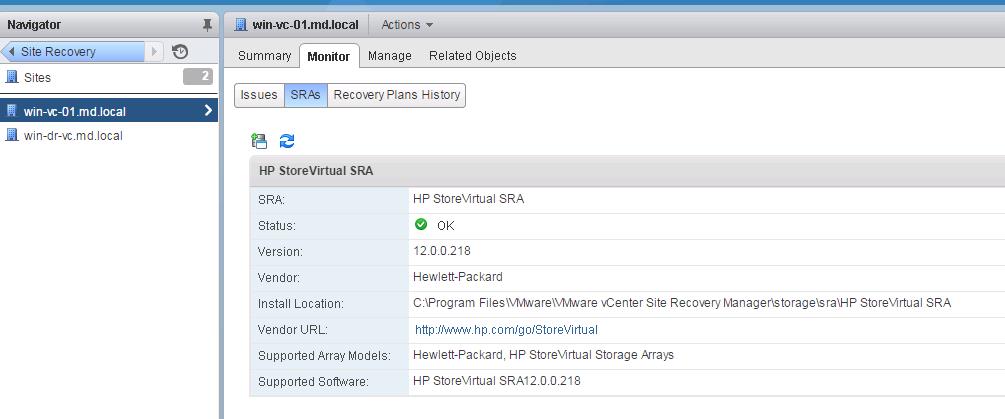 That's it. We are done with the installation of Storage Replication Adapter (SRA) on both Protected and recovery site. Next step is to configure the SRM Array manager in the upcoming posts. I hope this is informative for you. Thanks for Reading!!!. Be social and share it in social media, if you feel worth sharing it.
Disaster Recovery :
VMware Site Recovery Manager (SRM 6.0) Part 1- Overview and Architecture
VMware Site Recovery Manager (SRM 6.0) Part 2 – VMware SRM 6.0 installation
VMware Site Recovery Manager (SRM 6.0) Part 3 – Configuring SRM Site Pairing
VMware Site Recovery Manager (SRM 6.0) Part 5 – Configuring SRM Array Manager
VMware Site Recovery Manager (SRM 6.0) Part 6 – Creating SRM Resource Mappings
VMware Site Recovery Manager (SRM 6.0) Part 7 – Configuring SRM Folder Mapping
VMware Site Recovery Manager (SRM 6.0) Part 8 – Configuring SRM Network Mapping
VMware Site Recovery Manager (SRM 6.0) Part 9 – Configuring SRM Placeholder Datastores
VMware Site Recovery Manager (SRM 6.0) Part 10 – Creating SRM Protection Group
VMware Site Recovery Manager (SRM 6.0) Part 11 – Creating SRM Recovery Plans
VMware Site Recovery Manager (SRM 6.0) Part 12 – Running SRM Test Recovery
VMware Site Recovery Manager (SRM 6.0) Part 13 – Cleaning up Test Recovery
SAN Replication :
VMware SRM 6.0 Array Based Replication Part 1 – Deploying HP Store Virtual VSA
VMware SRM 6.0 Array Based Replication Part 2 – Installing HP Store Virtual VSA Centralized Management Console (CMC)
VMware SRM 6.0 Array Based Replication Part 3 – Configuring HP StoreVirtual VSA Management Group
VMware SRM 6.0 Array Based Replication Part 4 – Adding ESXi host to HP VSA Management Group and Presenting Storage to ESXi
VMware SRM 6.0 Array Based Replication Part 5 – Configuring HP StoreVirtual VSA Replication