In the previous post, we have discussed about installation of  Storage Replication adapters for VMware Site Recovery Manager. In this post, we are going to discuss in detail about the procedure to add SRM Array manager. During the SRM Array Manager configuration, you need to specify the information about the storage array that you want to use. VMware site recovery manager uses this information to discover the array available to SRM host and the replicated LUNs for it. Array manager configuration causes VMware SRM to compute datastore groups based on set of replicated storage devices that it discovers. If you are using arrays from multiple vendors, you need to install SRA from each storage vendor on the SRM server. You typically configure array mangers only once. You do not have to reconfigure array managers, unless array manager connection information or credentials change or to use a different set of arrays.
Adding SRM Array Manager:
To add an Array Manager, Login to vSphere Web client, Click on SRM and Select the Protected site -> Array Based Replication -> Click on "+" to launch Add Array Manager Wizard.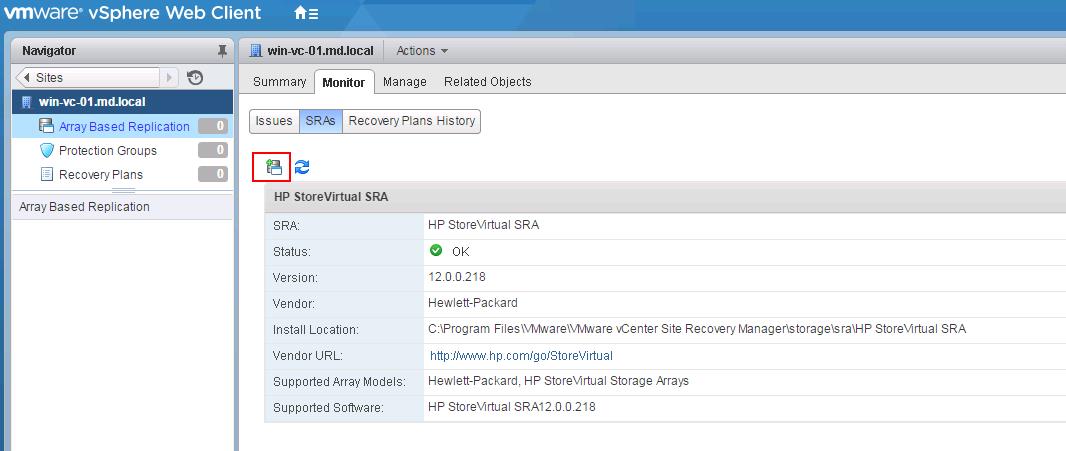 To add array managers for both my Protected and recovery site at one shot, Click on Add a pair of array managers. You will be prompted to add two array managers, one for each site. You then enable the discovered array pairs for use with SRM. Click on Next.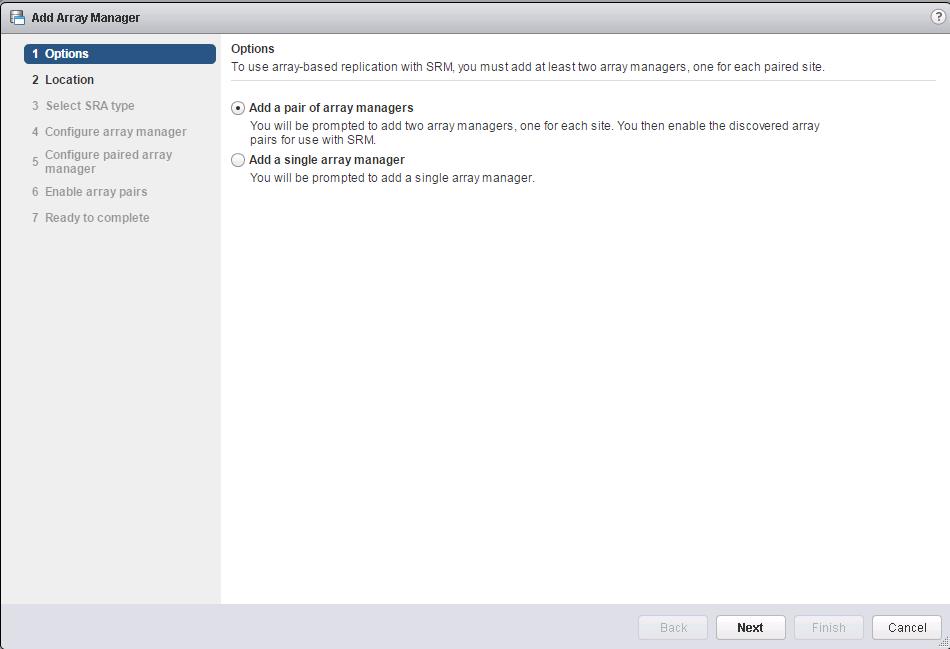 Since i have selected add pair of array managers, Select the pair of sites i.e your protected site and recovery site. Verify the displayed site information and click on Next.
It automatically detects the type of Storage Replication Adapters (SRAs) installed on both the site and status of SRA. Click on Next.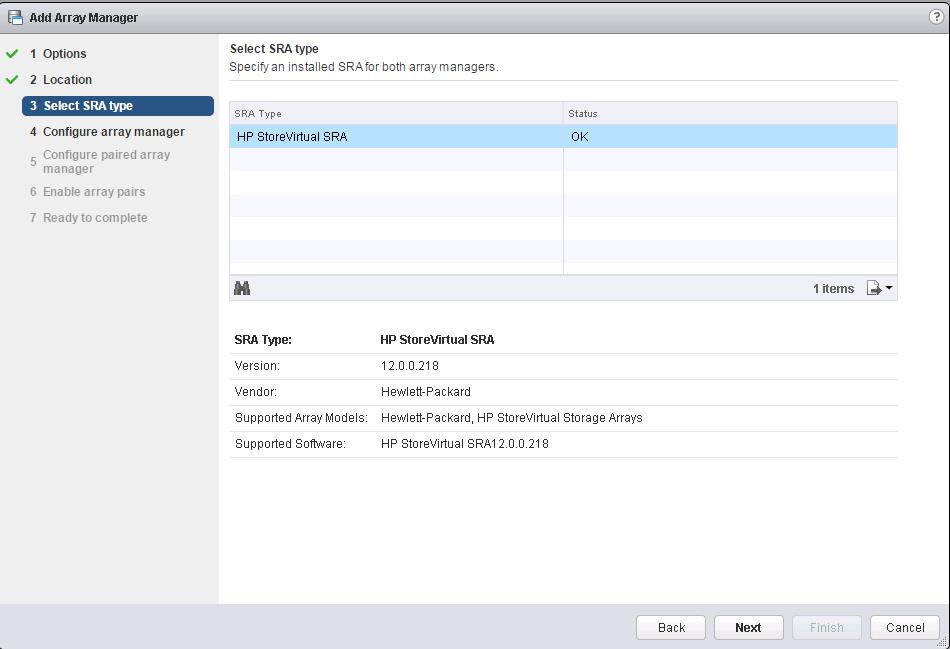 Enter the display name , IP address and credentials for you primary site array manager. In my case, my protected site HP StoreVirtual VSA IP is 192.168.0.160.  Click on Next.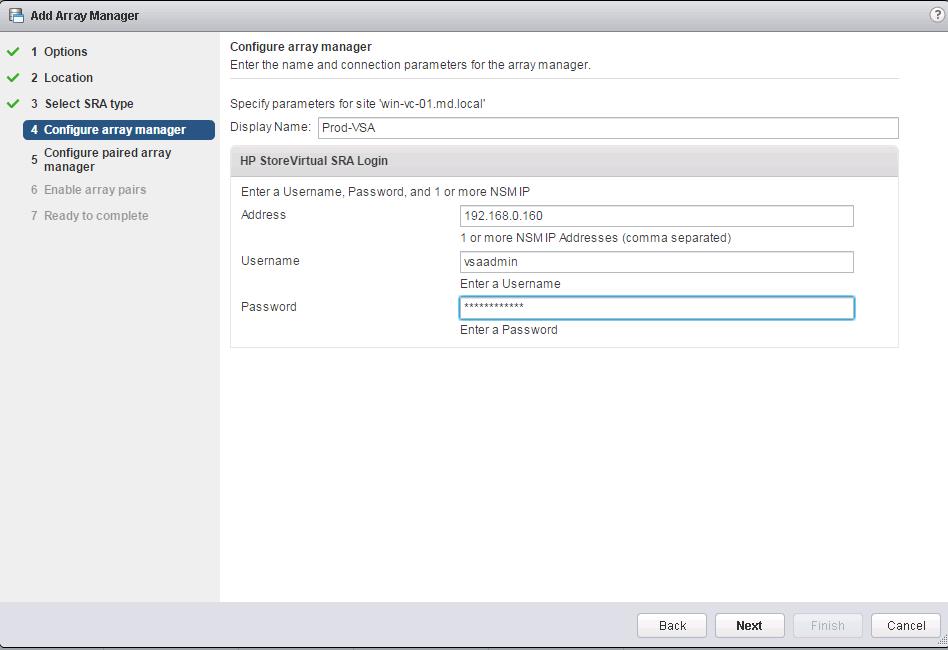 Enter the display name , IP address and credentials for you recovery site array manager. In my case, my recovery site HP StoreVirtual VSA IP is 192.168.0.170.  Click on Next.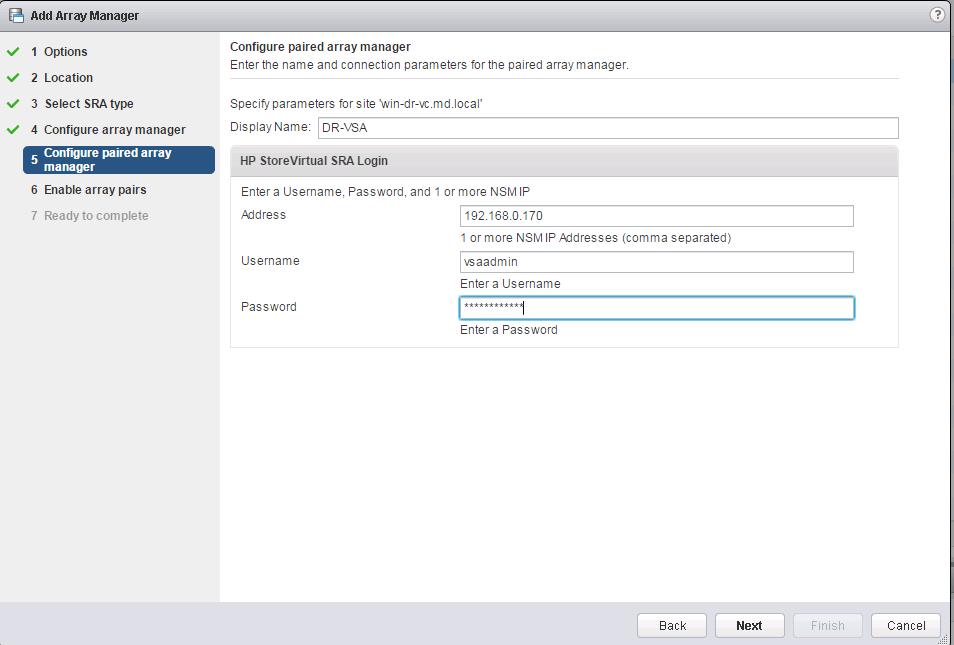 Select the check box to enable the array pairs and click on Next.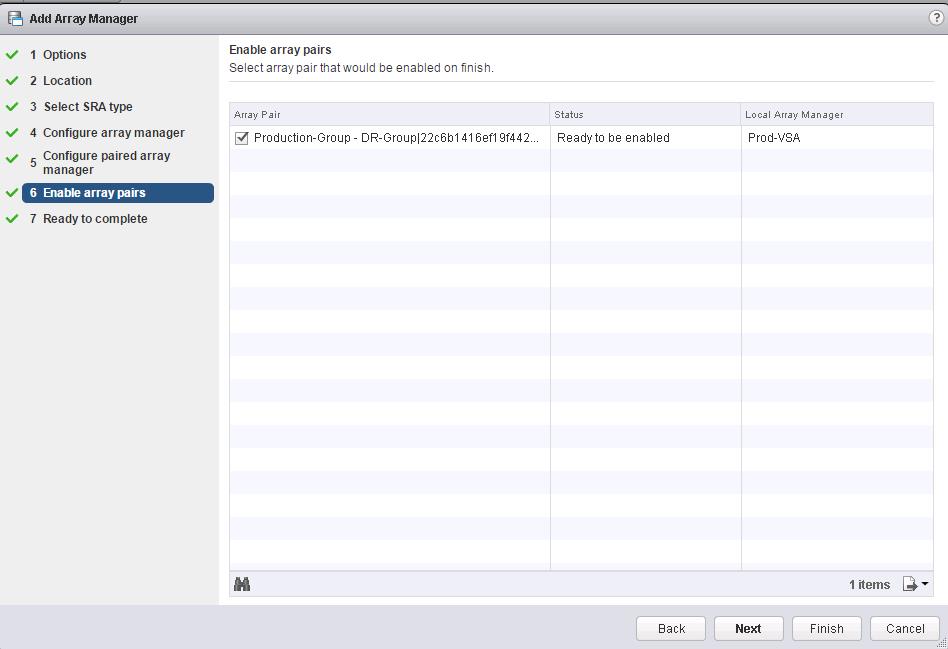 Review the specified information for array manager and click on Finish.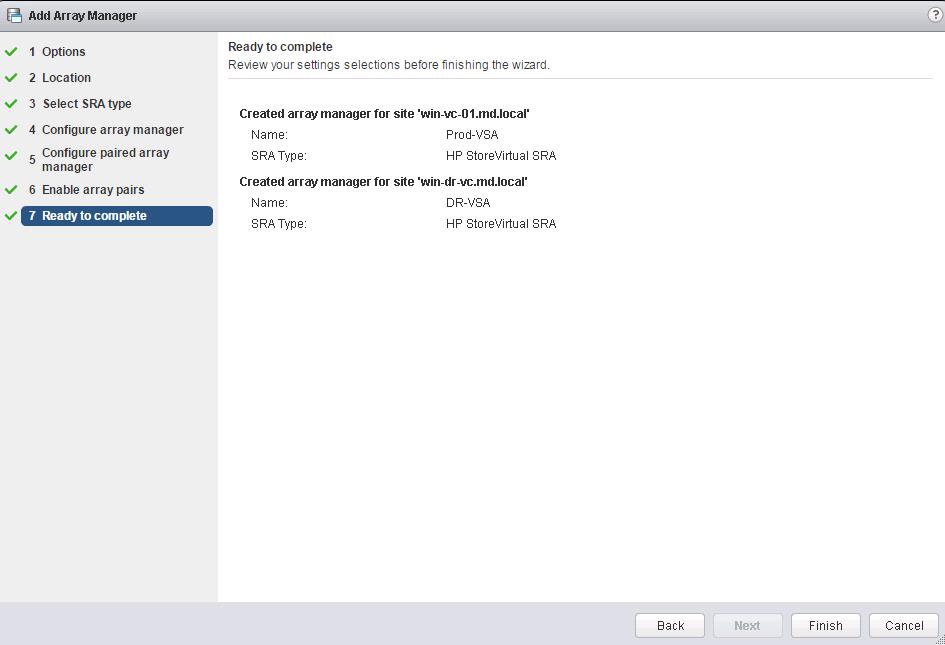 Once adding array manager task is completed, you will be able to see the both the array managers with status OK under Array based Replication objects.

You will be able to monitor the replicated storage information by selecting the array manager and Manage tab-> Array Pairs. It will display the direction of replication either outgoing or incoming replication. From my Production array manager, I have one LUN being replicated to the DR site and direction of the replication is outgoing replication.

Below screen is the replication information for my DR array manager, It shows the replication direction as incoming replication. DRvolume1 is getting replication from my Prod-volume.

That's it. we are done with configuring SRM array manager. i hope this is informative for you. Thanks for Reading!!! Be social and share it in social media, if you feel worth sharing it.
Disaster Recovery :
VMware Site Recovery Manager (SRM 6.0) Part 1- Overview and Architecture
VMware Site Recovery Manager (SRM 6.0) Part 2 – VMware SRM 6.0 installation
VMware Site Recovery Manager (SRM 6.0) Part 3 – Configuring SRM Site Pairing
VMware Site Recovery Manager (SRM 6.0) Part 4 – Installing Storage Replication Adapters (SRAs)
VMware Site Recovery Manager (SRM 6.0) Part 6 – Creating SRM Resource Mappings
VMware Site Recovery Manager (SRM 6.0) Part 7 – Configuring SRM Folder Mapping
VMware Site Recovery Manager (SRM 6.0) Part 8 – Configuring SRM Network Mapping
VMware Site Recovery Manager (SRM 6.0) Part 9 – Configuring SRM Placeholder Datastores
VMware Site Recovery Manager (SRM 6.0) Part 10 – Creating SRM Protection Group
VMware Site Recovery Manager (SRM 6.0) Part 11 – Creating SRM Recovery Plans
VMware Site Recovery Manager (SRM 6.0) Part 12 – Running SRM Test Recovery
VMware Site Recovery Manager (SRM 6.0) Part 13 – Cleaning up Test Recovery
SAN Replication :
VMware SRM 6.0 Array Based Replication Part 1 – Deploying HP Store Virtual VSA
VMware SRM 6.0 Array Based Replication Part 2 – Installing HP Store Virtual VSA Centralized Management Console (CMC)
VMware SRM 6.0 Array Based Replication Part 3 – Configuring HP StoreVirtual VSA Management Group
VMware SRM 6.0 Array Based Replication Part 4 – Adding ESXi host to HP VSA Management Group and Presenting Storage to ESXi
VMware SRM 6.0 Array Based Replication Part 5 – Configuring HP StoreVirtual VSA Replication