In the Previous post, we have discussed about configuring SRM Array managers. In this post ,we are going to discuss about Site Recovery Manager inventory mappings. Basically inventory mappings involves in mapping the resources (clusters and resource pools), folders, and networks of the Protected Site to the Recovery Site. This step is required because we use 2 different vCenter servers installed that are not linked by common data source.When your Recovery Plan is invoked for testing or for real DR, the SRM server at the Recovery Site needs to know your preferences for bringing your replicated VMs online. Although the recovery location has the virtual machine files by virtue of third-party replication software, the metadata that comprises the vCenter inventory is not replicated. It is up to the SRM administrator to decide how this "soft" vCenter data is handled. The SRM administrator needs to be able to indicate what resource pools, networks, and folders the replicated VMs will use. This means that when VMs are recovered they are brought online in the correct location and function correctly. Specifically, the important issue is network mappings. If you don't get this right, the VMs that are powered on at the Recovery Site might not be accessible across the network. out of that we will going to discuss about SRM resource mappings in this particular post.
Creating SRM Resource Mappings
SRM Resource mappings define which compute resources are used at the recovery site ,when virtual machines are recovered. For Example, You have the Specific cluster or Resource pool in which Exchange mailboxes are hosted in your protection site  called "Exchange". You need to define the mapping to bring that particular Exchange Mailboxes in the Specific Cluster or Resource Pool called "Exchange-DR" in recovery site during test recovery or in actual disaster recovery. For achieve this, you need to configure the Resource mapping at SRM. To configure resource mapping, Login to your Protected site vCenter using vSphere Web Client -> SRM plugin -> Select the Protected site and Click on Create Resource Mapping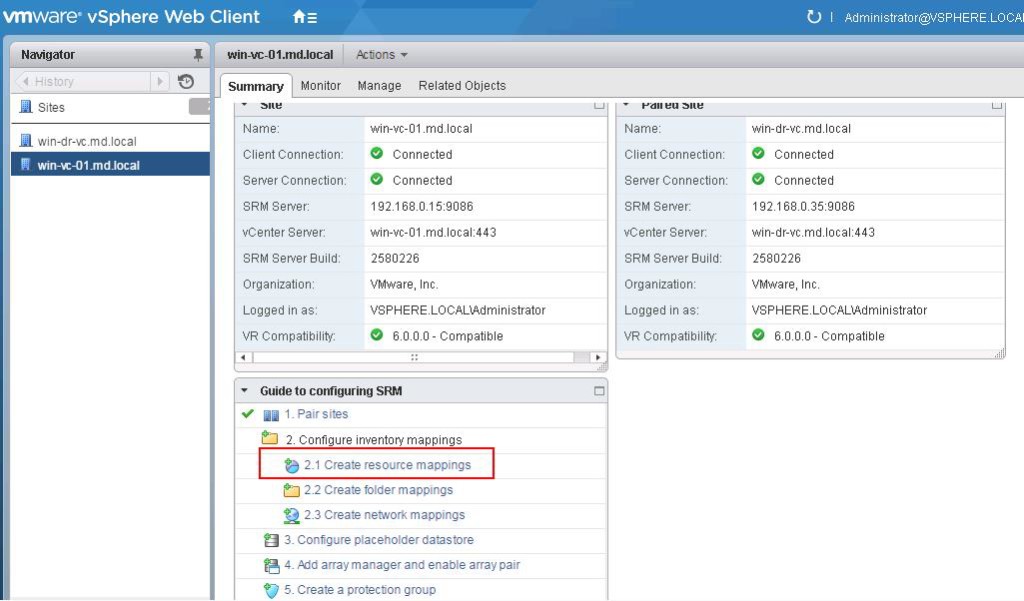 This step involves in mapping the resources from your protected site to recovery site. For example, I have Production ESXi host called "Prod-esxi1" and I am going to creating resource mapping  for my prod esxi host in DR site by mapping the esxi host "dr-esxi1" in my recovery site. This step will ensure that all the VM's running in my Prod-esxi1 host will be powered on dr-esxi1 host with the help of storage replication. This is just an front end. We need to ensure that the replication LUN's are mapped to the dr esxi host to bring the VM's on the DR host.
To configure Mapping,Select the the Esxi host in protected site and Select the mapping object in the recovery site and click on Add Mapping.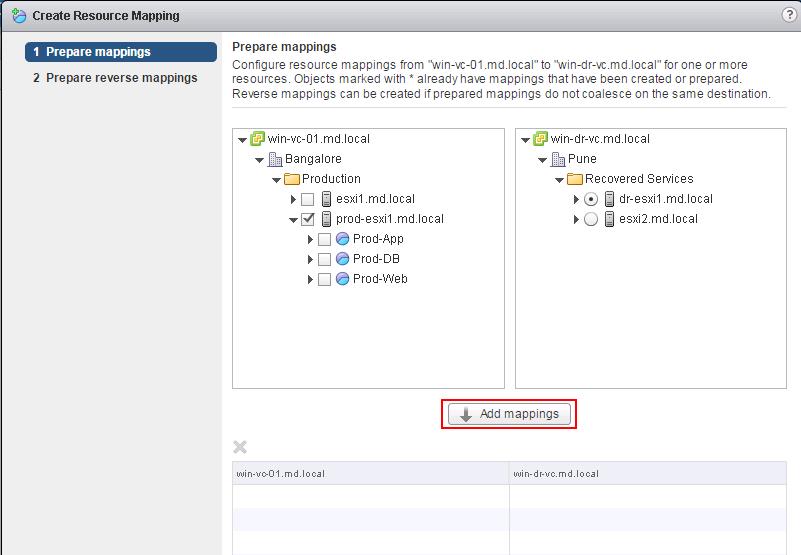 In specific cluster or host, you may be running various applications under resource pools for resource reservations or for manageability reasons. You may need the same structure of resource pools in your DR site to manage your recovered virtual machines. To achieve that, Create the resource pools in your DR site first and then configure the  resource mapping between protected site and recovery site. For Example, I want the vm's in the resource pools "prod-App", "Prod-DB" & "Prod-web" in my protected site to be powered on under "DR-App", "DR-DB" & "DR-web" during test recovery or actual DR recovery, So i have selected the resource pool in Protected site with the appropriate mapping object in recovery site and click on Add mappings.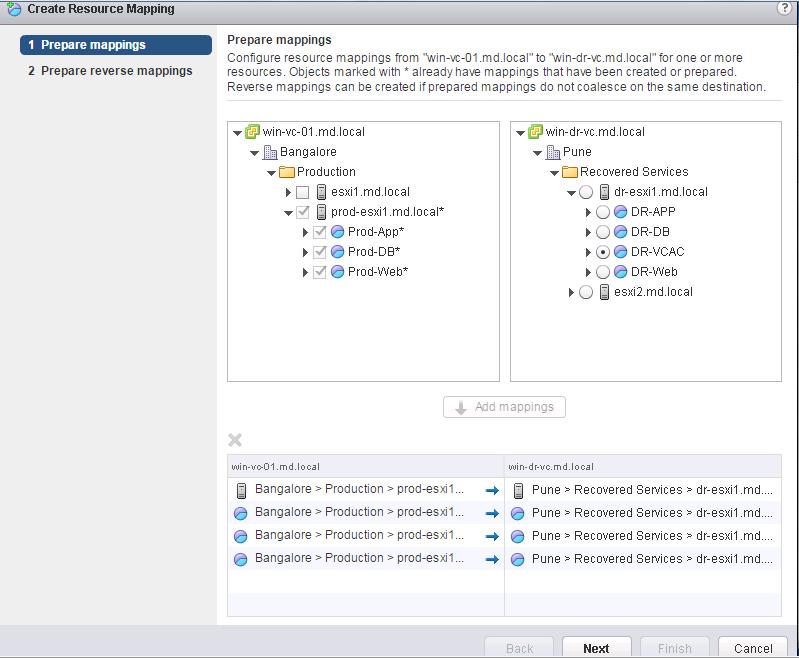 Select the objects to configure the reverse mappings. This step automatically create reverse mapping on the paired site. This help you during failover of your vm's from recovered site back to protected site. For examples, vm's running under my DR-APP resource pool after recovery will be powered  back on under Prod-App during failback from recovery to protected site.  To configure reverse mapping for all the mapped objects, click on Select all applicable and click on Finish.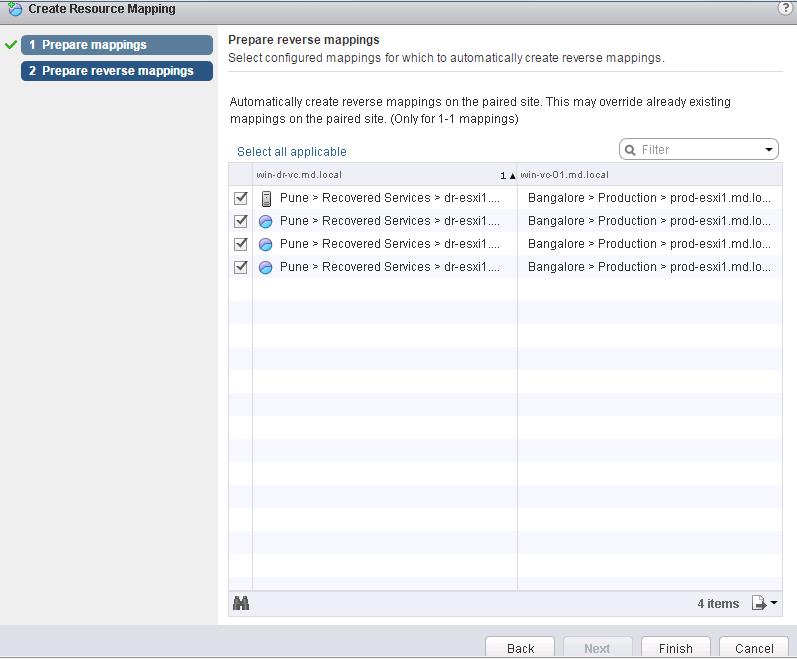 We can notice that resource mappings are created between protected site and recovery site. You can view or reconfigure the resource mappings by browsing Protected site ->Manage Tab -> Resource Mappings.

That's it. We are done with configuring SRM Resource mappings. Whenever you create the new resource pools or clusters in your protected site, we need to configure the SRM resource mappings for that newly created object in your recovery site. This process is not automatic and also not an . I hope this is informative for you. Thanks for reading!!!. Be social and share it in social media, if you feel worth sharing it.
Disaster Recovery :
VMware Site Recovery Manager (SRM 6.0) Part 1- Overview and Architecture
VMware Site Recovery Manager (SRM 6.0) Part 2 – VMware SRM 6.0 installation
VMware Site Recovery Manager (SRM 6.0) Part 3 – Configuring SRM Site Pairing
VMware Site Recovery Manager (SRM 6.0) Part 4 – Installing Storage Replication Adapters (SRAs)
VMware Site Recovery Manager (SRM 6.0) Part 5 – Configuring SRM Array Manager
VMware Site Recovery Manager (SRM 6.0) Part 7 – Configuring SRM Folder Mapping
VMware Site Recovery Manager (SRM 6.0) Part 8 – Configuring SRM Network Mapping
VMware Site Recovery Manager (SRM 6.0) Part 9 – Configuring SRM Placeholder Datastores
VMware Site Recovery Manager (SRM 6.0) Part 10 – Creating SRM Protection Group
VMware Site Recovery Manager (SRM 6.0) Part 11 – Creating SRM Recovery Plans
VMware Site Recovery Manager (SRM 6.0) Part 12 – Running SRM Test Recovery
VMware Site Recovery Manager (SRM 6.0) Part 13 – Cleaning up Test Recovery
SAN Replication :
VMware SRM 6.0 Array Based Replication Part 1 – Deploying HP Store Virtual VSA
VMware SRM 6.0 Array Based Replication Part 2 – Installing HP Store Virtual VSA Centralized Management Console (CMC)
VMware SRM 6.0 Array Based Replication Part 3 – Configuring HP StoreVirtual VSA Management Group
VMware SRM 6.0 Array Based Replication Part 4 – Adding ESXi host to HP VSA Management Group and Presenting Storage to ESXi
VMware SRM 6.0 Array Based Replication Part 5 – Configuring HP StoreVirtual VSA Replication