In the Previous posts of SRM series, We have discussed about SRM architecture, SRM installation and SRM Site Pairing. Before we add Array Manager at the SRM configuration, we need to have the storage replication setup ready. VMware Site Recovery Manager supports two type of replication 1. Storage array based replication and  2.VMware's native vSphere Replication. In this article, we will discuss about Deploying HP Store Virtual VSA for setting up array based replication for VMware Site Recovery Manager.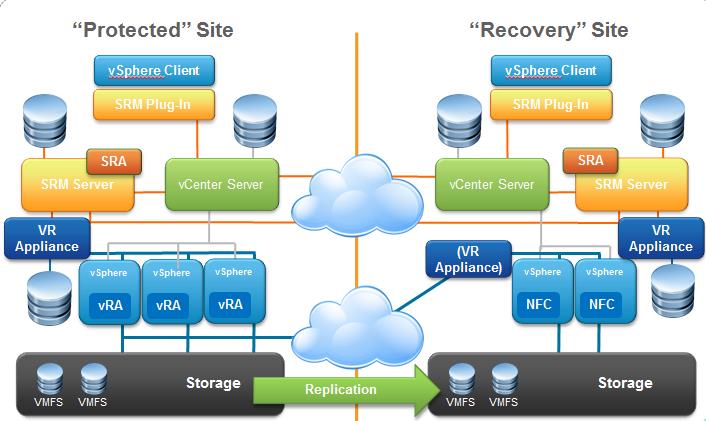 As we already discussed in previous posts, we are going to utilize the array based replication for this SRM series of posts. For lab or testing purpose, Storage based replication using  enterprise SAN storage is not feasible. You can go for vSphere Replication based replication or another option if you would like to test the array based replication in your SRM lab setup is using HP Storevirtual VSA. HP StoreVirtual VSA is a Virtual Storage Appliance that provides complete array functionality for VMware vSphere or Microsoft Hyper-V environments without need of external storage array hardware.
Deploying HP StoreVirtual VSA transforms your server's internal or direct-attached storage into a fully-featured shared storage array without the cost and complexity associated with dedicated storage. StoreVirtual VSA is a virtual storage appliance optimized for VMware vSphere and Microsoft Hyper-V environments.It creates a virtual array within your application server and scales as storage needs evolve. The ability to use internal storage within your environment greatly increases storage utilization, and eliminates the costs and complexity associated with dedicated external storage.Its built-in high availability and disaster recovery features ensure business continuity for the entire virtual environment. Let's start Deploying HP Store Virtual VSA on your VMware vSphere environment.
You can regsiter for the HP storeVirtual VSA and download from HP website. You need to download 2 packages 1. HP StoreVirtual VSA installer for vSphere and 2.Centralized Management console for Windows (CMC), Which is the management console for performing all storage related activites like Provisioning, Lun allocation and replication configuration
Deploying HP Store Virtual VSA
Double click the HP StoreVirtual VSA Installer for VMware vSphere installer. Specify the location to extract all the necessary files.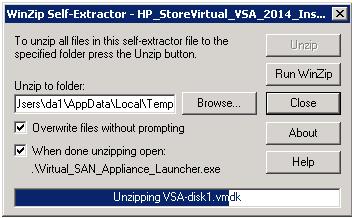 Once all the necessary files are extracted, you will be provided with Virtual_SAN_Appliance_launcher. Select any one of the option  to run the Virtual SAN appliance installer. I have entered 2 to begin the installation using HP Lefthand Graphical User Interface (GUI) wizard.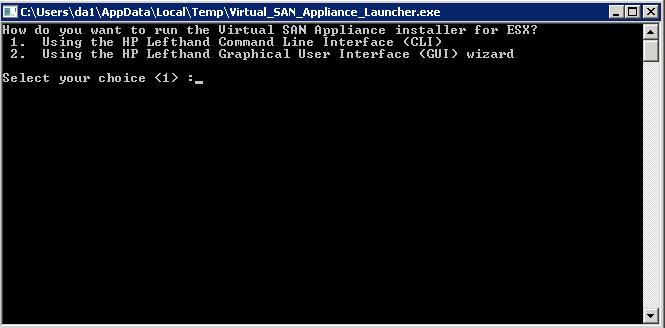 HP StoreVirtual Installer wizard will start. It will be same experience as deploying any virtual appliance in your VMware vSphere. Click on Next to begin the installation.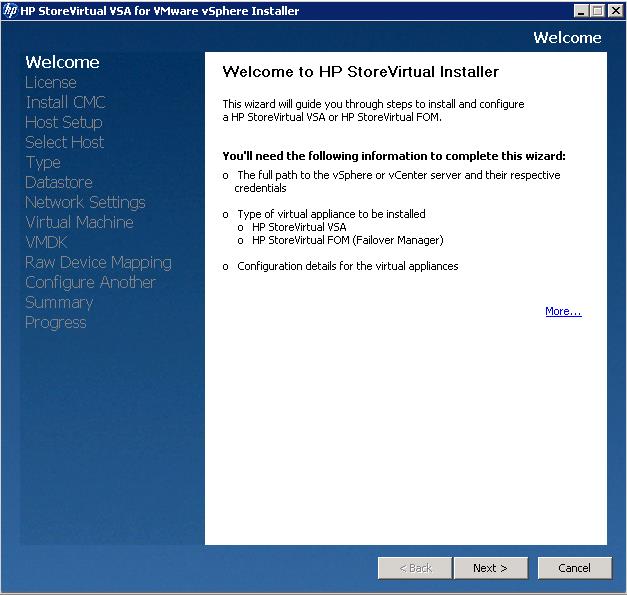 Accept the End user license  agreement and click on Next.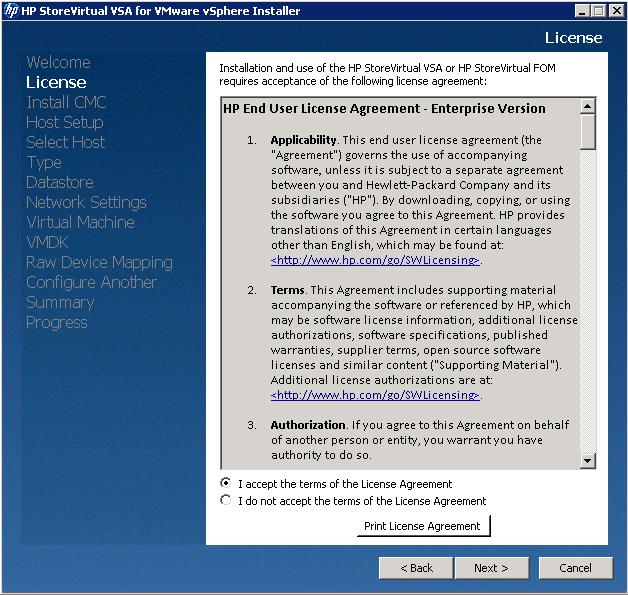 HP VSA installer will also provide you the option to install Centralized Management console (CMC) but i will install it later. Select Skip CMC installation checkbox and click on Next.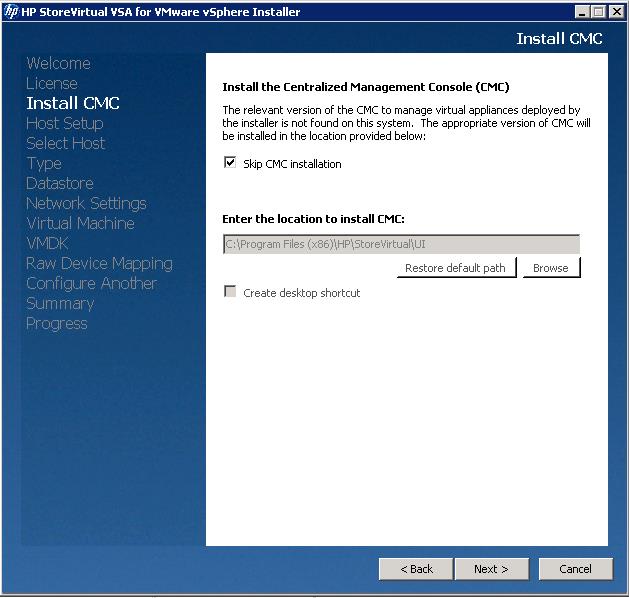 Specify the IP address or hostname of the vSphere ESXi host or vCenter server on which virtual appliance will be deployed. As i am deploying this VSA in my protected site first, I specified one of the ESXi host from the Protected site vCenter. Specify the credentials for it and click on Next.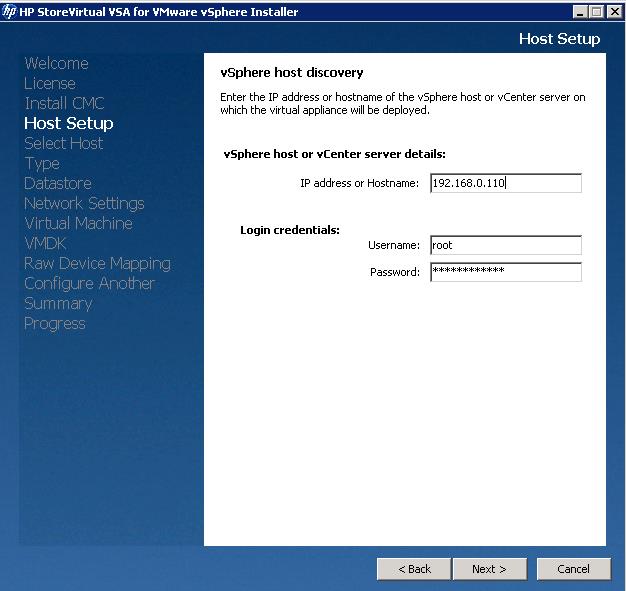 It displays the all the information about the specified ESXi like ESXi build version and datastore details,etc . Click on Next to proceed.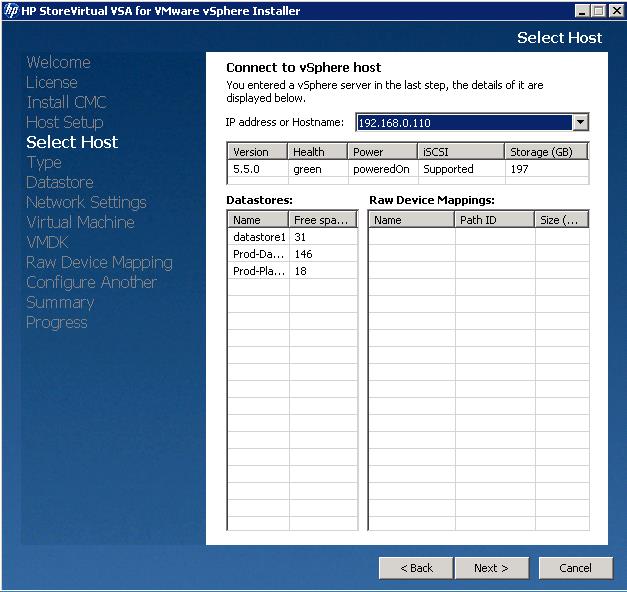 Select HP StoreVirtual under the Installation type. You can also choose to enable the additional features like Space reclamation feature and multi-tier storage support. Click on Next.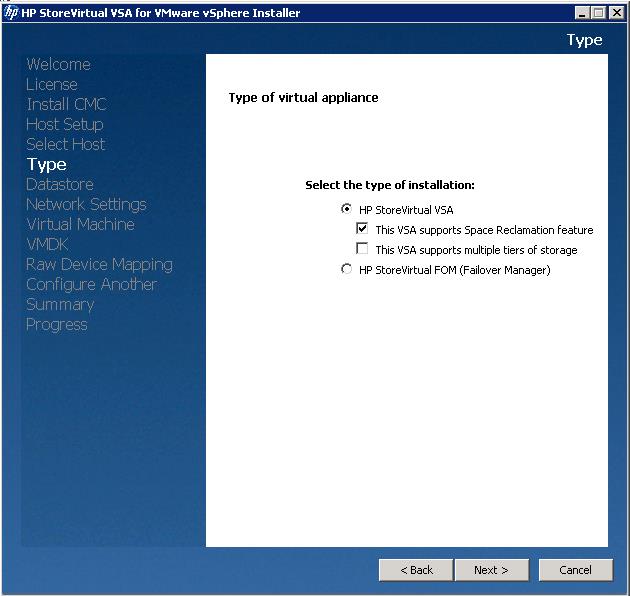 Select the datastore on which HP StoreVirtual VSA virtual machine to be deployed and click on Next.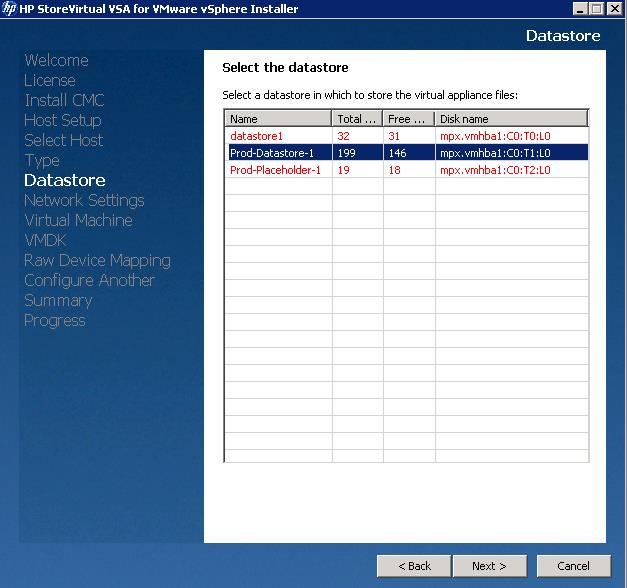 Specify the Virtual appliance DNS name and IP address details for this VSA virtual appliance.   Select the virtual machine portgroup  for this VM to connect to. Click on Next.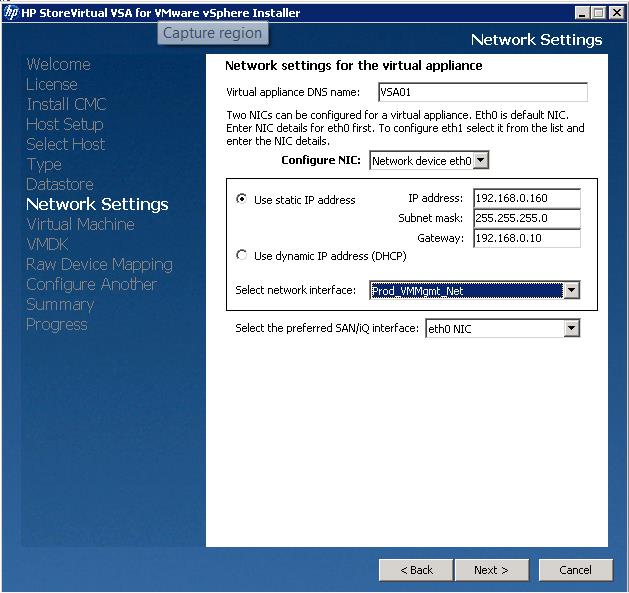 Since I am deploying it first in protected site, I named it as VSA01. Select the drive type to VMDK and click on Next.
This step allows you to add the additional virtual data disks. This will be the storage that will be used to create volumes and present as LUN to ESXi hosts. For this Lab environment deployment, I have added 80 GB disk. Click on Next.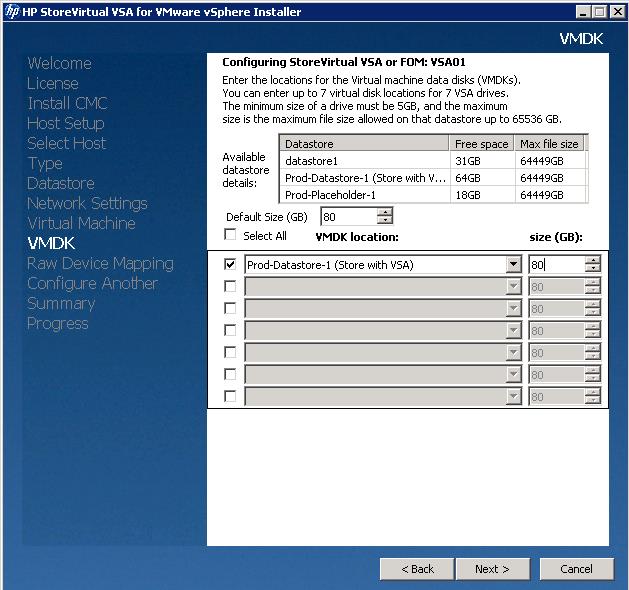 The below wizard "Configure and Install another virtual appliance" allows to deploy a second appliance from the same deployment wizard. As i discussed already, we need to deploy 2 HP StoreVirtual VSA. one for Protected site and one recovery site to establish a replication between them. I selected "I am done" because i will deploy the second VSA on my recovery site later after this deployment. Click on Next.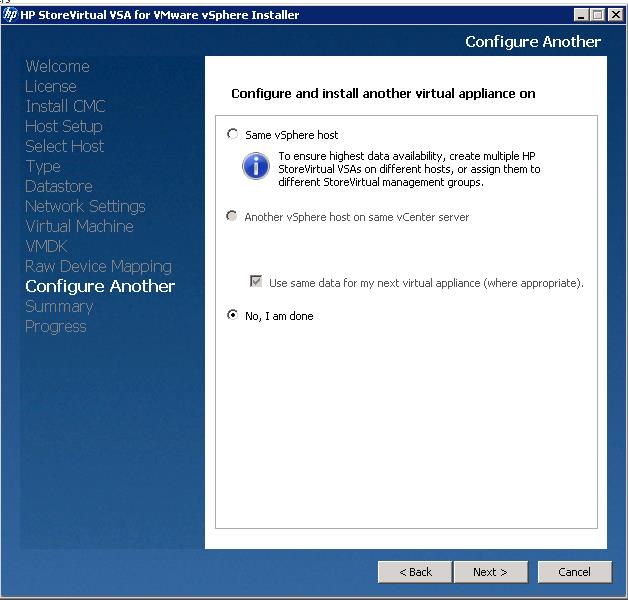 It will take few minutes to complete the HP StoreVirtual VSA virtual machine deployment.  Once you see the message "Successfully deployed" Click on Finish to complete the installation.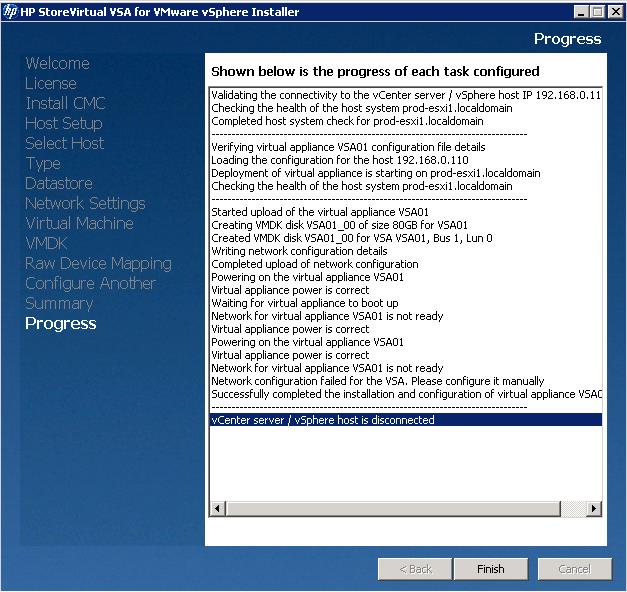 Thats it. we are done with Deploying HP Store Virtual VSA in the Protected site is completed. You need to follow the same procedure for Deploying HP Store Virtual VSA in your recovery site. Specify the ESXi host from your recovery vCenter server to deploy the second HP VSA. I have named it as VSA02 and deployed. In the next post,we will take a look at the procedure for installing centralized Management Console.  I hope this is informative for you.  Thanks for Reading!!. Be social and share it in social media, if you feel worth sharing it.
Disaster Recovery :
VMware Site Recovery Manager (SRM 6.0) Part 1- Overview and Architecture
VMware Site Recovery Manager (SRM 6.0) Part 2 – VMware SRM 6.0 installation
VMware Site Recovery Manager (SRM 6.0) Part 3 – Configuring SRM Site Pairing
VMware Site Recovery Manager (SRM 6.0) Part 4 – Installing Storage Replication Adapters (SRAs)
VMware Site Recovery Manager (SRM 6.0) Part 5 – Configuring SRM Array Manager
VMware Site Recovery Manager (SRM 6.0) Part 6 – Creating SRM Resource Mappings
VMware Site Recovery Manager (SRM 6.0) Part 7 – Configuring SRM Folder Mapping
VMware Site Recovery Manager (SRM 6.0) Part 8 – Configuring SRM Network Mapping
VMware Site Recovery Manager (SRM 6.0) Part 9 – Configuring SRM Placeholder Datastores
VMware Site Recovery Manager (SRM 6.0) Part 10 – Creating SRM Protection Group
VMware Site Recovery Manager (SRM 6.0) Part 11 – Creating SRM Recovery Plans
VMware Site Recovery Manager (SRM 6.0) Part 12 – Running SRM Test Recovery
VMware Site Recovery Manager (SRM 6.0) Part 13 – Cleaning up Test Recovery
SAN Replication :
VMware SRM 6.0 Array Based Replication Part 2 – Installing HP Store Virtual VSA Centralized Management Console (CMC)
VMware SRM 6.0 Array Based Replication Part 3 – Configuring HP StoreVirtual VSA Management Group
VMware SRM 6.0 Array Based Replication Part 4 – Adding ESXi host to HP VSA Management Group and Presenting Storage to ESXi
VMware SRM 6.0 Array Based Replication Part 5 – Configuring HP StoreVirtual VSA Replication