In the Previous posts, we have created HP StorVirtual Management group,Cluster and Created Volumes. This post we are going to add the ESXi hosts into the HP VSA Management Group and assigning storage to the ESxi hosts. We will add the assigned storage as dastores in the ESxi host. This article specifically talks about assigning storage to ESXi host using HA VSA StoreVirtual appliance for the lab purposes.
Add ESXi host to HP VSA Management Group
To add the new server into management group. Right-click the Servers under the management group and Select New Server.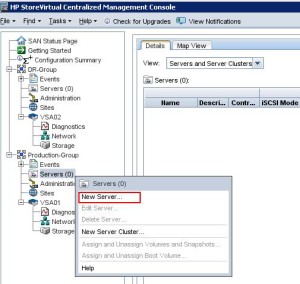 I am going to add my  esxi host  "Prod-esxi1" in the protected site into the "Production-Group"HP VSA  management group. Specify the name of the ESXi host and controlling Server IP address is your vCenter Server IP address. additionally you can also enable the CHAP authentication for the security purpose. Click on Ok to add the server into management group.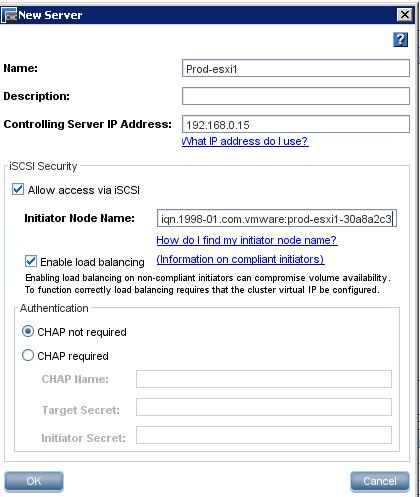 You need to perform the same procedure to add your the ESXi host in the DR site. I have added my DR esxi host "dr-esxi1" into the management group "DR-group. Both the Prod and DR esxi server are appearing under the servers under management group.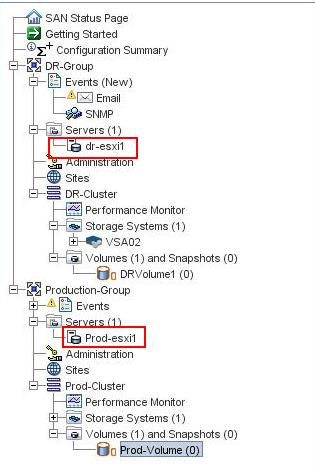 Assigning Storage to the ESXi host:
We have added the ESXi host into the management group. Now we need to assign the access to the storage volumes for the ESXi host. To assign the volume to the server, Right-click the volume and select "Assign and Unassign Servers".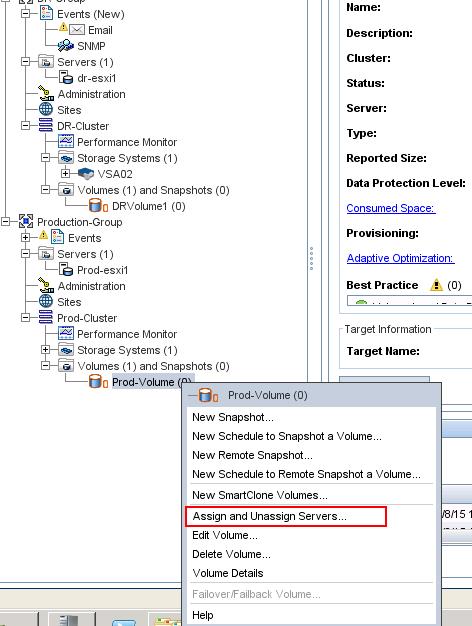 Select the "Prod-esxi1" from the Server list and Select the Check mark "Assigned" and Permission from the drop-down.We are done from the HP CMC.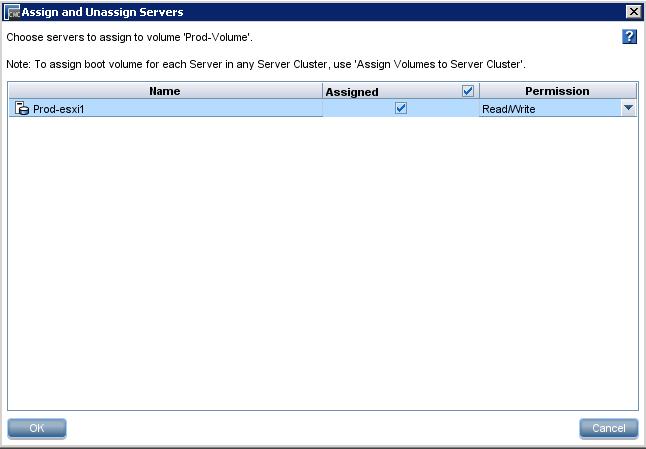 Adding HP VSA Storage to the ESXi host
Once volume has been assigned to the server from HP StoreVirtual CMC,Click on iSCSI initiator properties from your ESXi host and add the Virtual IP address (VIP) address of your Management cluster. I have assigned the VIP of 192.168.0.251 for my Prod-cluster in the previous post. Click on Ok.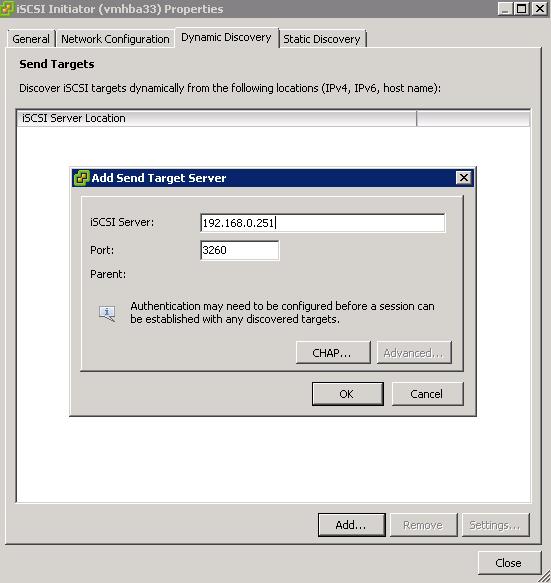 Click on Rescan All for the iSCSI software Adapter. Once rescan is completed, you will be able to see the assigned storage under the Devices tab.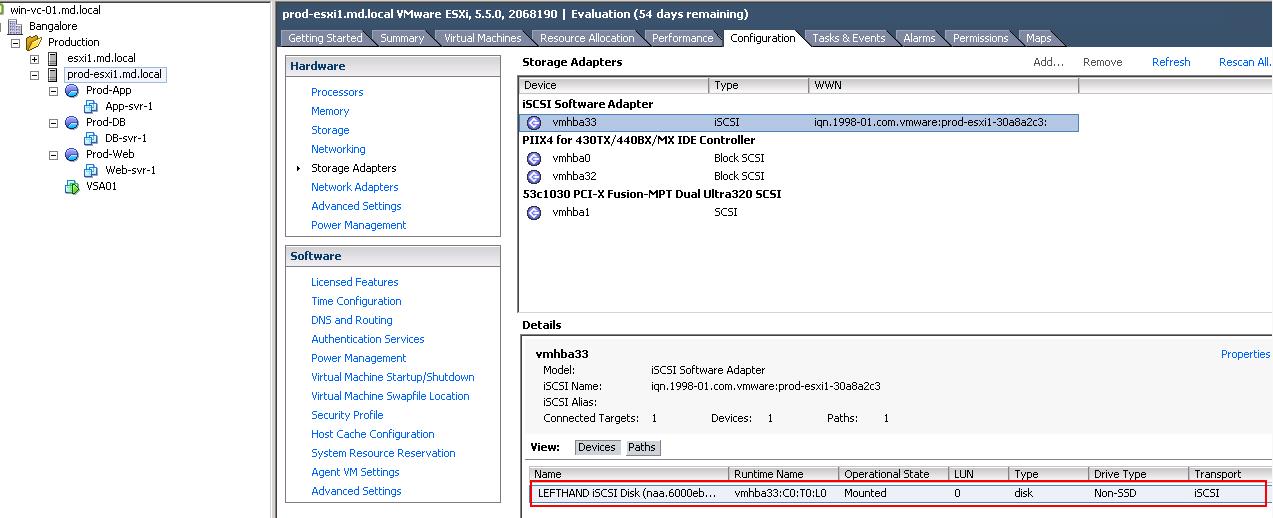 That's it. Create the datastore from the visible storage. We are done. In the next post, We will take a look at configuring the storage replication between the storage in Protected site and your DR site. i.e Replication between your Prod-Volume and DR-volume. Thanks for Reading!!!. I hope this is informative for you. Be social and share it in social media, if you feel worth sharing it.
Disaster Recovery :
VMware Site Recovery Manager (SRM 6.0) Part 1- Overview and Architecture
VMware Site Recovery Manager (SRM 6.0) Part 2 – VMware SRM 6.0 installation
VMware Site Recovery Manager (SRM 6.0) Part 3 – Configuring SRM Site Pairing
VMware Site Recovery Manager (SRM 6.0) Part 4 – Installing Storage Replication Adapters (SRAs)
VMware Site Recovery Manager (SRM 6.0) Part 5 – Configuring SRM Array Manager
VMware Site Recovery Manager (SRM 6.0) Part 6 – Creating SRM Resource Mappings
VMware Site Recovery Manager (SRM 6.0) Part 7 – Configuring SRM Folder Mapping
VMware Site Recovery Manager (SRM 6.0) Part 8 – Configuring SRM Network Mapping
VMware Site Recovery Manager (SRM 6.0) Part 9 – Configuring SRM Placeholder Datastores
VMware Site Recovery Manager (SRM 6.0) Part 10 – Creating SRM Protection Group
VMware Site Recovery Manager (SRM 6.0) Part 11 – Creating SRM Recovery Plans
VMware Site Recovery Manager (SRM 6.0) Part 12 – Running SRM Test Recovery
VMware Site Recovery Manager (SRM 6.0) Part 13 – Cleaning up Test Recovery
SAN Replication :
VMware SRM 6.0 Array Based Replication Part 1 – Deploying HP Store Virtual VSA
VMware SRM 6.0 Array Based Replication Part 2 – Installing HP Store Virtual VSA Centralized Management Console (CMC)
VMware SRM 6.0 Array Based Replication Part 3 – Configuring HP StoreVirtual VSA Management Group
VMware SRM 6.0 Array Based Replication Part 5 – Configuring HP StoreVirtual VSA Replication