With the release of VSAN, VMware fulfills the true software-defined data center with the combination of virtualized compute, network and storage. After VSAN release, I will definitely say that buying storage for your infrastructure is not only limited to the storage vendors but also VSAN will play a major role because which is part of hypervisor after vSphere 5.5 Update 1 onwards.  Virtual SAN 5.5 is a new hypervisor-converged storage tier that extends the vSphere hypervisor to pool server-side magnetic disks (HDDs) and solid-state drives (SSDs). By clustering server-side HDDs and SSDs, Virtual SAN creates a distributed shared datastore designed and optimized for virtual environments.Virtual SAN is a standalone product that is sold separate from vSphere and requires its own license key.
VSAN setup requires minimum of 3 ESXi hosts with minimum of 2 local disks  (1 SSD and 1 HDD) to participate in the VSAN cluster. Not all VMware Admins are feasible to  buy and setup a lab for VSAN with 3 physical servers along with multiple disks and SSD. This post going to explain you detailed step by step procedure to Configure Virtual SAN (VSAN) using VMware Workstation.
VSAN home Lab Configuration and Specifications using VMware Workstation

vCenter Server Appliance 5.5 Update 1 (vCSA 5.5 u1)
3 No's of ESXi 5.5 update 1 hosts with below configuration:
2 vCpu
4 GB RAM
4 Local Disks
Disk 1 – 40 GB (Local Datastore)
Disk 2 – 10 GB (Going to fake this disk as SSD)
Disk 3 – 40 GB
Disk 4 – 20 GB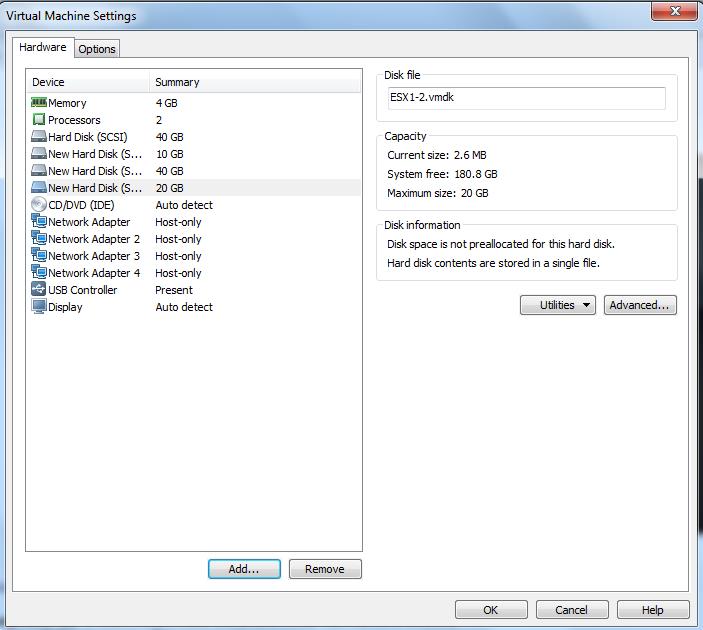 Install vCenter Server Appliance on VMware Workstation:
Download vCenter Server Appliance 5.5 Update 1 0va file and Double click on downloaded OVA file. Modify the name and location of virtual machine if required and click on  Import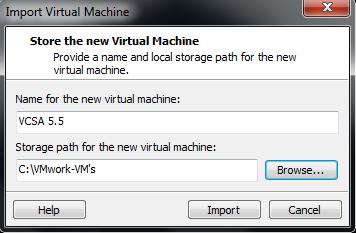 Power on the vCSA virtual machine once import has been completed. Configure vCenter Server appliance as per the post "Configure vCenter Server Appliance with default settings or use custom settings with custom SSO and Database.
Install ESXi 5.5 on VMware Workstation:
To know how to install ESXi hosts on VMware Workstation, take a look at my posts
Install ESX/ESXi Server on VMware Workstation – Part 1
Install ESX/ESXi Server on VMware Workstation – Part 2
By completing all the above steps , we are ready with basic lab for VSAN on the VMware Workstation. We will detailed step by step procedure to configure VSAN and other tasks related to VSAN using VMware Workstation. I hope this post is informative for you. Thanks for reading !!!!