vSphere 5.5 released and we are evaluating the features of our brand new hypervisor with our evaluation license. Evaluation period is 60 days but do you think 60 days is not enough to keep your hands dirty with ESXi 5.5 .It will be time consuming to re-install ESXi 5.5 every 60 days after your evaluation license is expired. Don't worry, VMware provide us with the
Free ESXi 5.5 Hypervisor with no more physical RAM hard limit.
Download the VMware ESXi 5.5 Free Hypervisor installer image along with free license keys.
Register or Login with your VMware account credentials
Download Now and Complete your End to End P2v Migrations using VMware Arena's "P2V ADMIN ISO"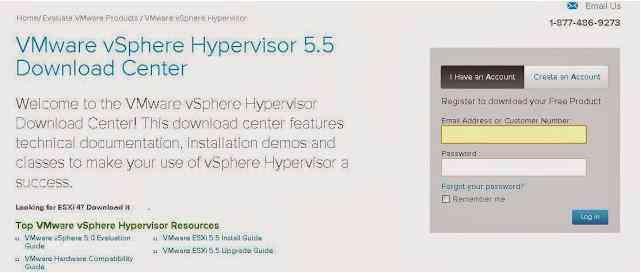 Once you have logged in ,  You will have been provided with the option to download the  ESXi 5.5 Installation ISO and VMware vSphere client along with the Free license key for ESXi 5.5 Hypervisor.
Once the installers are download. Complete the ESXi 5.5 installation or Upgrade and Connect to your ESXi host using vSphere Client.
Click on Configuration tab and select Licensed Features. Click on Edit
Enter the license key and Click on Ok.
You are done with the  ESXi 5.5 free license key assignment and it is never Expires now. I believe this is informative for you. Thanks for Reading !!!