I am excited that vSphere 7 is released today. vSphere 7 – The biggest innovation since the launch of ESXi. vSphere 7 delivers essential services for the modern hybrid cloud. It powers the computing environment for modern applications, AI/ML, and business-critical applications. There are two editions one is vSphere 7 and vSphere 7 with Kubernetes. Applications can be deployed using any combination of virtual machines, containers, and Kubernetes. The headline news is that vSphere now has native support for Kubernetes, so you can run containers and virtual machines on the same platform, with a simple upgrade of the system that you've currently standardized on and adopting VMware Cloud Foundation. vSphere is the Common Platform for Running both Kubernetes/Containerized Workloads and VMs.
vSphere 7 is available in two editions
vSphere 7 – The new generation of vSphere for traditional applications
vSphere 7 with Kubernetes – The new generation of vSphere for containerized applications. Available through VMware Cloud Foundation.
What's available in vSphere 7 with Kubernetes
All capabilities of Version 7 such as simplified lifecycle management, intrinsic security, and application acceleration to name a few.
• VMware Cloud Foundation Services – Newly introduced services for developers using vSphere with Kubernetes, which is available in VMware Cloud Foundation
• Application-focused management– Organize Kubernetes clusters, containers and virtual machines within the vCenter Server.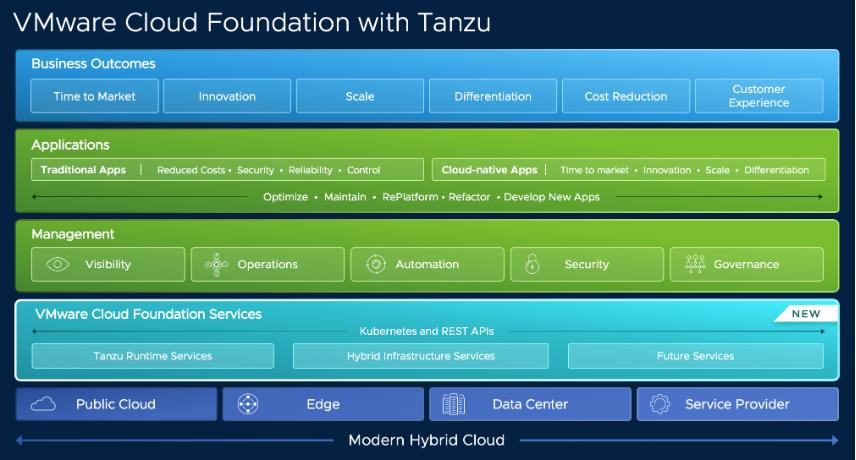 vSphere 7 with Kubernetes
VMware Cloud Foundation Services consists of two families of services – Tanzu Runtime Services and Hybrid Infrastructure Services. Powered by innovations in vSphere 7 with Kubernetes, these services enable a self-service experience through Kubernetes APIs.
1. Tanzu Runtime Services allow developers to build applications with freedom using the upstream conformant Kubernetes distributions.
Tanzu Kubernetes Grid Service The Tanzu Kubernetes Grid Service allows developers to manage consistent, compliant and conformant Kubernetes clusters
2. Hybrid Infrastructure Services allow developers to provision and work with infrastructures such as compute, storage, and networking.
vSphere Pod Service The vSphere Pod Service allows developers to run containers directly on the hypervisor for improved security, performance, and manageability
Storage Service The Volume Service allows developers to manage persistent disks for use with containers, Kubernetes and virtual machines.
Network Service The Network Service allows developers to manage Virtual Routers, Load Balancers and Firewall Rules
Registry Service The Registry Service allows developers to store, manage and secure Docker and OCI images
As this is initial information about vSphere 7. We will talk a lot about vSphere 7 in the upcoming days. Please take a look at the vSphere page to learn more about the vSphere 7 features. I hope this article is informative for you to take a trailer view of vSphere 7 and its features. Thanks for Reading!!!. Be social and share it in social media, if you feel worth sharing it.