vSphere 6.5, the latest version of its industry-leading virtualization platform. This new release of vSphere features a dramatically simplified experience, comprehensive built-in security, and a universal app platform for running any app. vSphere 6.5 makes the vCenter Server Appliance the fundamental building block of a vSphere environment. The core vSphere architecture is built around this easy to deploy and manage approach that reduces operational complexity by embedding key functionality into a single location. On March 14, VMware released new build for vCenter 6.5 called vCenter 6.5b. vCenter 6.5b is for both windows and vCSA 6.5b. In this article we will talk about what's new with vCenter server 6.5b release and along with the overview about the resolved issues in vCenter Server 6.5b. I will also going to explain the procedure to upgrade vCSA 6.5 to vCSA 6.5b using ISO image.
What's New with vCSA 6.5b
This release of vCenter Server 6.5.0b delivers a number of bug fixes and few of the new functionality
Updates to time zones in the Linux Guest Operating System customization
Updates to time zones in the Windows Guest Operating System customization
Updates to JRE package
Additional functionality to the vSphere Client
Resolved Issues in vCenter 6.5b
vCenter Single Sign-On Issues
Requests to the vCenter Single Sign-On server from the vSphere Web Client fail
Upgrade and Installation Issues
Sometimes embedded node upgrades from vSphere 5.5 or vSphere 6.0 to vSphere 6.5 fail during vmonapi firstboot
After upgrade to vCenter Server Appliance 6.5, email alerts no longer work
vCenter Server pre upgrade check fails with an error indicating duplicate names in a network folder
vCenter Server installation fails when the username is entered using the NetBios format
vCenter Server upgrade might fail at pre-check phase of ESXi Agent Manager
Backup Issues
When the user performs an encrypted backup and restores from it, an error pops up
During a restore with vSphere Data Protection, all vCenter Server services fail to start
Security Issues
Update to Apache Struts
Apache Struts is updated to version 2.3.32 to resolve CVE-2017-5638.
Update to the NTP package
The vCenter Server Appliance NTP package is updated to version 4.2.8p9.
vCenter Server, vSphere Client, vSphere Web Client, and Host Client Issues
Virtual Volumes (VVol) replication groups in INTEST or FAILEDOVER replication state cannot be selected in the vSphere Web Client
When you power on a virtual machine, not all related events are shown in the related events section
The assign tag operation fails for the entity with an error message
Node networking information is not visible to Active Directory users who are members of 40 or more group
A vSphere Web Client plugin might stop working with Chrome version 55 and above
Deploying OVF template causes error.mutationService.ProviderMethodNotFoundError error in some views
In environments that were upgraded from vSphere 5.1 or earlier, OVF deployment from vSphere Web Client might fail
Searching for host name in New Virtual Machine wizard populates incorrect results
Email alerts sent from VMware vCenter Server Appliance are rejected by a relay server
Users with no vCenter Server permissions can log in to the vSphere Web Client
The vSphere Web Client does not display the most recent task started under the datacenter
Faceted search times out and tags do not display on vCenter Server instances with a large number of inventory objects
Cannot access HTML5-based vSphere Client
Virtual Machine Management Issues
vCenter Server might fail because of database unique constraint violation at pk_vpx_vm_virtual_device
High Availability and Fault Tolerance
vSphere Web Client VM Summary does not display accurate HA protection configuration
How to Upgrade vCenter Server appliance 6.5 to vCSA 6.5b ?
You can upgrade or perform patching on your vCenter Server appliance using two ways . First one is via internet. vCSA appliance will identify, if any updates available via internet connection and list the update option. If you don't have internet connection to your vCSA server. Second option is offline installer is the ideal one to perform the vCSA 6.5 to 6.5b upgrade. In this article, i am going to explain the upgrade procedure for upgrade from vCSA 6.5 to vCSA 6.5b using offline upgrade procedure.
For offline upgrade, Download the vCenter server 6.5b upgrade ISO for the vCSA appliance and attach the vCSA 6.5b upgrade ISO into the vCenter Server appliance 6.5 virtual machine. Make sure "Connected" checkbox is selected and click on Ok. Before performing the Upgrade, I always recommend to take the snapshot of your vCSA appliance. If you have external PSC, Kindly take snapshot of both PSC and vCenter appliance.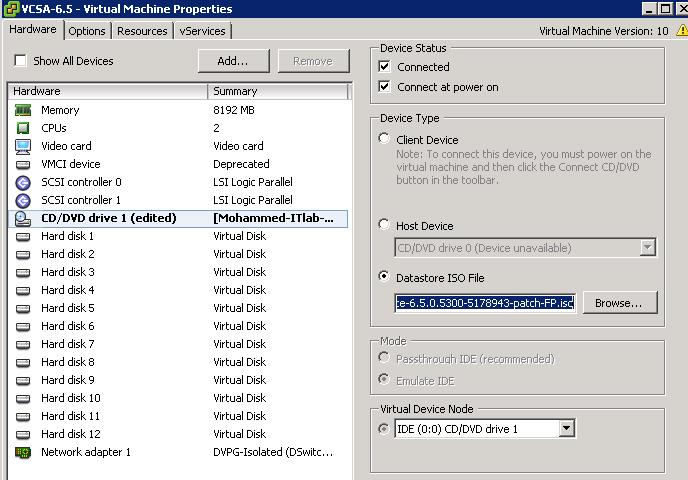 Login to the vCenter Server appliance 6.5 VAMI page using the URL (https://vCenter-appliance-name:5480) and login with the root credentials.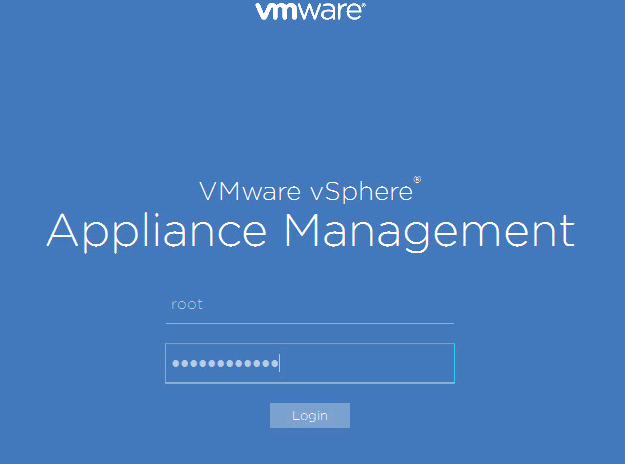 In the vCenter Server Appliance management, Click on Update. You can check the current version of vCenter Server appliance and build details. Click on Check Updates – > Check CDROM for offline Upgrade. If you have internet connect to the vCSA appliance, you can select Check URL to scan for available updates for vCSA. Since I don't have internet connection to my vCSA, I have Selected "Check CDROM" option.

Since we have already attached the vCSA 6.5b upgrade ISO to the CDROM of the vCSA virtual machine. It detects the vCSA 6.5b under available updates. Review the build version.

Click on "Install Updates -> Install CDROM Updates to start the upgrade of vCSA 6.5 to vCSA 6.5b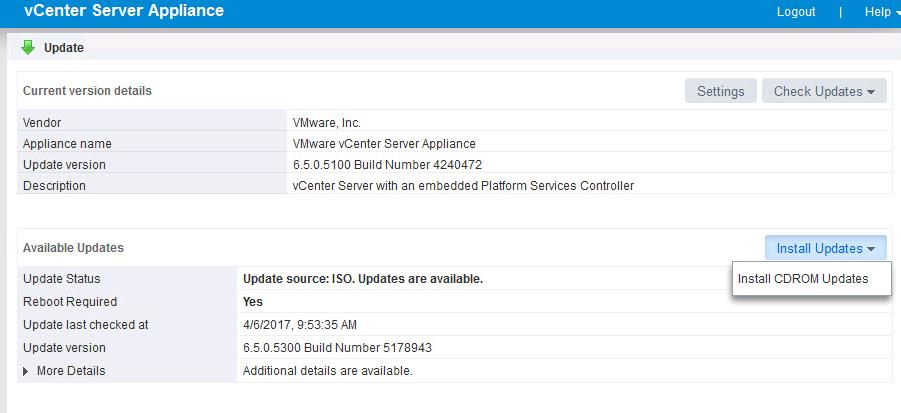 Select the checkbox "I accept the terms of the license agreement" to accept the End user license agreement and Click on "Install"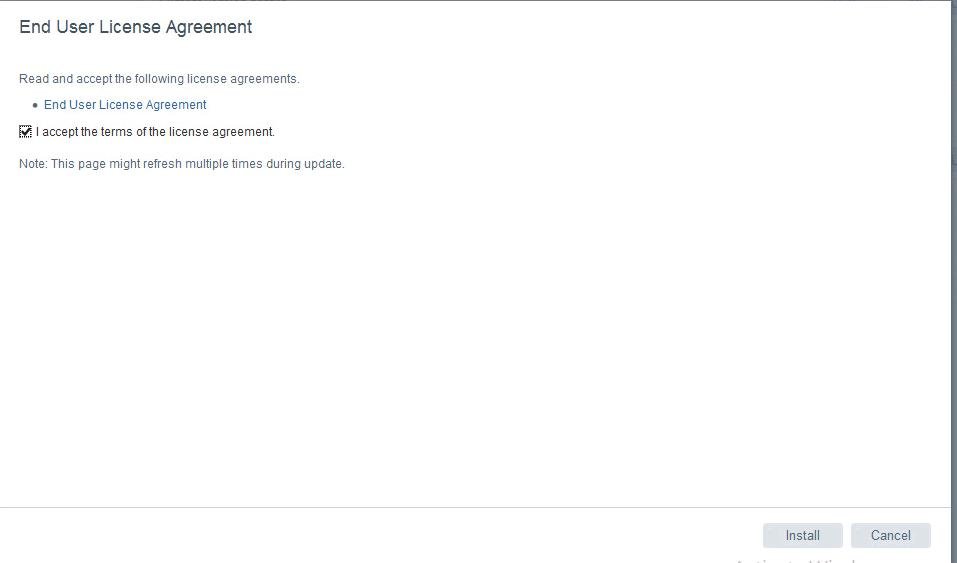 It will few minutes to complete the upgrade of vCenter Server appliance 6.5 to vCSA 6.5b. Click on Ok to complete the installation.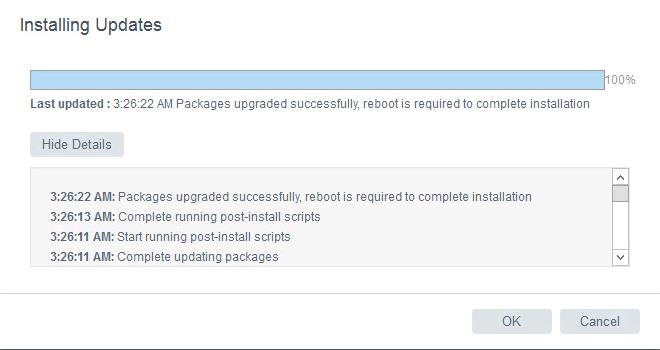 Reboot the vCenter appliance after the upgrade and login back to vCSA management page and you can notice that vCenter appliance is upgrade to the build 6.5.0.5300 Build Number 5178943. which is nothing but vCSA 6.5b.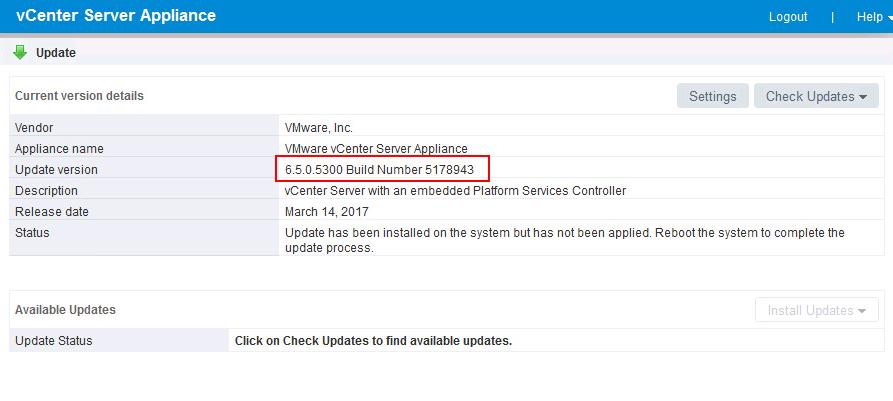 After upgrade, All my services are back and overall health status is green.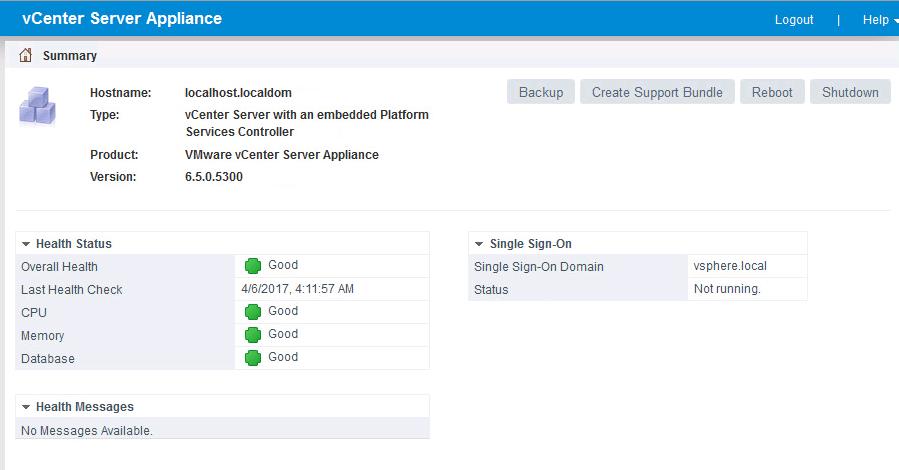 That's it. we are done with the upgrade of vCSA 6.5 to vCSA 6.5b. I hope this is informative for you. Thanks for Reading!!. Be social and share it in social media, if you feel worth sharing it.