Today  (18-OCt-2016) at VMworld Barcelona 2016,  vSphere 6.5 has been announced by Pat Gelsinger during the General session. vSphere 6.5 released with lot of new features that most of them were waiting for. vSphere 6.5, the latest version of its industry-leading virtualization platform.  This new release of vSphere features a dramatically simplified experience, comprehensive built-in security, and a universal app platform for running any app. vSphere 6.5 makes the vCenter Server Appliance the fundamental building block of a vSphere environment. The core vSphere architecture is built around this easy to deploy and manage approach that reduces operational complexity by embedding key functionality into a single location.
What's New with vSphere 6.5
vCenter Server Appliance:
Fully Integrated vSphere Update Manager with vCenter Server appliance (No more windows)
File based backup/restore  for vCSA
Native High Availability for the vCenter Server Appliance (VCSA only)
Builtin monitoring web interface for the VCSA
over 2x increase in scale and 3x in performance
Easy to migrate from Windows vCenter  to VCSA 6.5 using vCenter Server Appliance tool
vCenter Server appliance runs on Photo OS now.
Client Integration Plugin (CIP) for the vSphere Web Client is no longer required anymore
Run the VCSA depolyment installeren on Windows, Mac and Linux
The installer now supports install, upgrade, migrate and restore
HTML 5 based vSphere Client

In vSphere 6.5 there is an improvement in the migration tool which allows for more granular selection of migrated data as follows:
Configuration
Configuration, events, and tasks
Configuration, events, tasks, and performance metrics
vSphere Web Client:
This small list of high-impact improvements will help with the overall user experience with the vSphere Web Client while development continues with the HTML5-based vSphere Client:
Inventory tree is the default view
Home screen reorganized
Renamed "Manage" tab to "Configure"
Removed "Related Objects" tab
Performance improvements (VM Rollup at 5000 instead of 50 VMs)
Live refresh for power states, tasks, and more!

vSphere Client:
Fully supported version of the HTML5-based vSphere Client that will run alongside the vSphere Web Client. The vSphere Client is built right into vCenter Server 6.5 (both Windows and Appliance) and is enabled by default.
Some of the benefits to the new vSphere Client:
Clean, consistent UI built on VMware's new Clarity UI standards (to be adopted across our portfolio)
Built on HTML5 so it is truly a cross-browser and cross-platform application
No browser plugins to install/manage
Integrated into vCenter Server for 6.5 and fully supported
Fully supports Enhanced Linked Mode
Users of the Fling have been extremely positive about its performance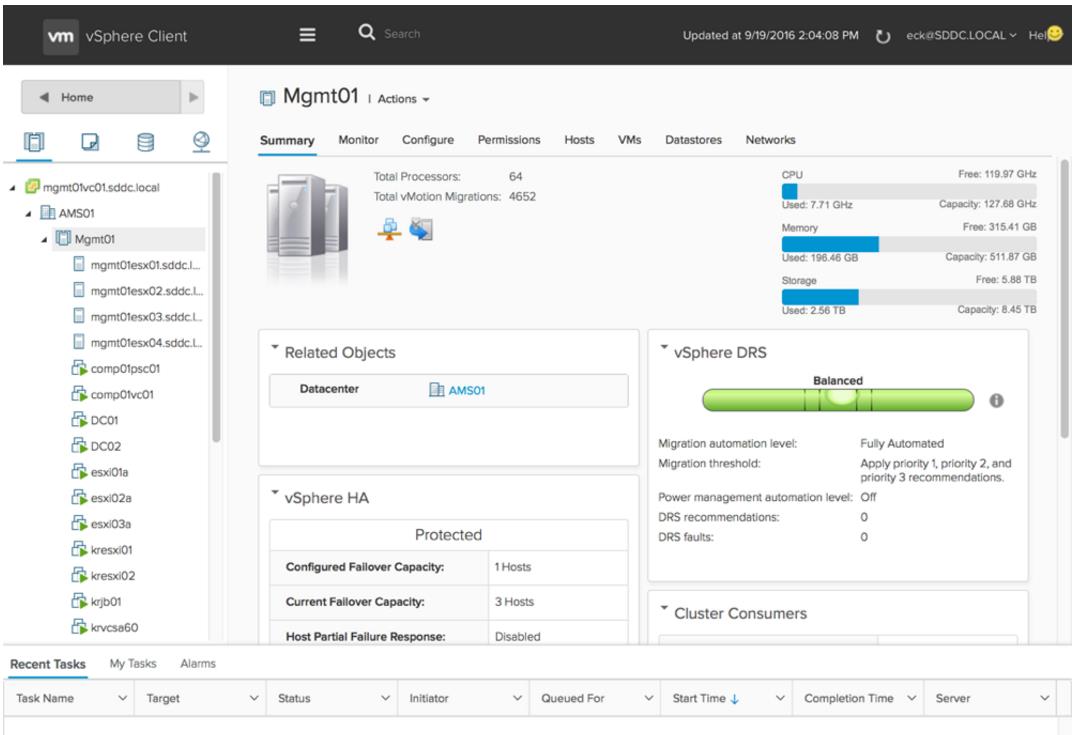 Resource Management – HA, FT and DRS
High Availability:
Improved Admission Control Policies :
VM Restart Priorities: new restart priorities added such as highest and lowest in addition to High, medium, low which available from previous versions.
HA Orchestrated Restart: Enforce VM to VM dependency chains. This is great for multi-tier applications the require VMs to restart in a particular order. (DB, App and then Web Vm)
Proactive HA: vCenter plugin that connects to the hardware vendor monitoring solution (Dell Open Manage, HP Insight Manager or Cisco UCS). When there is for example a memory failure detected by the hardware vendor monitoring tools, the VMs from that hosts are migrated using vMotion to another hosts.
vSphere DRS:
Network-Aware DRS :Adds network bandwidth calculations in DRS. This avoids an over-subscribing host network link.
Advanced DRS Policies exposed in the UI.
Fault Tolerance:
Improved DRS integration: DRS performs the better placement of  the secondary VM
Performance Improvements:Host level network latency reduction. Allows to run more applications with FT.
Multi-NIC Aggregation: It is possible to pack more NICs like (vMotion for FT) for better performance.
Content Library:
Mount an ISO from the Content Library
Customize OS  during VM deployments from the library.
Update an existing template with a new version
Optimized HTTP sync between vCenter Servers
Virtual SAN 6.5:
Virtual SAN iSCSI access:  iSCSI access is built for supporting MSCS with shared storage and physical workloads that needs to have storage. There is no support in this release to targeting the VSAN storage to other ESXi clusters.
2-node Direct Connect and Witness traffic separation: Ability to connect two nodes directly using ethernet cables. Stretchen VSAN with Direct Connect is not supported at the moment.
Licensing: The VSAN standard license includes the All-Flash option and New VSAN advanced for ROBO licensing
Security:
VM-level disk encryption capability designed to protect against unauthorized data access.
Encrypted vMotion capability, vSphere can safeguard both data at-rest and data in-motion.
Secure boot model to protect both the hypervisor and the guest operating system.
Audit-quality logging capabilities that provide more forensic information about user actions.
I hope this article helps you to understand the new features available with vSphere 6.5. I will write a detailed posts of each of new features available with VMware vSphere 6.5. Thanks for Reading!!!. Be social and share it in social media, if you feel worth sharing it.
vSphere 6.5 Related Posts:
What's New with VMware vSphere 6.5?
vSphere 6.5 -What's New with vCenter 6.5?
What's New with Virtual SAN 6.5? – New Features Overview
vSphere 6.5 -What's New with vSphere 6.5 HA & DRS
vSphere 6.5 – What's is in VMware vSphere 6.5 Fault Tolerance?
vSphere 6.5 – How VM's are Secured using vSphere 6.5 Security Features?