VMware Site Recovery Manager (SRM) is a disaster recovery and business continuity solution from the VMware,which automates the transfer of virtual machines to a local or remote recovery site. SRM works perfectly with the existing vSphere software and it operates as an extension of vCenter server. SRM automates the recovery or migration of virtual machines between protected site and a recovery site. Protected site is nothing but your primary site where active production workloads are running and recovery site is the datacenter location where you want to move your production workloads in case of Disaster like natural calamities in your primary datacenter. Virtual machines are moved to recover from a disaster or as a planned migration. vCenter Site Recovery Manager facilitates the clean shutdown of virtual machines at the protected site for a planned migration.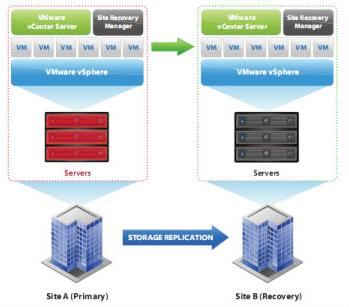 VMware SRM is used with array-based replication software. You can also use VMware's native replication, called VMware vSphere Replication. vSphere Replication copies virtual machines from one host to another, using the power of the hosts involved rather than the storage system. Below are the high level recommendation to setup SRM:
vSphere environment including vCenter should be deployed on both Protected site and recovery site.
Array based replication is established between protected and recovery site using third party storage vendors. Optionally you can utilize vSphere Replication as a native solution, if you don't have array based replication.
VMware Site recovery manager software needs to be installed on both Protected and recovery site.
VMware Administrators use SRM to create disaster recovery plans.
VMware Administrator can use recovery plans to initiate Recovery tests or actual recovery.
Architecture of VMware Site Recovery Manager:
As we already discussed, VMware SRM can be used along with array based replication or vSphere Replication or combination of  both. Below architecture diagram is the combination of both array based replication and vSphere replication.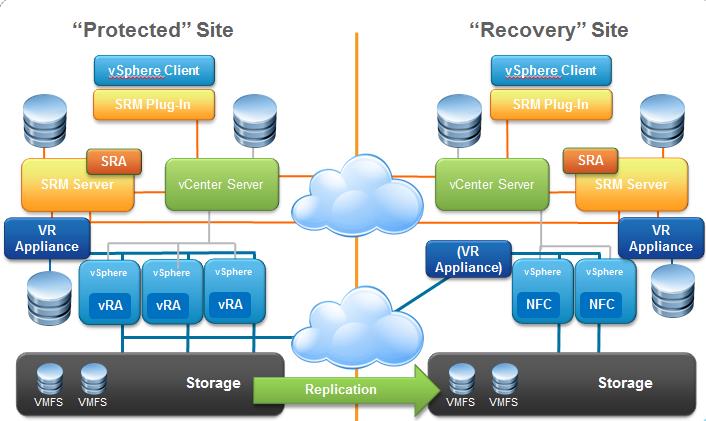 You need to have same version of vCenter and SRM installed on both protected  and recovery site. SRM plug-in must be added to vSphere web client.  Since SRM 5.8, SRM plugin integrated only with Web Client and no plug-ins available for vSphere client.
Storage Replication Adapter (SRA) is the Code written by our storage partners to allow SRM to communicate with storage arrays. You need to install Storage replication adapter (SRA) from the respective vendor in the SRM server to use array based replication. In case of using array-based replication, the same replication technology must be available at both sites, and the arrays must be paired. If you are using vSphere Replication, it's required a vSphere Replication appliance on both sites. The vSphere Replication appliances must be connected to each other and be the same version.
Below are the few more details about vSphere Replication:
VR Appliance (vSphere Replication Appliance) – this used to be called the "VRMS", and provided management capabilities for the VR framework. This function persists in the VR Appliance, and "VRS" functionality has been integrated with the appliance.
VR Server (VRS) is vSphere Replication Server – an optional scaling component.This provides a replication target. This functionality is included in the VR Appliance, but to scale to higher than 100 replications, additional VR Server instances can be deployed.
vSphere Replication Agent (VRA) Present on every vSphere 5.x host, it only becomes active when a protected VM is writing data.
 Network file copy (NFC) protocol is used to commit network based disk writes by vSphere. The VRS receives replicated blocks and distributes them via NFC to the vSphere hosts for writing to storage.
In this entire series of posts, We will be discussing about step by step procedure on how to configure VMware SRM 6.0 using array based replication. I hope this is informative for you. Thanks for reading. Be social and share it in Social media, if you feel worth sharing it.
Disaster Recovery :
VMware Site Recovery Manager (SRM 6.0) Part 1- Overview and Architecture
VMware Site Recovery Manager (SRM 6.0) Part 2 – VMware SRM 6.0 installation
VMware Site Recovery Manager (SRM 6.0) Part 3 – Configuring SRM Site Pairing
VMware Site Recovery Manager (SRM 6.0) Part 4 – Installing Storage Replication Adapters (SRAs)
VMware Site Recovery Manager (SRM 6.0) Part 5 – Configuring SRM Array Manager
VMware Site Recovery Manager (SRM 6.0) Part 6 – Creating SRM Resource Mappings
VMware Site Recovery Manager (SRM 6.0) Part 7 – Configuring SRM Folder Mapping
VMware Site Recovery Manager (SRM 6.0) Part 8 – Configuring SRM Network Mapping
VMware Site Recovery Manager (SRM 6.0) Part 9 – Configuring SRM Placeholder Datastores
VMware Site Recovery Manager (SRM 6.0) Part 10 – Creating SRM Protection Group
VMware Site Recovery Manager (SRM 6.0) Part 11 – Creating SRM Recovery Plans
VMware Site Recovery Manager (SRM 6.0) Part 12 – Running SRM Test Recovery
VMware Site Recovery Manager (SRM 6.0) Part 13 – Cleaning up Test Recovery
SAN Replication :
VMware SRM 6.0 Array Based Replication Part 1 – Deploying HP Store Virtual VSA
VMware SRM 6.0 Array Based Replication Part 2 – Installing HP Store Virtual VSA Centralized Management Console (CMC)
VMware SRM 6.0 Array Based Replication Part 3 – Configuring HP StoreVirtual VSA Management Group
VMware SRM 6.0 Array Based Replication Part 4 – Adding ESXi host to HP VSA Management Group and Presenting Storage to ESXi
VMware SRM 6.0 Array Based Replication Part 5 – Configuring HP StoreVirtual VSA Replication