Site Recovery Manager Protection group can be created to group virtual machines for protection. SRM protection group will be different for array-based replicated virtual machines and vSphere replication replicated virtual machines. You cannot create protection groups by grouping both types of replication. In simple terms, A protection group is a group of virtual machines that fail over together at the recovery site during a test or a actual recovery using VMware vCenter Site Recovery Manager.  In actual Production environment, you can create SRM protection group based on Cluster or application  type or array based replication groups based on the datastore groups. An array-based protection group can contain one or more datastore groups.
How to  Creating SRM Protection Group
To create a new protection group, Click on "Create Protection Group" under guide to configure SRM in the SRM homepage of the vSphere Web Client. Specify the name and location for the protection group.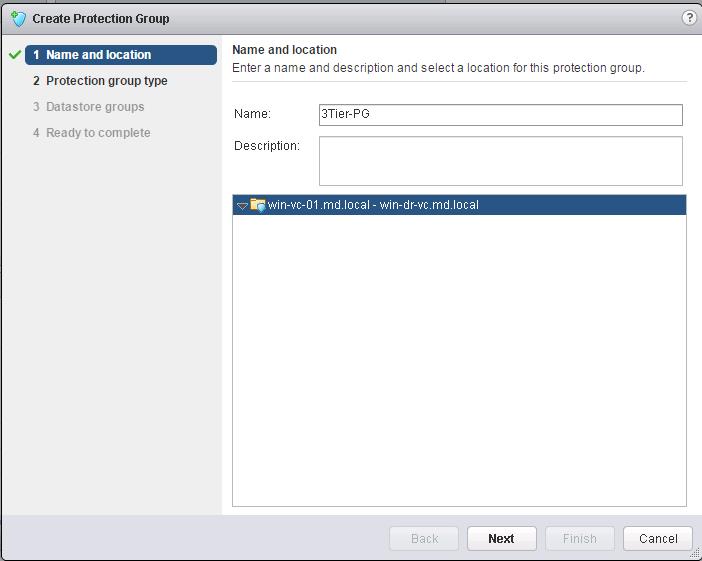 Select the Protected site and type of replication for this protection group. I have configured array based replication for my 3-Tier applications servers and all the 3 tier application virtual machines are stored on the datastores, which are configured as part of array based replication. So that i have selected Array based replication(ABR) under the replication type and select the array pair and click on Next.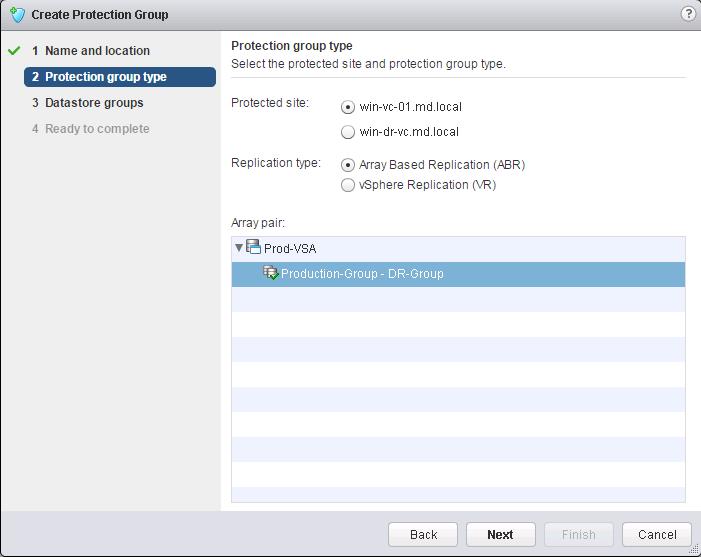 Select the datastore groups from the below list to be grouped to use for this protection group. All the virtual machines stored on these datastore groups will be recovered together as part of this protection group. Click on Next.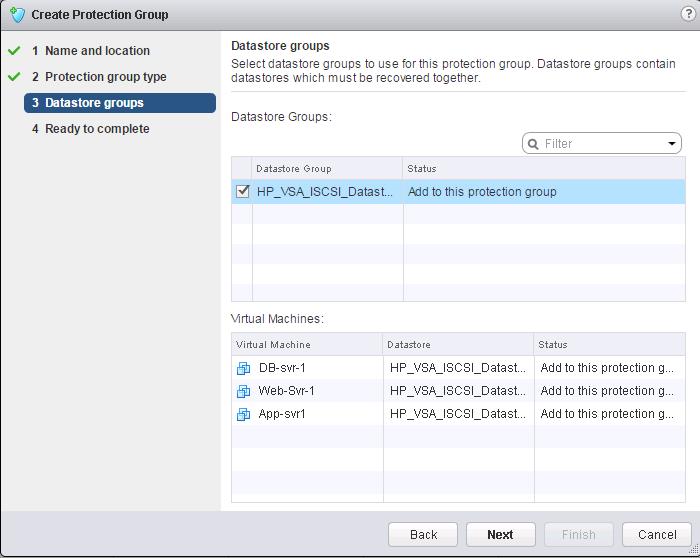 Review all the information, which you have selected to create this SRM protection group and click on Finish.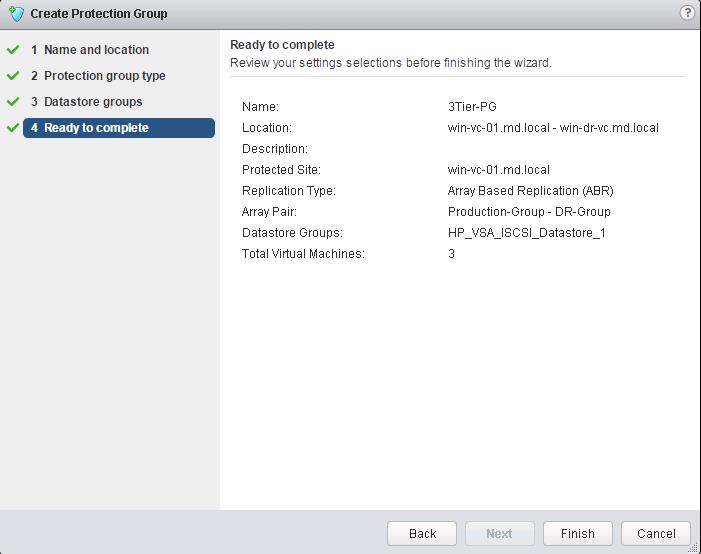 That's it. We are done with creating SRM protection group. In the upcoming posts, we will discuss in detail about creating SRM recovery plans. I hope this is informative for you. Thanks for Reading!!!. Be Social and share it in social media , if you feel worth sharing it.
Disaster Recovery :
VMware Site Recovery Manager (SRM 6.0) Part 1- Overview and Architecture
VMware Site Recovery Manager (SRM 6.0) Part 2 – VMware SRM 6.0 installation
VMware Site Recovery Manager (SRM 6.0) Part 3 – Configuring SRM Site Pairing
VMware Site Recovery Manager (SRM 6.0) Part 4 – Installing Storage Replication Adapters (SRAs)
VMware Site Recovery Manager (SRM 6.0) Part 5 – Configuring SRM Array Manager
VMware Site Recovery Manager (SRM 6.0) Part 6 – Creating SRM Resource Mappings
VMware Site Recovery Manager (SRM 6.0) Part 7 – Configuring SRM Folder Mapping
VMware Site Recovery Manager (SRM 6.0) Part 8 – Configuring SRM Network Mapping
VMware Site Recovery Manager (SRM 6.0) Part 9 – Configuring SRM Placeholder Datastores
VMware Site Recovery Manager (SRM 6.0) Part 11 – Creating SRM Recovery Plans
VMware Site Recovery Manager (SRM 6.0) Part 12 – Running SRM Test Recovery
VMware Site Recovery Manager (SRM 6.0) Part 13 – Cleaning up Test Recovery
SAN Replication :
VMware SRM 6.0 Array Based Replication Part 1 – Deploying HP Store Virtual VSA
VMware SRM 6.0 Array Based Replication Part 2 – Installing HP Store Virtual VSA Centralized Management Console (CMC)
VMware SRM 6.0 Array Based Replication Part 3 – Configuring HP StoreVirtual VSA Management Group
VMware SRM 6.0 Array Based Replication Part 4 – Adding ESXi host to HP VSA Management Group and Presenting Storage to ESXi
VMware SRM 6.0 Array Based Replication Part 5 – Configuring HP StoreVirtual VSA Replication