Test recovery is nothing but a testing a recovery plan exercises with every aspect of recovery plan. Site recovery manager ensures that test recovery will avoid disruption in ongoing operations on the protected and recovery site. You can run SRM test recovery at time like every hour, every day, every month or quarter. Recovery plans that suspend local virtual machines do so for tests and for actual recoveries. With this exception,running a SRM test recovery does not disrupt replication or ongoing activities at either site. It is always recommended to run recovery plan test as often as needed to ensure that your actual DR plan is working as expected.
You can run the test recovery, once all the SRM configuration is done. You can verify in the summary tab that all the configuration steps for SRM is displayed with Green tickmark.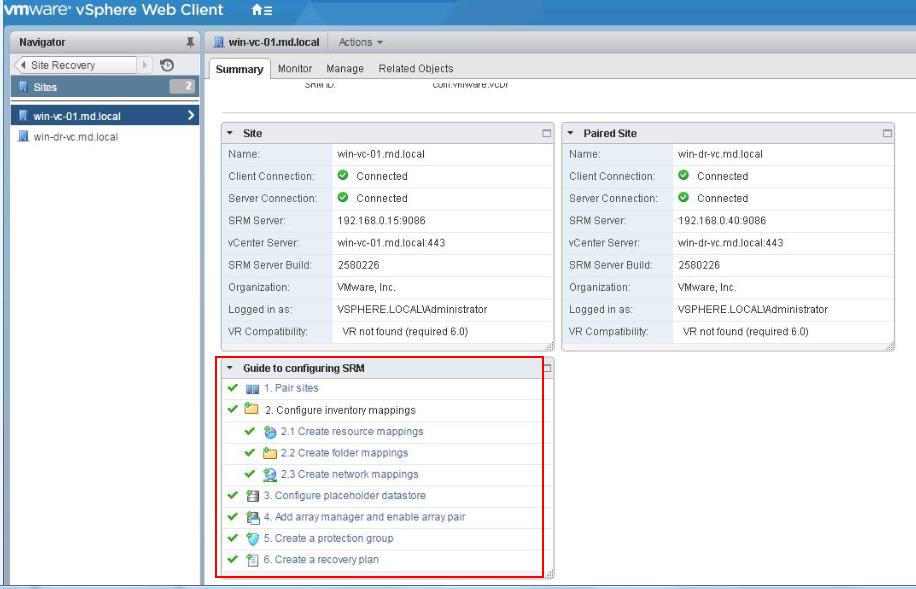 How to Run SRM Test Recovery
To run a test recovery, Select the recovery Plans -> Monitor tab -> Recovery Steps -> Click on Green Arrow (Play button) to run the test recovery. Please be cautious in selecting the Test recovery option. if you have selected the actual recovery instead of test recovery, will start recovery of your production virtual machines and it creates the impact to the production. You can view the lists of recovery steps which will be executed as part of this recovery plan.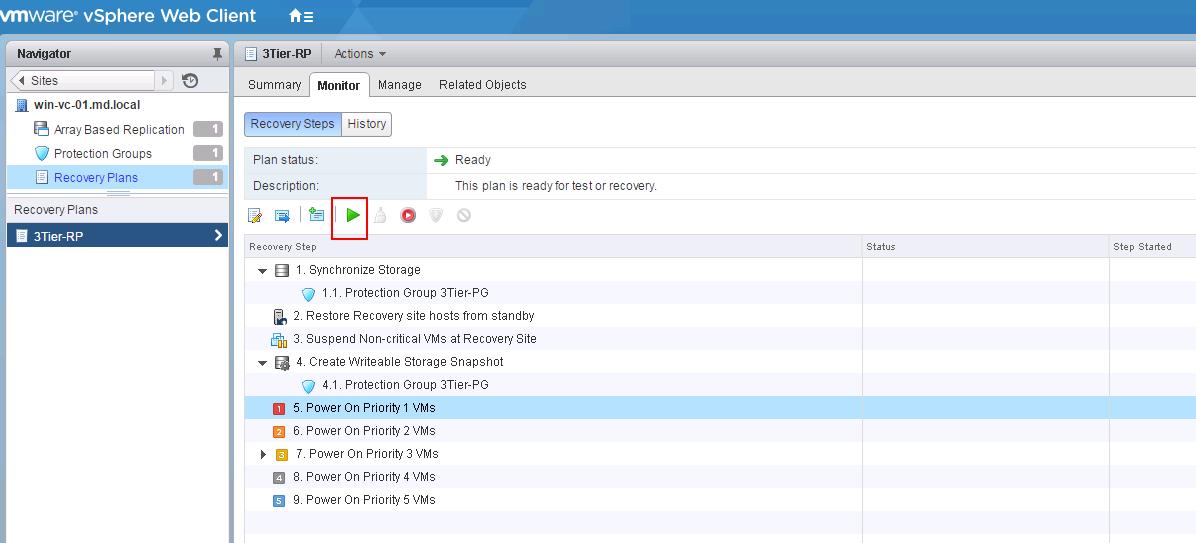 Once you have clicked on the Green Arrow button to start the SRM test recovery, recovery will run in test mode and it will recover the virtual machines in a test environment on the recovery site. You have storage option whether to replicate recent changes to the recovery site or not. This process may take several minutes to complete the replication of recent changes to recovery site. It is up to you run the test recovery with recent changes or not. I have selected the option to replicate recent changes to recovery site. Click on Next.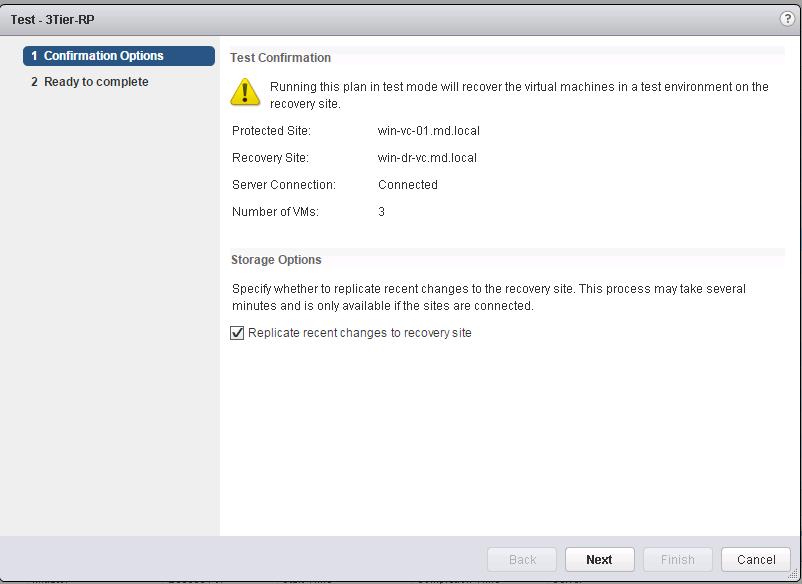 Review your settings selections before initiating the SRM Test Recovery and click on Finish.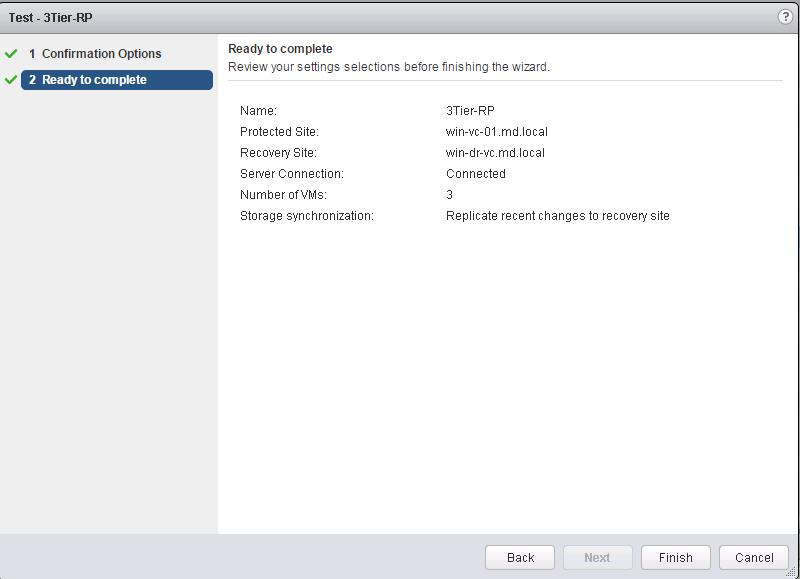 Once SRM test recovery is executed, you will be able to see the series of recovery steps involved as part of this recovery plans and its progress percentage. Since i have selected the option to "Replicate recent changes to recovery site", i can see that Synchronize Storage step is going on as part of this test recovery plan execution.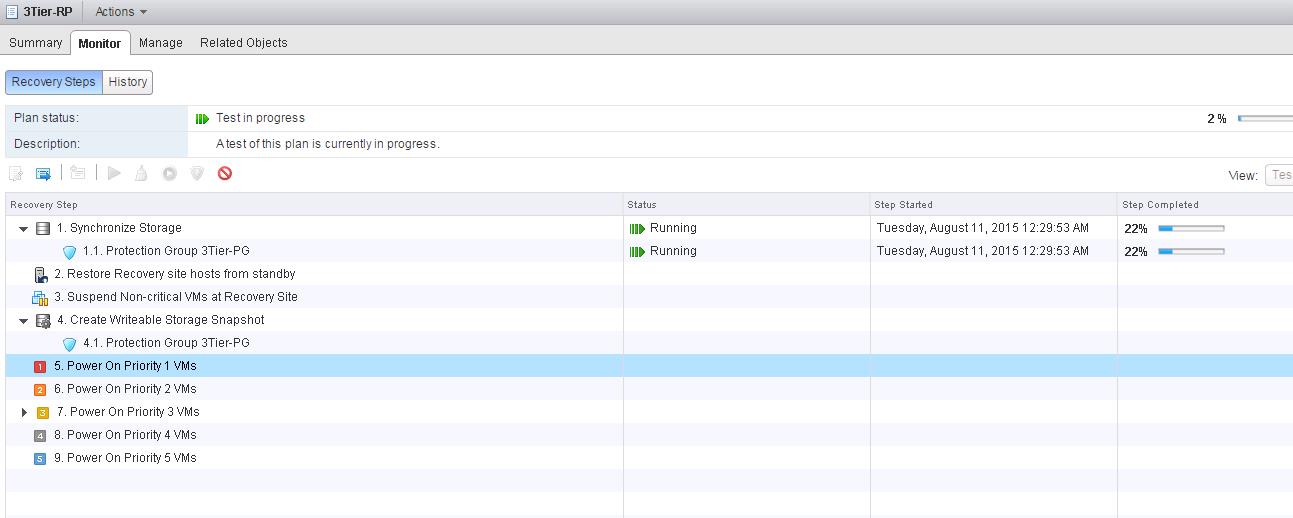 I am curious to monitor the background process of "Synchronize Storage" recovery step from the storage console. I have configured HP StoreVirtual VSA as my array based replication storage. When i monitor it from the HP StoreVirtual Centralized management console, It can notice that ongoing replication between my Production volume and DR volume. It can see the replication chain established between the Volumes.Replication and protection of the protected environment are not affected during tests. Temporary
snapshots of replicated storage are created at the recovery site. For array-based replication, the arrays are rescanned to discover replicated VMFS datastores.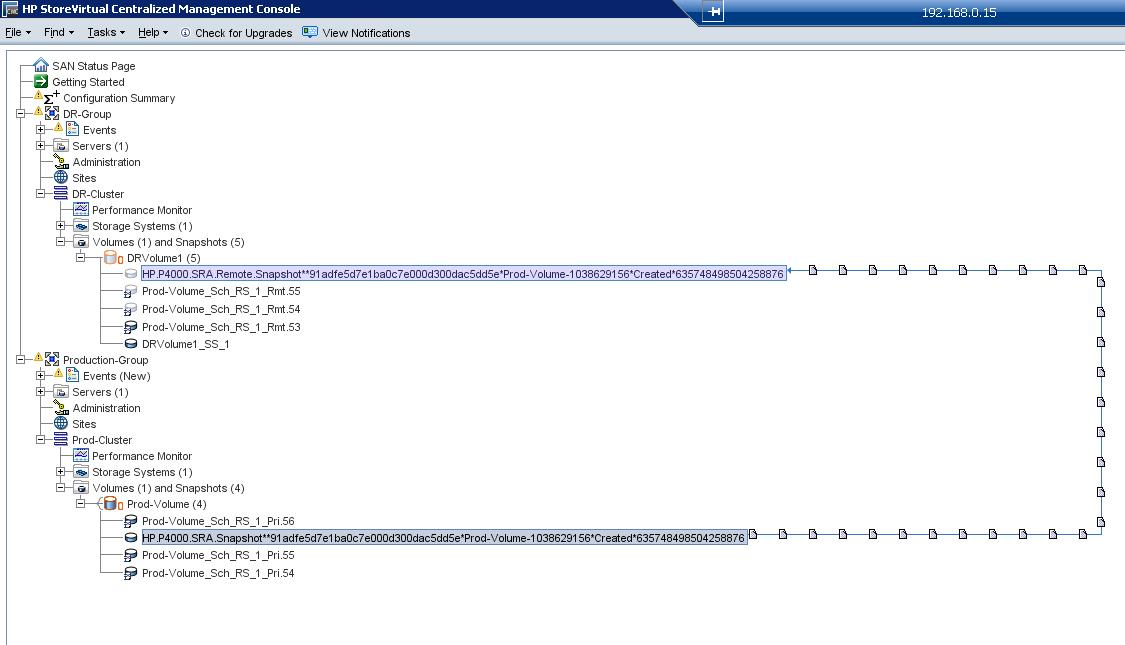 You can monitor the Progress Percentage of each recovery steps before Test recovery is getting completed.

Once test recovery is completed, You can see the Plan status will display "Test Complete". and status of each recovery steps will be Success.

Each recovery steps in recovery plan will have substeps involved. For example, When i expan the Power on VMs will have around 7 sub steps including Configure storage, Test network, Guest startup, Customize IP if you have added, Guest shutdown, Power on and Wait for VMware tools. All this steps in test recovery don't cause any distribution to actual virtual machines.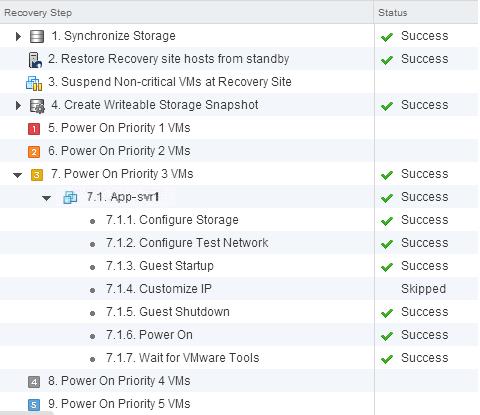 Once the test recovery is completed, I can see the virtual machines part of the protection group as part of this recovery plan is powered on in both protected and recovery site without interruption to your production virtual machines. This is beauty of the SRM. I love it.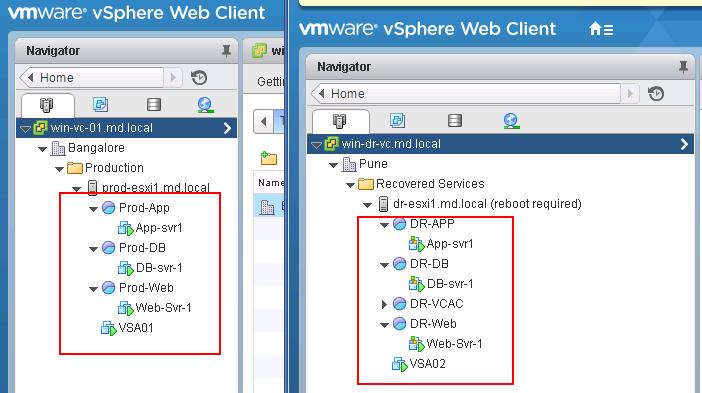 That's it. We are done with running the test recovery and ensured that our DR recovery plan is working as expected. In the upcoming posts, we will see how to clean up the test recovery. I hope this is informative for you and Thanks for Reading!!!. Be social and share it in social media, if you feel worth sharing it.
Disaster Recovery :
VMware Site Recovery Manager (SRM 6.0) Part 1- Overview and Architecture
VMware Site Recovery Manager (SRM 6.0) Part 2 – VMware SRM 6.0 installation
VMware Site Recovery Manager (SRM 6.0) Part 3 – Configuring SRM Site Pairing
VMware Site Recovery Manager (SRM 6.0) Part 4 – Installing Storage Replication Adapters (SRAs)
VMware Site Recovery Manager (SRM 6.0) Part 5 – Configuring SRM Array Manager
VMware Site Recovery Manager (SRM 6.0) Part 6 – Creating SRM Resource Mappings
VMware Site Recovery Manager (SRM 6.0) Part 7 – Configuring SRM Folder Mapping
VMware Site Recovery Manager (SRM 6.0) Part 8 – Configuring SRM Network Mapping
VMware Site Recovery Manager (SRM 6.0) Part 9 – Configuring SRM Placeholder Datastores
VMware Site Recovery Manager (SRM 6.0) Part 10 – Creating SRM Protection Group
VMware Site Recovery Manager (SRM 6.0) Part 11 – Creating SRM Recovery Plans
VMware Site Recovery Manager (SRM 6.0) Part 13 – Cleaning up Test Recovery
SAN Replication :
VMware SRM 6.0 Array Based Replication Part 1 – Deploying HP Store Virtual VSA
VMware SRM 6.0 Array Based Replication Part 2 – Installing HP Store Virtual VSA Centralized Management Console (CMC)
VMware SRM 6.0 Array Based Replication Part 3 – Configuring HP StoreVirtual VSA Management Group
VMware SRM 6.0 Array Based Replication Part 4 – Adding ESXi host to HP VSA Management Group and Presenting Storage to ESXi
VMware SRM 6.0 Array Based Replication Part 5 – Configuring HP StoreVirtual VSA Replication