In the previous post, we are discussed in detail about the installation of HP StoreVirtual VSA Centralized Management Console (CMC). After the installation of CMC,when you laugh the CMC for first time, it automatically detects the VSA appliances, which are all part of the same subnet. I have deployed 2 HP StoreVirtual VSA appliance. VSA1 for my Protected site and VSA2 for  my recovery site.If the CMC console didn't detected you VSA, you need to discover it using the "Find" menu.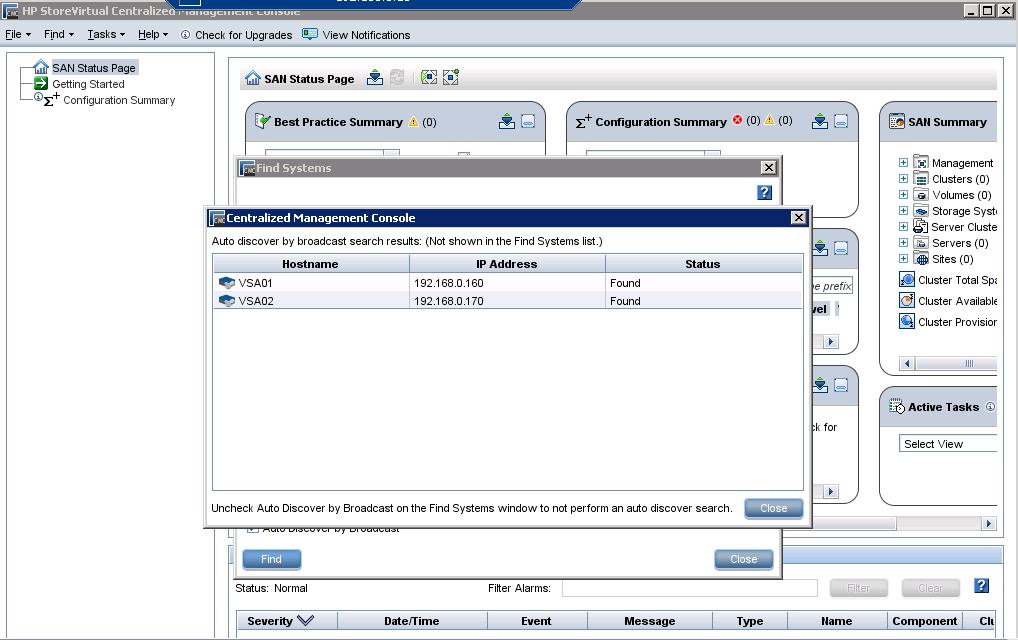 Once your VSA is discovered, click on "Log in to view" to connect to the VSA and to view more information about it.

Once you logged into VSA, you will be able to see the IP Address, Model,RAID status,software version,Disk type,etc.

Creating Management Group
As we already discussed, We have deployed 2 HP StoreVirtual VSA one for protected and other for recovery site.I am going to use this HP StoreVirtual VSA as my array based replication for my SRM setup. I am going to create 2 management group "Production-Group" for protected site and "DR-Group" for recovery site. Add VSA01 to Production-Group and VSA02 to DR-Group.A Management Group is a logical container which allow the management of one or more HP StoreVirtual VSAs, as well as physical appliances counterpart, both on single-site and multi-site configurations.
To add the VSA to management group, right click the VSA node and select, "Add to new management group".

Enter the management group name and select the VSA from the below list to add it into the group. I am creating "production-Group" management group and adding VSA01 into it. Click on Next.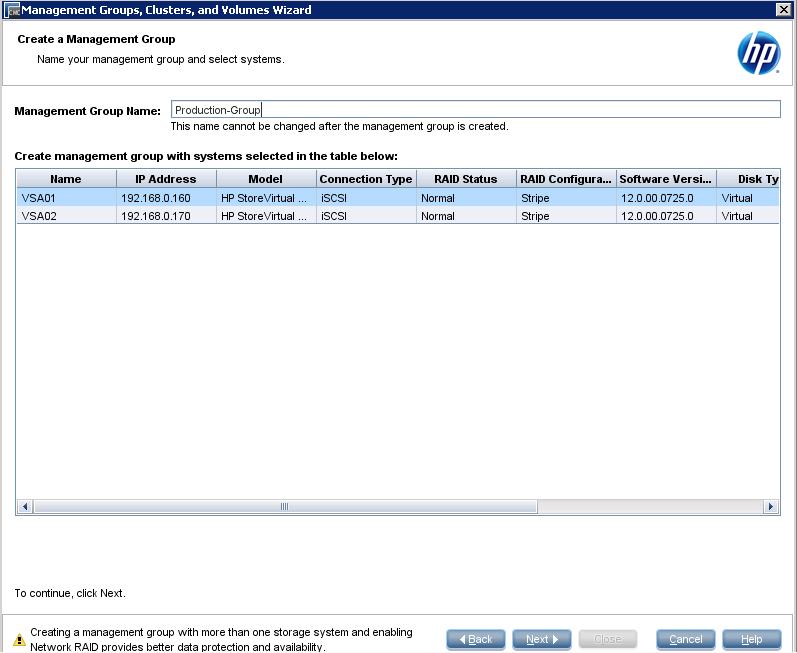 Add an administrative user for the management group. Specify the username, description, password. Click On Next.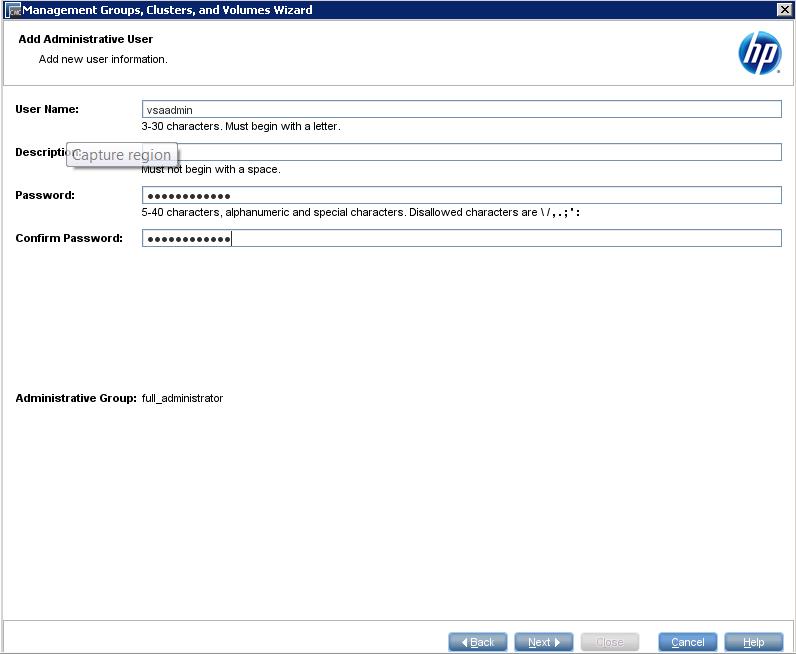 Once you configured the NTP and DNS settings.Click on next to select the type of cluster. Select Standard or Multi-Site Cluster. A Multi-Site cluster is necessary if site fault tolerance is needed. Since i have only VSA node in this management group. I have selected Standard cluster.

Specify the cluster name and select the VSA which is going to be part of this cluster. I specified the name "Prod-Cluster" and added VSA01 node into it.

Enter the Virtual IP and subnet mask for this cluster.  We will use this  Virtual IP ,when connecting ESXi hosts to the storage. with standard cluster type, we will have only one VIP and subnet mask.

In the below screen, you will be able to create the Volume. I have created a volume called "Prod-volume" with the size of 40 GB. which will be later presented to ESXi host in upcoming posts.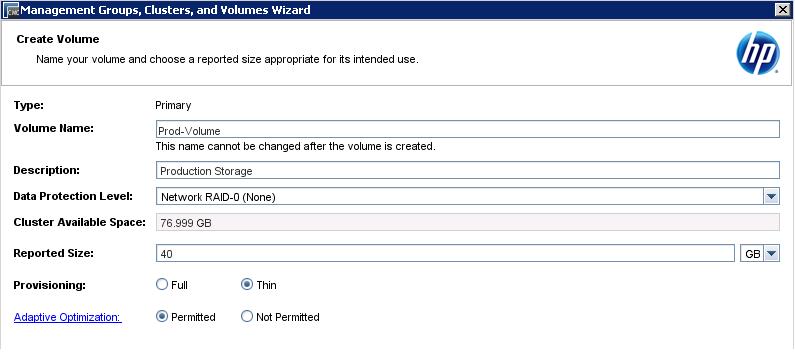 we are done with creating management group for Protected site. I have followed the same procedure to create the recovery site management group "DR-group" and cluster called"DR-cluster" and volume "DR-volume". Thats'it. In the upcoming posts, we will take a look at adding ESXi host to management group and allocating storage to ESXi hosts. I hope this is informative for you. Thanks for reading!!!. Be social and share it in social media, if you feel worth sharing it.
Disaster Recovery :
VMware Site Recovery Manager (SRM 6.0) Part 1- Overview and Architecture
VMware Site Recovery Manager (SRM 6.0) Part 2 – VMware SRM 6.0 installation
VMware Site Recovery Manager (SRM 6.0) Part 3 – Configuring SRM Site Pairing
VMware Site Recovery Manager (SRM 6.0) Part 4 – Installing Storage Replication Adapters (SRAs)
VMware Site Recovery Manager (SRM 6.0) Part 5 – Configuring SRM Array Manager
VMware Site Recovery Manager (SRM 6.0) Part 6 – Creating SRM Resource Mappings
VMware Site Recovery Manager (SRM 6.0) Part 7 – Configuring SRM Folder Mapping
VMware Site Recovery Manager (SRM 6.0) Part 8 – Configuring SRM Network Mapping
VMware Site Recovery Manager (SRM 6.0) Part 9 – Configuring SRM Placeholder Datastores
VMware Site Recovery Manager (SRM 6.0) Part 10 – Creating SRM Protection Group
VMware Site Recovery Manager (SRM 6.0) Part 11 – Creating SRM Recovery Plans
VMware Site Recovery Manager (SRM 6.0) Part 12 – Running SRM Test Recovery
VMware Site Recovery Manager (SRM 6.0) Part 13 – Cleaning up Test Recovery
SAN Replication :
VMware SRM 6.0 Array Based Replication Part 1 – Deploying HP Store Virtual VSA
VMware SRM 6.0 Array Based Replication Part 2 – Installing HP Store Virtual VSA Centralized Management Console (CMC)
VMware SRM 6.0 Array Based Replication Part 3 – Configuring HP StoreVirtual VSA Management Group
VMware SRM 6.0 Array Based Replication Part 4 – Adding ESXi host to HP VSA Management Group and Presenting Storage to ESXi
VMware SRM 6.0 Array Based Replication Part 5 – Configuring HP StoreVirtual VSA Replication