In the Previous posts, We have discussed about configuring and provisioning storage to the ESXi hosts. we have created management group, created volumes and allocated storage to ESXi. Next step is configure HP StoreVirtual VSA  replication between your Protected site and DR site. So that, whatever VM's placed on the protected volume will be replicated to the DR volume. This background storage replication will be used by SRM to move the virtual machines from protected site to recovery site.
Configuring HP StoreVirtual VSA Replication
To configure the replication,  Right-click the volume in your primary site and Select "New Schedule to Remote Snapshot a Volume"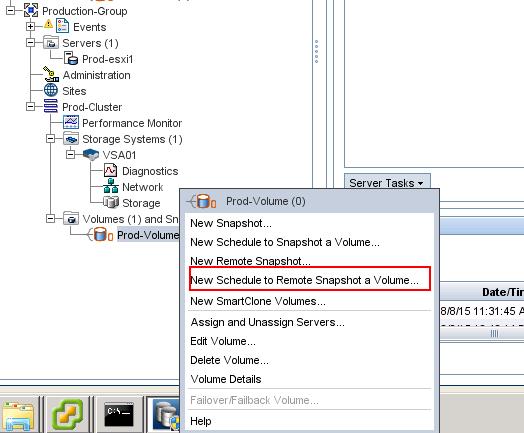 Specify the replication Schedule name and select your DR site management group and DR site volume under Remote Snaphot setup. You can configure replication recurrence and maximum time to retain a snapshot and click on ok.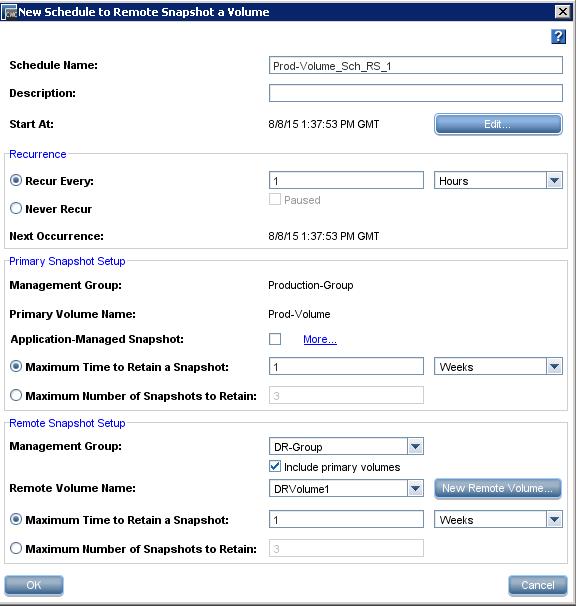 Once you have configured the replication, you can notice in HP StoreVirtual VSA  CMC, replication will be established between your Production site and DR site.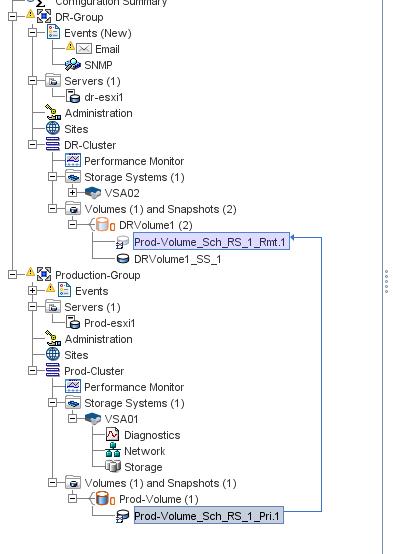 That's it. We are done with  configuring HP StoreVirtual VSA Replication. In the upcoming posts, we will discuss in detail about installing Storage replication adapters and configure array managers in SRM and then about configuring various resource mappings. I hope this is informative for you. Thanks for Reading!!!. Be social and share it in social media, if you feel worth sharing it.
Disaster Recovery :
VMware Site Recovery Manager (SRM 6.0) Part 1- Overview and Architecture
VMware Site Recovery Manager (SRM 6.0) Part 2 – VMware SRM 6.0 installation
VMware Site Recovery Manager (SRM 6.0) Part 3 – Configuring SRM Site Pairing
VMware Site Recovery Manager (SRM 6.0) Part 4 – Installing Storage Replication Adapters (SRAs)
VMware Site Recovery Manager (SRM 6.0) Part 5 – Configuring SRM Array Manager
VMware Site Recovery Manager (SRM 6.0) Part 6 – Creating SRM Resource Mappings
VMware Site Recovery Manager (SRM 6.0) Part 7 – Configuring SRM Folder Mapping
VMware Site Recovery Manager (SRM 6.0) Part 8 – Configuring SRM Network Mapping
VMware Site Recovery Manager (SRM 6.0) Part 9 – Configuring SRM Placeholder Datastores
VMware Site Recovery Manager (SRM 6.0) Part 10 – Creating SRM Protection Group
VMware Site Recovery Manager (SRM 6.0) Part 11 – Creating SRM Recovery Plans
VMware Site Recovery Manager (SRM 6.0) Part 12 – Running SRM Test Recovery
VMware Site Recovery Manager (SRM 6.0) Part 13 – Cleaning up Test Recovery
SAN Replication :
VMware SRM 6.0 Array Based Replication Part 1 – Deploying HP Store Virtual VSA
VMware SRM 6.0 Array Based Replication Part 2 – Installing HP Store Virtual VSA Centralized Management Console (CMC)
VMware SRM 6.0 Array Based Replication Part 3 – Configuring HP StoreVirtual VSA Management Group
VMware SRM 6.0 Array Based Replication Part 4 – Adding ESXi host to HP VSA Management Group and Presenting Storage to ESXi