vSphere 6.0 not only comes with great scalability but also with a various new features, which unlocks your existing limitations with the vMotion. With the earlier versions of vSphere, live migration requires an exact similar network configuration between the ESXi hosts and also at the vSwitch level. In previous versions of vSphere, we were not allowed to perform the live migration between the vSphere distributed Switches. It was only limited within the dvswitch. with vSphere 6.0, vMotion is allowed across vSwitches and even vCenter Servers. Let's take a detailed look at vSphere 6.0 enhancements.
vMotion Across Virtual Switches
VMware vMotion is no longer restricted by the network configured with vSwitch. with vSphere 6.0, It is possible to perform migration across Virtual switches (Standard switch or Distributed Switch),Which transfers all the VDS port metadata during the migration. It is entirely transparent to the Guest VM's and No downtime is required to perform this operation across vSwitches. Only one requirement for the migration across vSwitches is that you should have L2 VM Connectivity.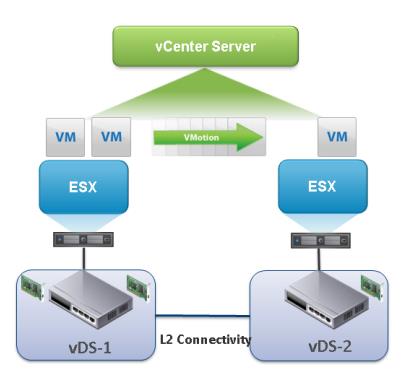 Graphic Thanks to VMware.com
With vSphere 6.0, It is possible to perform vMotion of VM's in 3 different ways:
Migration of VMs from Standard switch to Standard switch (VSS to VSS)
Migration of VMs from Standard switch to Distributed Switch (VSS to VDS)
Migration of VMs from Distributed Switch to Distributed switch (VDS to VDS)
Take a look at the below article to understand difference between Standard switch and Distributed switch
vMotion Across vCenter Servers
With vSphere 6.0, vMotion across vCenter server allows you to simultaneously change the Compute, Storage, Networks and management. It leverage the migration with unshared Storage. In simple terms, VM1 is running on certain Host/Cluster running on certain Datastore and managed by vCenter 1 can be vMotioned to different ESXi host having different datastores managed by another vCenter server called vCenter 2.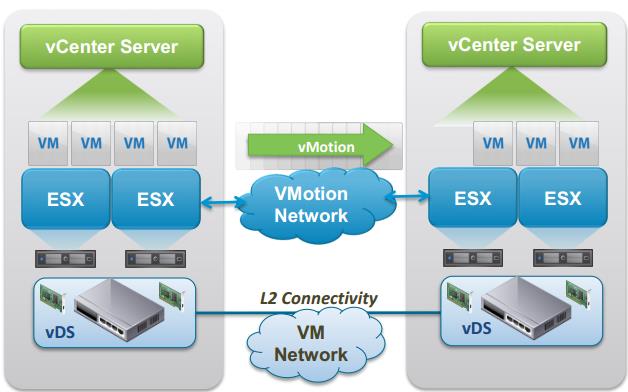 Graphic Thanks to VMware.com
Requirement for vMotion across vCenter Servers:
Support for vMotion across vCenter server supports from vSphere 6.0 and later versions
Destination vCenter server instance should have same SSO domain as source vCenter and this operation is possible via UI. Using API, it is possible with different SSO domain.
250 Mbps network bandwidth per vMotion operation
Properties of migration across vCenter Servers:
Same VM UUID is maintained across vCenter Server instances
All the VM related historical data like Events, Alarms and Tasks are preserved after the migration
HA properties are Preserved and DRS anti-affinity rules are honored during the migration operation
Long Distance vMotion
With vSphere 6.0, migration for Long-Distance supports upto 100+ms RTTs(which was only 10 ms in previous versions). Long-Distance vMotion allows you to migrate your VMs from one datacenter to other datacenter of your organization. Below are few of the use cases of the Long Distance vMotion:
SRM/DA testing
Permanent migrations
Disaster avoidance
Multi-site load balancing
Migration between Datacenters or Cloud Platform
Network Requirements:
All the vCenters server must connect via Layer 3 Network.
VM network should have L2 connectivity and same VM IP address available at destination location
vMotion network should have L3 connectivity and 250 MBps per vMotion Operation
For NFC network,routed L3 through Management Network or L2 connection
For Networking, L4-L7 services manually configured at destination
I hope this is informative for you. Thanks for Reading!!!. Be social and share it in social media, if you feel worth sharing it.
vSphere 6.0 Related Articles: