vSphere Replication is a host-based virtual machine (VM) replication solution that works with nearly any storage type supported by VMware vSphere. VR is deployed as a virtual appliance using an Open Virtualization Format (OVF) specification. In my previous article, I have explained How to deploy & Configure vSphere Replication 6.5. Once deployment and configuration of vSphere Replication 6.5 is completed on both of your sites, We need to configure a connection between the two vSphere Replication appliances. In this article, I am going to explain the detailed procedure to Configure vSphere Replication connections.
I have 2 Datacenter. Out of 2 datacenters, One is Protected site and another one is replicated site. So I have deployed vSphere Replication application on both sites and integrate with vCenter Server to use it as replication solution. To use vSphere Replication between two sites managed by different vCenter Server instances, you must configure vSphere Replication connection between the two vSphere Replication appliances. You can complete this process on either site on which you have installed a vSphere Replication appliance.
How to Configure vSphere Replication Connections between 2 Sites
Log in to vCenter Server using vSphere Web Client. All the vSphere replication related actions are performed from vSphere Web Client.   Click vSphere Replication on the Home tab of the vSphere Web Client.
Select the Protected site vCenter Server -> Configure ->Target Sites
Since we didn't configure vSphere replication connections, there is no information on Target sites. Select the option "Connect to target site" to configure vSphere replication connections.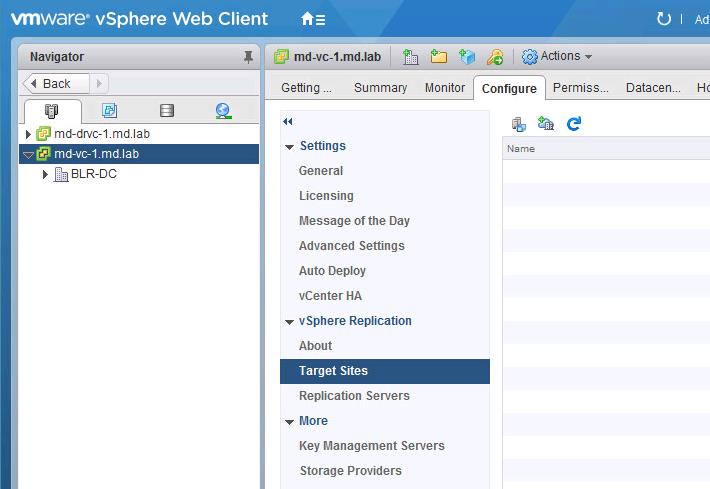 You need to select "Connect to a remote site" if you vCenter servers are not in linked mode. Since my both protected and recovery site vCenter servers are in the linked mode, I have selected the option "Connect to a local site". Select the vCenter Server in the list under "select a remote site to connect to" and Click OK.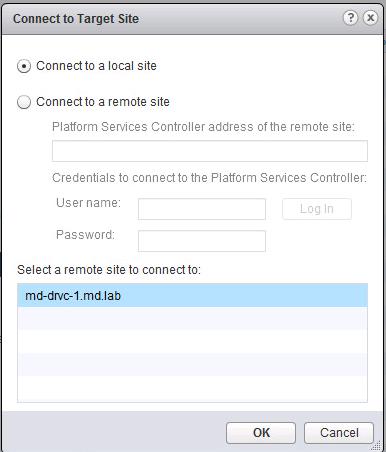 Once the vCenter site is selected in the previous step and configuration is done, you will see your DR vCenter Server and vSphere replication appliance details under Target Sites.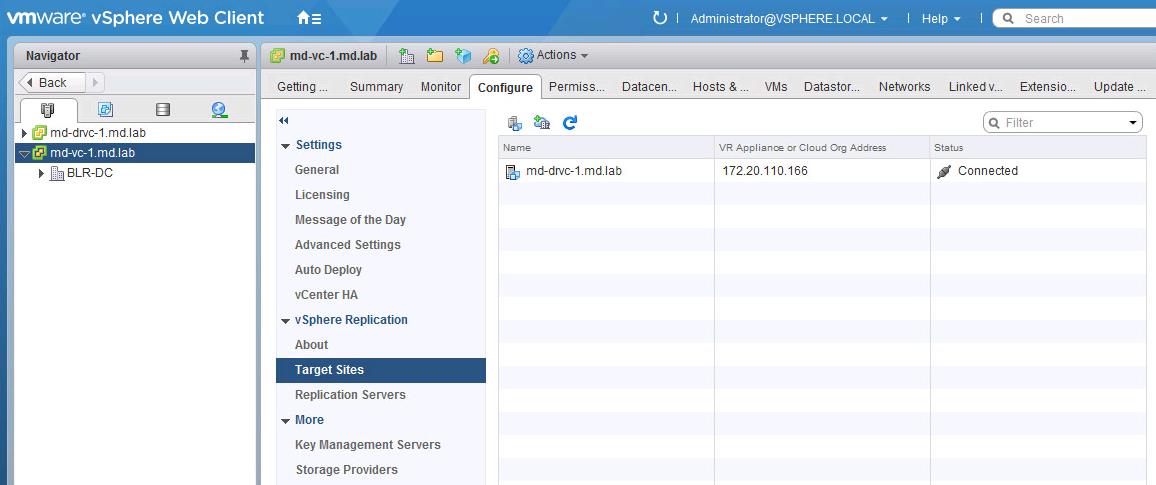 Similarly in the DR site, you will see the protected site vCenter and vSphere replication appliance details in the Target Sites section.

You can also see the replication server information under Replication Servers.

That's it. We are done with the configuring the vSphere Replication connections between 2 sites. We are now ready to proceed to configure replication for a VM. I will explain the detailed step by step procedure to configure replication for Virtual machine using vSphere Replication. I hope this is informative for you.  Thanks for Reading!!!. Be social and share it on social media, if you feel worth sharing it.