Hardware is a critical IT investment for any organization. When making purchasing decisions, it is not only crucial to choose hardware that will optimally serve your business for many years, it's also important to find a good deal. Refurbished hardware from an authorized dealer is generally as good as new and can save your organization a lot of cash, but what exactly does refurbished mean? Is refurbished hardware really as good of a value as it seems? How do you know exactly what you're getting?
There are many myths and misconceptions around refurbished and recertified equipment, but the truth is that purchasing refurbished hardware is often a better business decision than buying new from the manufacturer. Here are six common myths — and why they shouldn't deter you from buying refurbished hardware.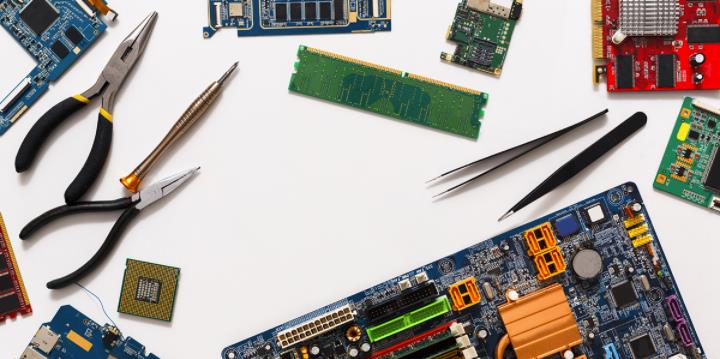 Six Myths About Refurbished Server Hardware 
Myth #1: Refurbished means defective.
Truth: Just because the hardware was returned doesn't mean it was defective.
Original buyers return hardware because they found something else they liked, because they got a better price or because it suffered minor exterior damage during shipping. Other refurbished equipment originated as a demo in a retail store or was used once on a tradeshow floor. Sometimes, the hardware was simply an overstocked item that didn't sell, and the room had to be made for newer products.
Hardware that is returned because of a defect is rebuilt by the manufacturer before being sold as "refurbished." Authorized dealers like Aventis Systems are careful only to buy refurbished equipment directly from the manufacturer, so you can rest assured that the hardware has been tested and that any necessary repairs have been made.
Myth #2: Refurbished means used.
Truth: Refurbished hardware isn't necessarily used.
Sometimes, it means that the hardware has been tested. As a general rule, the refurbished hardware is more stable because it has been field-tested, and any defects or bugs have already been fixed. Refurbished hardware sold by Aventis Systems undergoes a thorough audit. It is cleaned and tested by our engineers before it leaves our warehouse.
Equipment labeled as "used" is different. Often, used hardware has been previously owned and put back on the market without being cleaned or tested beyond basic functionality. In other words, it is sold as is.
Myth #3: Refurbished hardware comes as is.
Truth: All refurbished hardware from Aventis Systems is guaranteed and includes our industry-leading maintenance and warranty program.
The Aventis Essentials warranty program is included on all products we sell, including refurbished hardware. This three-year comprehensive warranty comes standard on all servers and storage equipment, and a one-year comprehensive warranty comes standard on all Cisco and networking equipment, workstations, desktops, laptops and hardware components.
Optional upgrades are also available that double our standard warranty, offer overnight shipping and enhance data security. Aventis Systems also provides onsite support to all customers in the continental U.S.
For enhanced protection, Aventis Systems also offers spare kits to reduce downtown. With a spare kit, you always have backup server parts on hand. If you use spare parts from the kit, Aventis Systems will replenish them with free shipping within the United States.
Myth #4: Refurbished hardware is just for schools and libraries.
Truth: Refurbished hardware is a smart choice for every budget-conscious organization.
Public organizations like schools and libraries get a lot of good press when they save tax dollars by buying refurbished hardware and software, but they aren't the only ones looking for a great deal.
Many organizations — from small businesses to large enterprises — purchase refurbished hardware to save money without compromising overall performance. Don't buy into the stigma!
Myth #5: All refurbished hardware comes at a huge discount.
Truth: While the refurbished hardware is a more cost-effective solution than buying new, that doesn't guarantee you will get it for pennies on the dollar.
The refurbished hardware of the current generation will still be discounted, but not as deeply as refurbished hardware that is a generation or more old. Even so, refurbished hardware from Aventis Systems is covered under warranty and is a better deal than buying new. Purchasing hardware that is a generation old is one of the smartest financial decisions you can make for your organization.
Myth #6: Refurbished computers can't run the newest software.
Truth: Refurbished hardware runs almost all current software.
When you purchase refurbished hardware from Aventis Systems, not only has it been cleaned and tested, it has also been upgraded to include any features that might have changed since the original release.
This includes upgrades to operating systems, drivers and firmware that may have changed between the time the hardware was originally produced and when it was refurbished. It also includes patches to upgrade software and fix bugs.
Additionally, Aventis Systems offers a wide array of software for everything from servers to operating systems, as well as applications to support on-premise and virtualized environments. These software offerings include Microsoft, Bitdefender, Red Hat, VMware, Veeam and more.
The Bottom Line
Buying refurbished hardware enables you to upgrade at a lower overall cost because upgrades have already been installed for you.
Purchasing refurbished hardware from an authorized dealer is a great way to save 20% or more without sacrificing quality or performance. Rather than buying the low-end version of a brand-new piece of equipment, you can often get a refurbished version of the top-of-the-line model for a similar price.
Regardless of your hardware needs — whether you're looking for new or refurbished — Aventis Systems has you covered. To learn more, contact Aventis Systems