Disk Converter tools are essential especially when you are migrating virtual machine workloads between two hypervisors. Each Hypervisor uses different virtual machine disk formats such as VMDK for VMware virtual disk and VHD for Hyper-V based virtual machine disks.  You may need some tools to convert VHD to VMDK if you are importing VM from Hyper-V to VMware ESXi because ESXi host will not understand the disk format of Hyper-V virtual machine (VHD). There are lot of free tools in the market to convert disk format of virtual machines to make it compatible to different hypervisors.
We are going to list out the some of  3 of the free tools to Convert VHD to VMDK and vice versa. I have personally used this tools for my lab environment to convert virtual machine disks such as VHD to VMDK and VMDK to VHD to import and test virtual machine workloads across Microsoft Hyper-V and VMware ESXi. The order listed here may not have any preference of  1 or 2 or any order. I have explained some of the important features of each of the free Conversion software for better understanding.
Top 3 Free Tools to Convert VHD to VMDK and Vice Versa
Let's take a look at the major features of all of the 3 tools which allows you to convert VHD to VMDK and VMDK to VHD.
Starwind V2V Converter
StarWind V2V Converter is a free download tool that allows the conversion and cloning of VMs from one format to another and is utilized when migration or hypervisor switch is required. Compared to typical converters built into hypervisors, StarWind V2V Converter performs bi-directional conversion between multiple VM formats such as VHD to VMDK and VMDK to VHD. Starwind V2v Converter supports the most widely used formats: VMDK, VHD/VHDX (Windows Repair Mode aware), StarWind native IMG and QCOW.
Supports multiple destination formats to convert.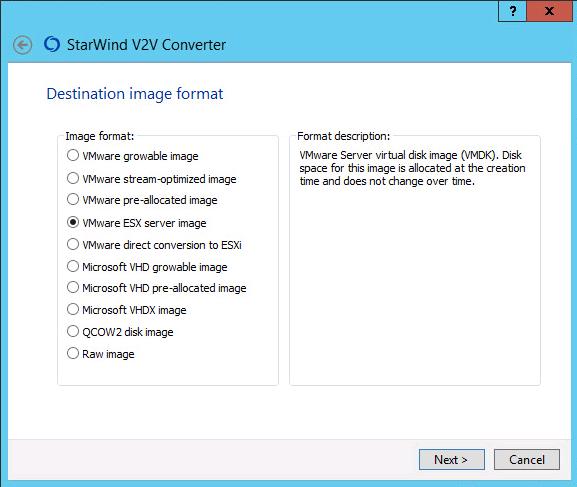 Features of Starwind V2V Converter
Supports conversion of most widely used disk formats such as VMDK, VHD, and VHDX.
Supports Single Copy.  Starwind V2V software allows the Conversion of VM formats directly from one hypervisor to another.  You no need to maintain the local copy on the system.
Allows easily Migrating Workloads between different hypervisors by converting disk formats. StarWind V2V Converter supports all industry-standard hypervisors including Microsoft Hyper-V, VMware ESXi, Citrix XenServer, and KVM
StarWind V2V Converter makes migration between different hardware sets easier, supporting Windows Repair Mode during conversion to VHDX.
Download Starwind V2V Converter
VMware Converter Standalone
VMware Converter Standalone is the free conversion software from VMware. You can download VMware Converter from VMware WebSite. Take a look at my article to understand How to download and install VMware Converter and also How to Perform P2V and V2V conversion using VMware Converter. 
VMware Converter also supports multiple formats of the virtual machine and physical machine to convert to VMware Virtual machine and also Converts other formats of Disk to VMDK format.
VMware Converter standalone has Centralized management console allows you to queue up and monitor many simultaneous conversions, both local and remote, such as in headquarters and branch offices. In addition to the P2V conversion, VMware Converter can also be used to perform Virtual to Virtual (v2v) migrations too.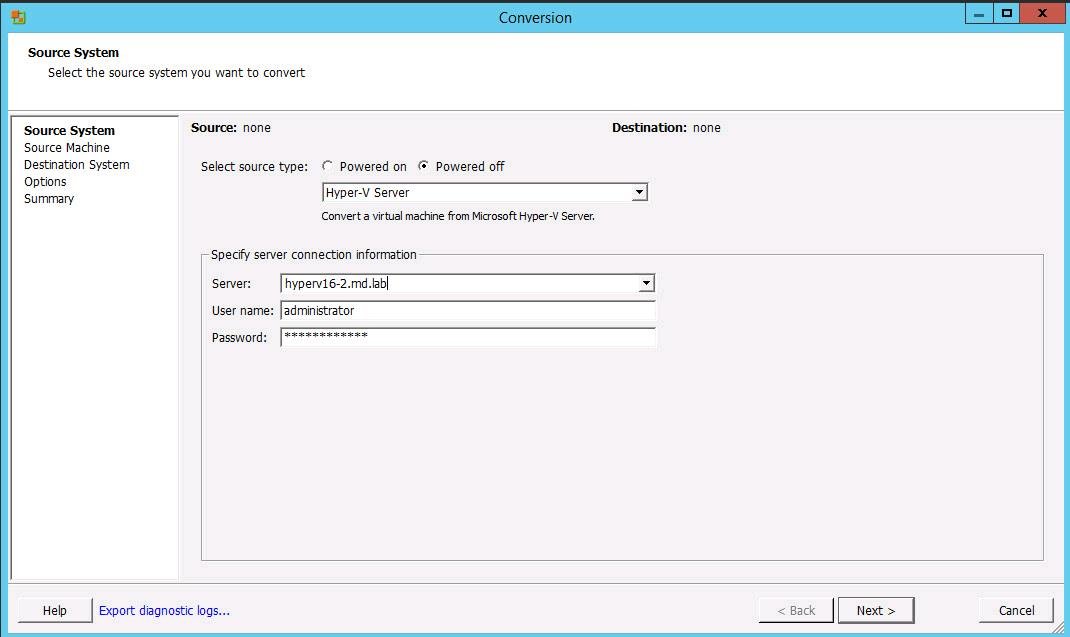 VMware Converter provides hot cloning capability which makes conversions non-disruptive, with no source server downtime or reboot. It helps us to perform reliable conversion by making use of Quiescing and snapshot of the guest operating system on the source machine before migrating the data.
In addition to the P2V and V2V, VMware Converter can also be used to reconfigure the virtual machines such as Shrinking a VMDK of virtual machine, Converting VMDK disk format from Thin to Thick and vice versa, Upgrading virtual machine Hardware version or compatibility.
Download VMware Converter Standalone
WinImage 
WinImage is a fully-fledged disk-imaging suite for easy creation, reading and editing of many image formats and filesystems, including DMF, VHD, FAT, ISO, NTFS and Linux. The disk image is an exact copy of a physical disk (floppy, CD-ROM, hard disk, USB, VHD disk, etc.) or a partition that preserves the original structure. With WinImage in place, you can recreate the disk image on the hard drive or other media, view its content, extract image-based files, add new files and directories, change the format, and defragment the image.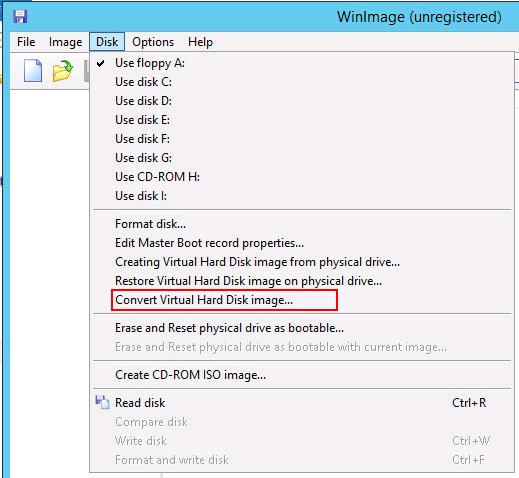 Features of WinImage
Create a disk image from a removable drive (like USB drive), CD-ROM, floppy,
Extract file(s) from a disk image,
Create empty disk images,
Inject files and directories into an existing disk image,
Change a disk image format,
Defragment a disk image,
A powerful "Batch assistant" mode that lets you automate many operations,
WinImage is shareware. You may evaluate it for a period of 30 days. After 30 days, you need to register it if you intend to continue using WinImage.
I Will talk about the detailed procedure to convert disk formats using these Free tools in upcoming tools. I hope this is informative for you. Thanks for reading !!!. Be social and share it with social media, if you feel worth sharing it.