With the release of vSphere 6.5, fith generation of VMware Virtual SAN which is Virtual SAN 6.5, Industry leading software powering hyper-converged infrastructure solution released. In March 2016, Virtual SAN 6.2 is released with vSphere 6 Update 2. Which includes the enhancements like Deduplication and Compression, RAID-5/RAID-6 – Erasure Coding, Software Checksum, IPV6 and Performance Monitoring Service.  we will discuss in detail about new enhancements with Virtual SAN 6.2. Yesterday Virtual SAN 6.5 is announced along with vSphere 6.5 during VMworld Barcelona.Virtual SAN 6.2 has unique in-kernel architecture delivers flash-optimized performance and elastically scalable storage for any virtualized application, with TCO savings of up to 50%.  Below are the list of the new capabilities added with Virtual SAN 6.5:
iSCSI Support
2-Node Direct Connect
Next-Generation Hardware
All-Flash Everywhere
Full-Featured PowerCLI's
What's New with Virtual SAN 6.5
Virtual SAN iSCSI Access:
Virtual SAN 6.5 iSCSI access gives you the ability to create iSCSI targets and LUNS. Insimple terms, block storage from Virtual SAN datastore. You can expose that iSCSI targets and LUNS to some other physical workloads such as Microsoft Cluster(MSCS) and also for physical servers or workloads, which requires the shared storage. These iSCSI LUNs are just a VSAN objects in the VSAN datastore. You can apply Virtual SAN storage policy such as dedupe, compression, RAID-1,RAID 5 & RAID-6 for that Virtual SAN iSCSI objects with the ability to control the performance of the objects. Virtual SAN iSCSI access has the below configuration maximums:
1024 LUNS per cluster
Maximum of 128 sessions per node
Maximum of 128 targets per cluster
Max Lun size is 62 TB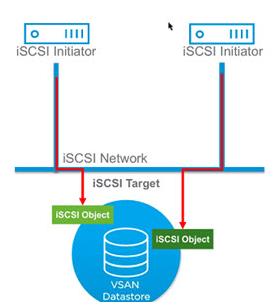 2-Node Direct Connect:
It is a great news for SMB customers with ROBO environments. With Virtual SAN 6.5 2-node direct connect will make the TCO cheaper especially for remote office and branch office(ROBO) by eliminating the need of 10 GBE switches. You can simply cross-connect two Virtual SAN hosts with simple Ethernet cable without need of 10 GBE network equipment at each location. In order to achieve this, you need an separate VMkernel interface for Witness Traffic. You can designate the VMkernel interface for witness traffic using esxcli command (esxcli vsan network ip set -i vmk<X> -T=witness)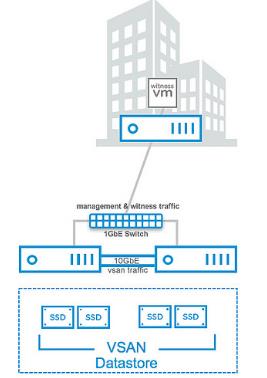 There are some changes in the Virtual SAN licensing. Virtual SAN for ROBO licensing previously did not support the use of all-flash Virtual SAN cluster configurations and the corresponding space efficiency features. A new license has been added with the release of Virtual SAN 6.5 and it is called Virtual SAN for ROBO Advanced. This new license includes support for using deduplication, compression, and erasure coding.
Support for Next-Generation Hardware:
Virtual SAN 6.5 continues to support next-generation hardware including large capacity drives with 512e support.
All-flash on All Virtual SAN Licensing:
All-flash hardware is now supported by all Virtual SAN licensing editions providing you the greater choice and flexibility to deploy all-flash solutions for any workload.
Full-Featured PowerCLI:
Virtual SAN 6.5 includes a complete set of PowerCLI cmdlets providing more scalability and enterprise class automation for Virtual SAN.
I am sure you are impressed with the new features released with Virtual SAN 6.5. We will talk about more features of vSphere 6.5 in the upcoming posts. Thanks for reading!!! Be social and share it in social media, if you feel worth sharing it.
vSphere 6.5 Related Posts:
What's New with VMware vSphere 6.5?
vSphere 6.5 -What's New with vCenter 6.5?
What's New with Virtual SAN 6.5? – New Features Overview
vSphere 6.5 -What's New with vSphere 6.5 HA & DRS
vSphere 6.5 – What's is in VMware vSphere 6.5 Fault Tolerance?
vSphere 6.5 – How VM's are Secured using vSphere 6.5 Security Features?