Horizon View event database stores information about View events as records in a database rather than in a log file. You configure an event database after installing a View Connection Server instance. You need to configure only one host in a View Connection Server group. The remaining hosts in the group are configured automatically. You can also generate View events in Syslog format so that the event data can be accessible to third-party analytics software. You use the vdmadmin command with the -I option to record View event messages in Syslog format in event log files. This post will guide you in configuring Horizon View event database.
Login to View administrator portal using the URL https://<IP or hostname of View connection server>/admin . Login with your View administrative credentials. Since Horizon view event database is not configured, you can notice yellow warning for event database.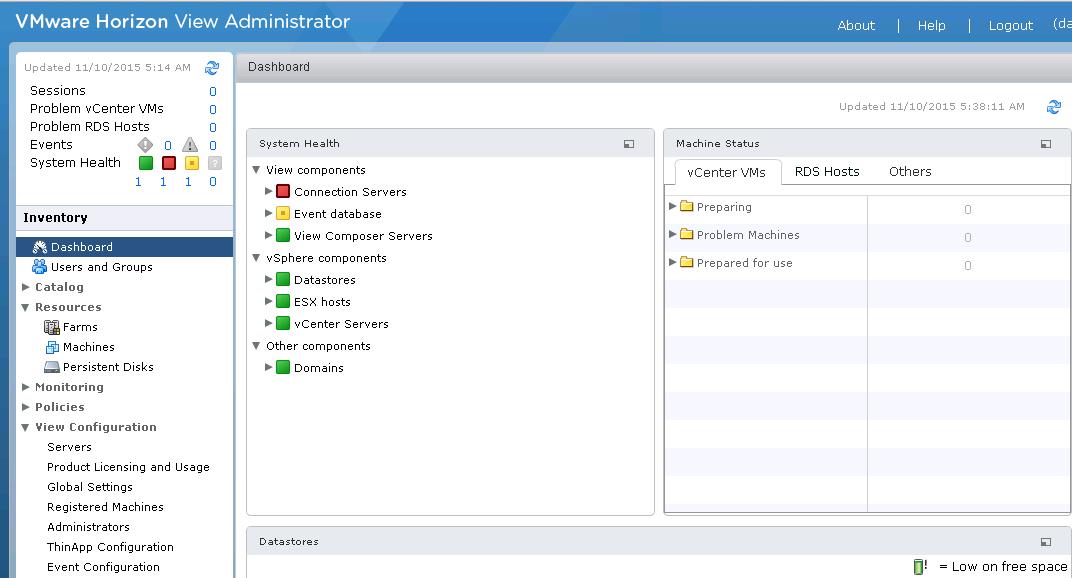 Horizon view event database can be either Microsoft SQL server or Oracle. I have Microsoft SQL server database instance created for view event database. Since i am using Microsoft SQL express edition, Ensure you have defined the port number under TCP\IP properties under SQL server network configuration in SQl server configuration manager.
Configuring VMware Horizon View Event Database
In the VMWare Horizon View administrator, Click on Event Configuration under View configuration. Click on Edit under event database.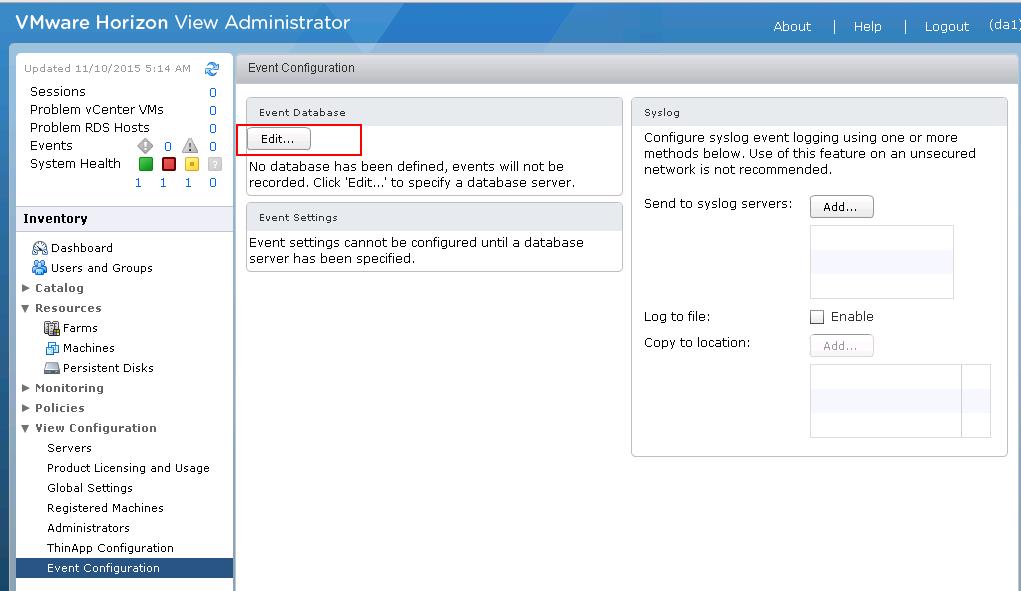 You need the following information to configure an event database. Enter the below information and click on OK.
The DNS name or IP address of the database server.
Type of database server: Microsoft SQL Server or Oracle.
The port number that is used to access the database server. The default is 1521 for Oracle and 1433 for SQL Server. For SQL Server, if the database server is a named instance or if you use SQL Server Express, you might need to determine the port number. We have defined the port number in the previous steps.
The name of the event database that you created on the database server.
The username and password of the user you created for this database.Use SQL Server Authentication for this user. Do not use the Integrated Windows Authentication security model method of authentication.
A prefix for the tables in the event database, for example, VE_ or event_. The prefix enables the database to be shared among View installations.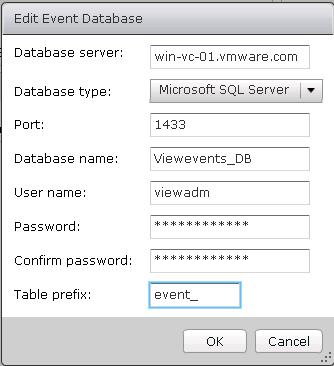 Once Horizon View event database is configured, you will be able to see the event database information under event configuration.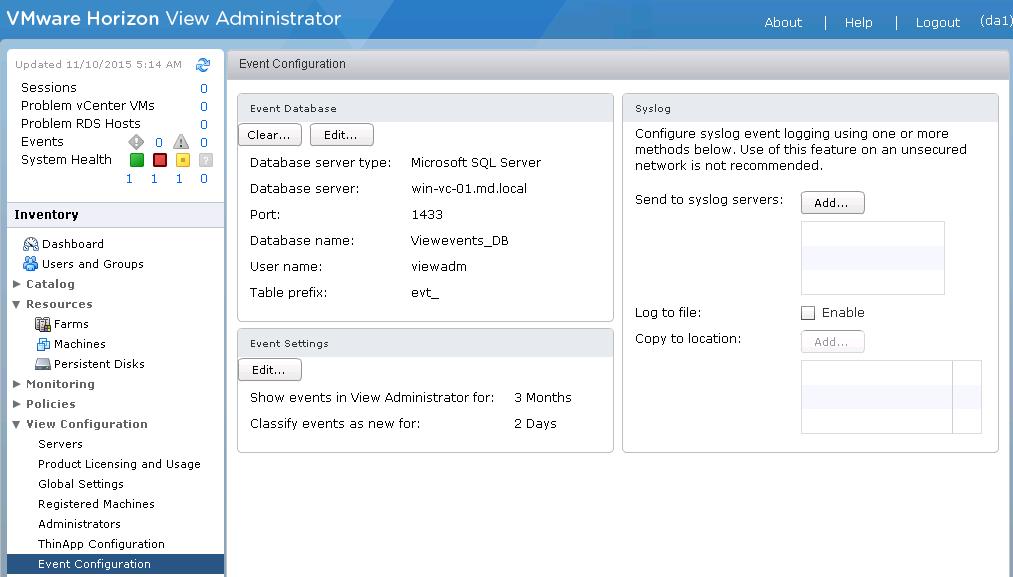 once Horizon view event database is configured, you will be able notice that events are logged under events in monitoring.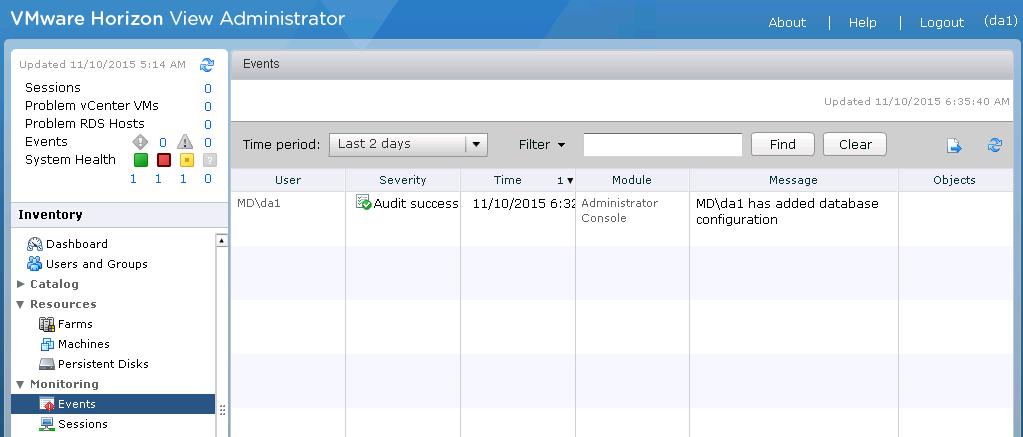 That's it. We are done with configuring Horizon view event database. I hope this is informative for you. Thanks for reading!!!. Be social and share it in social media like google+, facebook & twitter, if you feel worth sharing it.
Horizon View 6 Related Articles:
VMware VDI – Horizon View Overview & Components
VMware Horizon 6 – Install View Connection Server
VMware Horizon 6.x – View Composer Installation
Create ODBC Connection for VMware Horizon View Composer Installation
Horizon view licensing – Overview and Configuration
Configuring VMware Horizon View Administrartor – Virtual Desktop Infrastructure
Configuring VMware Horizon View Event Database
VMware View Agent Download and Install on Win7 Master Image
Understanding VMware Virtual Desktop Pools – Horizon View 6
Creating Manual Desktop Pool -VMware Horizon View 6.x
Creating Linked Clone Desktop Pools in VMware Horizon View 6.X
Install Remote Desktop Session Host to Setup RDS Host Farm in Horizon View
VMware View Agent Installation on Remote Desktop Session Host
Creating Remote Desktop Session Host Farm in VMware Horizon View
Creating RDS Hosted application pools in VMware Horizon View