VMware View Virtual desktop pools is a collection of desktops that users select when they log in using the View client. A pool can be created based on a subset of users, such as finance or HR, but this is not explicitly required unless you will be deploying multiple Virtual Desktop master images. The pool can be thought of as a central point of desktop management within View; from it you create, manage, and entitle access to View desktops.  We have discussed overview about Virtual Desktop Pools and Various types of desktop pools. In this post, we are going to discuss in detail about procedure to create Manual desktop pool. Manual desktop pool provides access to an existing set of machines. Any type of machine that can install Agent is supported. Examples include vCenter virtual machines and physical machines.
How to Create Manual Desktop Pool?
To create Manual Desktop Pool, Log on to View Connection server admin console. Expand Catalog from Inventory. Under Desktop Pools on the main windows, click Add button.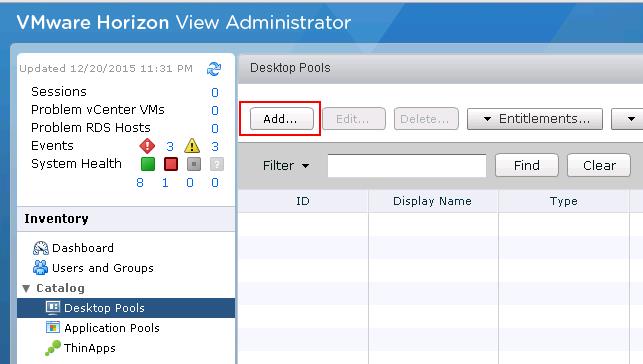 Select the Manual Desktop Pool from the Desktop pool Types and Click on Next.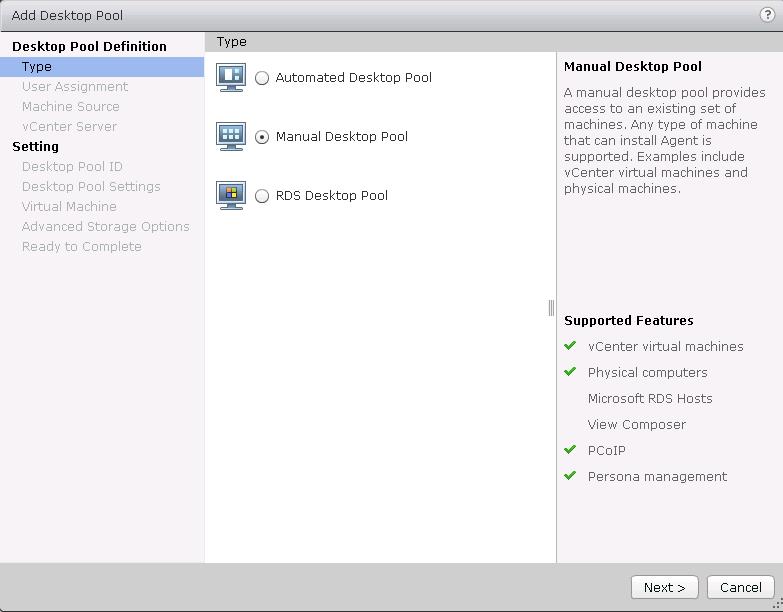 Choose the Dedicated User assignment and click on Next.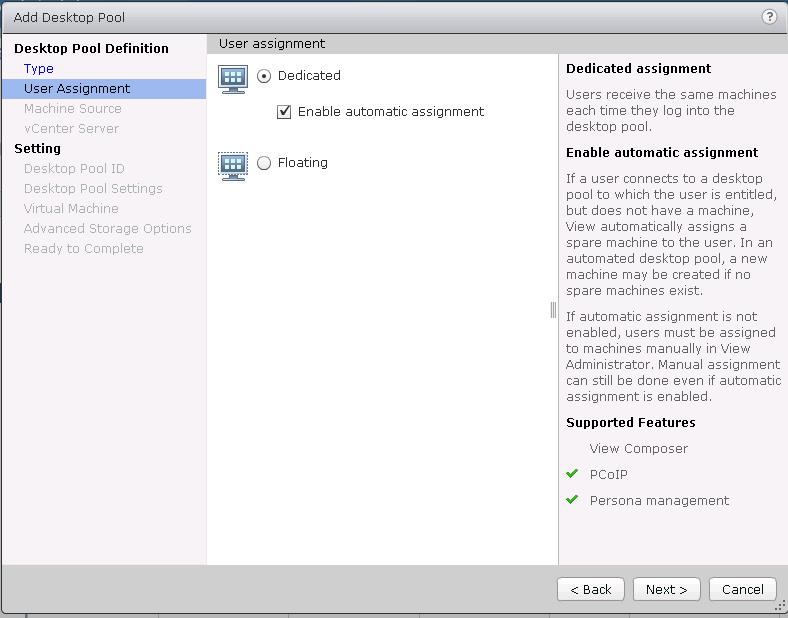 All my Desktops images are running on vCenter Server so, i am selecting desktop source as "vCenter Virtual Machines" and click on Next.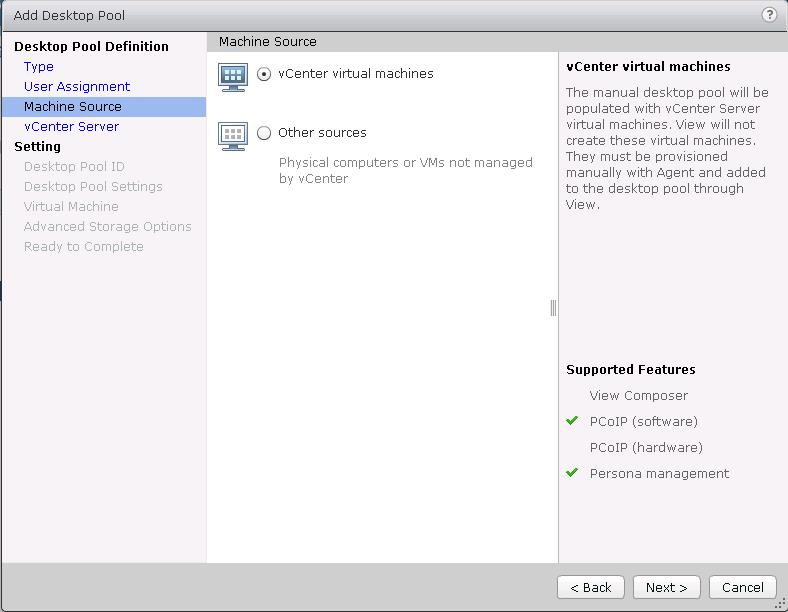 Verify your vCenter server and Click on Next.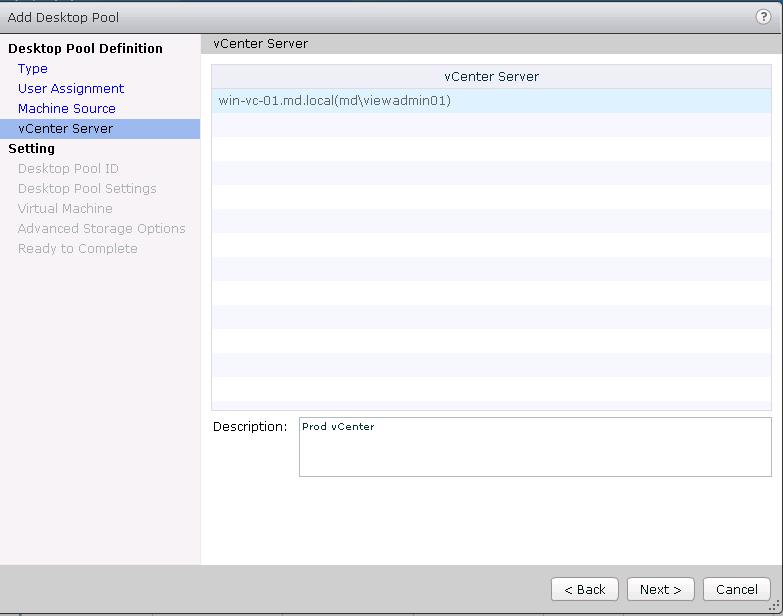 Provide the ID, Display Name ,Access Group and Description for the Manual desktop pool and click on Next.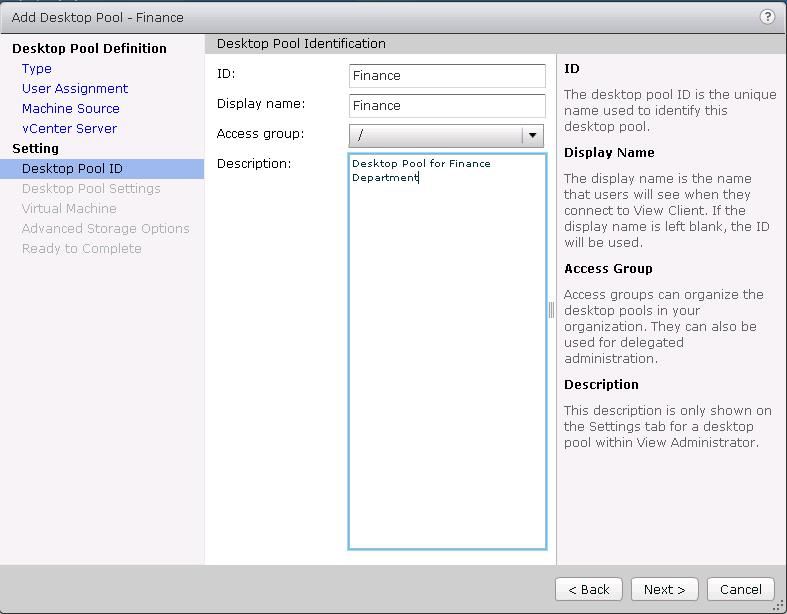 Review the Desktop Pool Settings. Modify the settings which suits your orgnaization needs and click on Next.
Choose the Source Virtual machines from the vCenter Server to add to the desktop pool and click on Add and click on Next.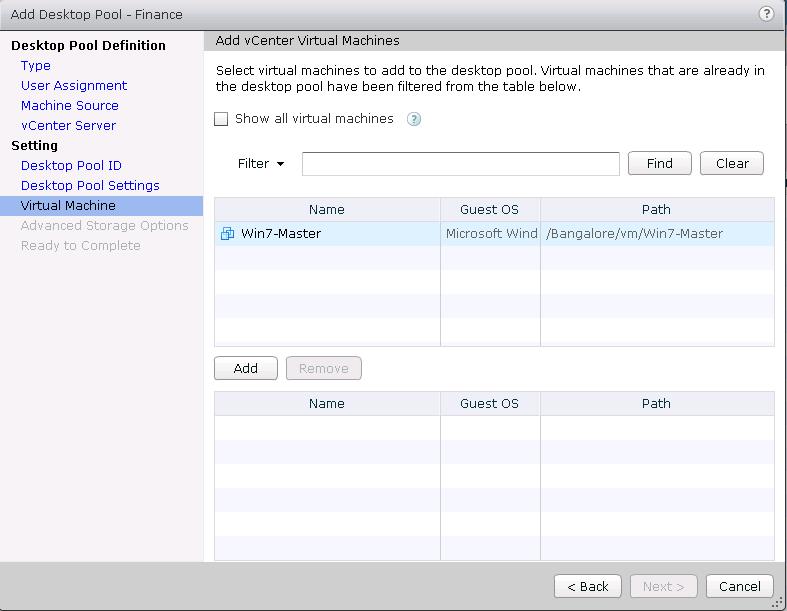 Review the Advanced Storage options and click on Next.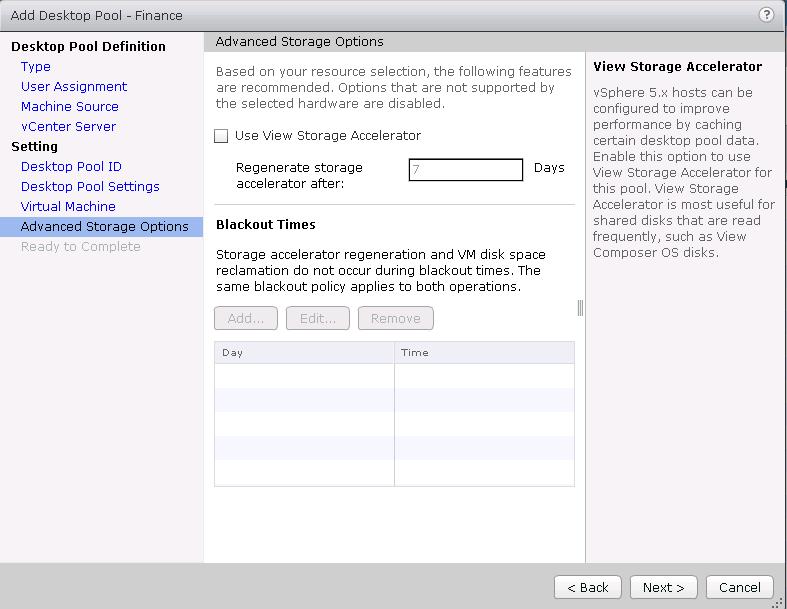 Review the Manual desktop pool settings and Click on Next.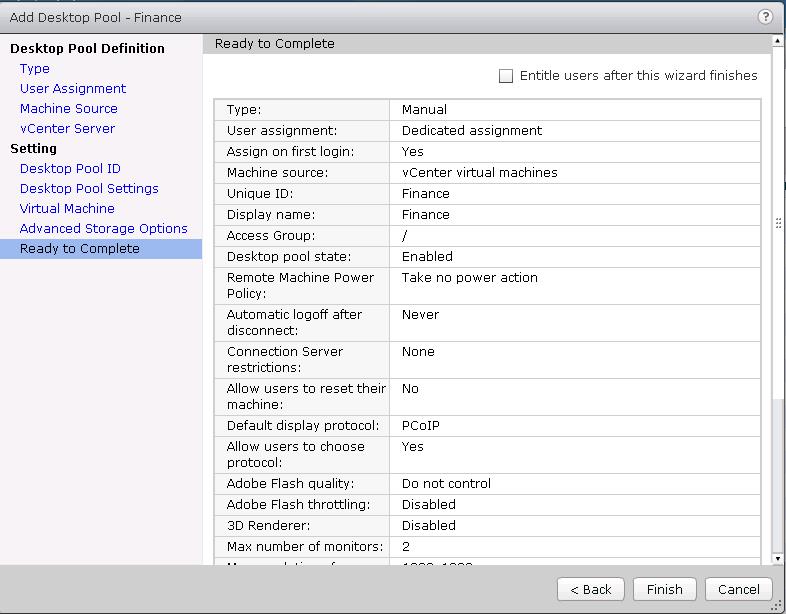 Once Manual desktop pool is created, You need to assign User Entitlement. It defines the access to the desktop. Only Users entitlement for the desktop will only be able to access the desktops in the desktop pool. To add the entitlement,Select the Desktop Pool and  Click on Add Entitlement under Entitlements.

Click on Add to add new users and groups who can use the selected pools.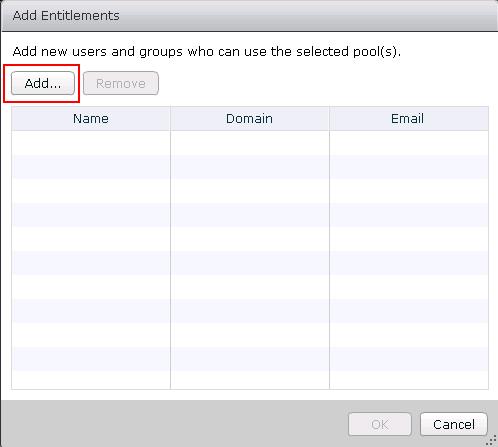 Enter the Username or Group and click on Find. I will be assigning entitlement to Finance Users for this  manual desktop pools. Select the Group name and click on Ok.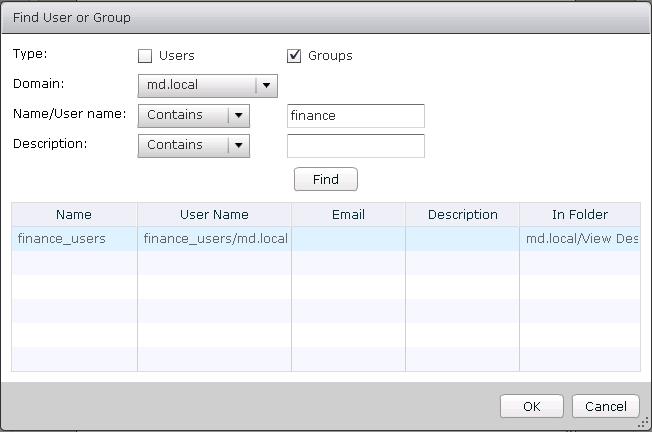 Click on Ok for Add Entitlements.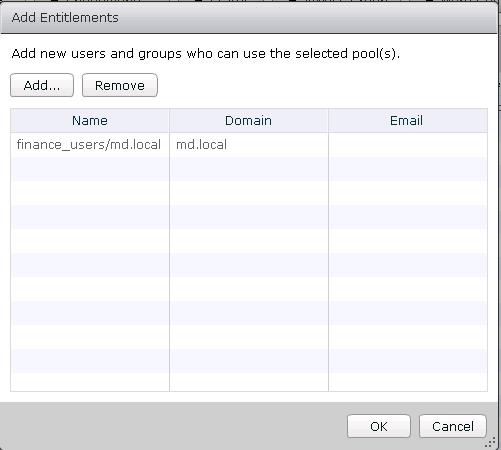 We are done with Creating Manual desktop pool called "Finance" and assigned entitlement to Finanace_users group. IT's time to access the desktop pool using VMware Horizon Client.
To access the View desktop pool, open the VMware Horizon Client and Click on Add server to add Connection server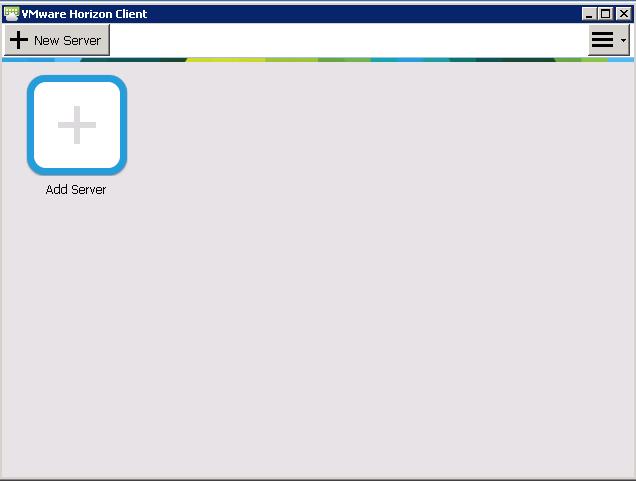 Enter View Connection Server name and click on Connect.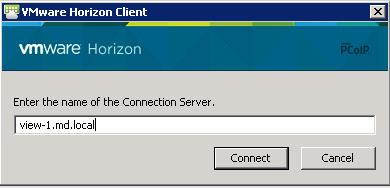 Login with the User credentials. Fin01 is user which is part of group "Finanace_Users" and Click on Ok.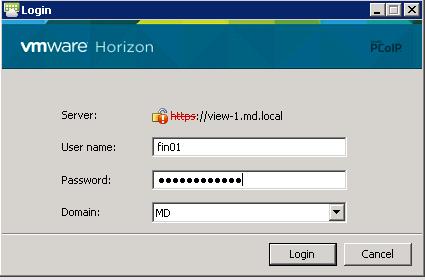 Once logged in, You will be able to see the list of desktop pool or pools which are all entitled  for you. Click on Desktop Pool "Finance"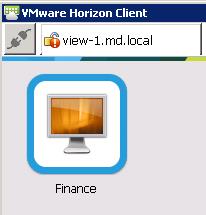 It will be automatically logged in to you the desktop which is part of the desktop pool "Finance".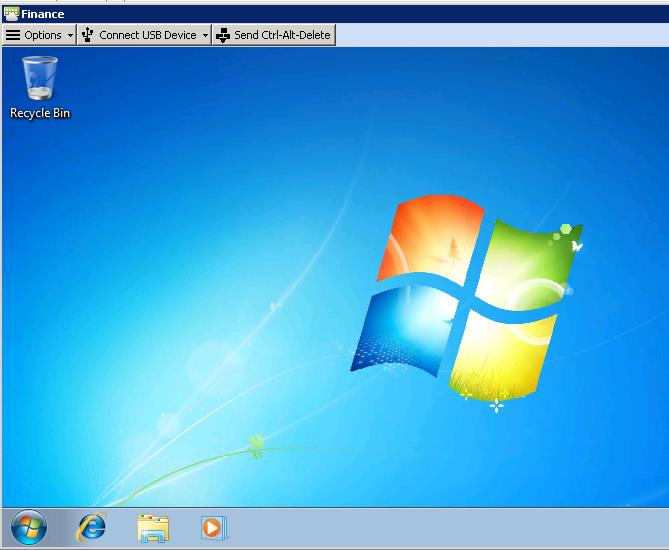 That's it. we are done with creating Horizon View Manual Desktop pool. I hope this is informative for you. Thanks for Reading!!! Be social and share it in social media, if you feel worth sharing it.
Horizon View 6 Related Articles:
VMware VDI – Horizon View Overview & Components
VMware Horizon 6 – Install View Connection Server
VMware Horizon 6.x – View Composer Installation
Create ODBC Connection for VMware Horizon View Composer Installation
Horizon view licensing – Overview and Configuration
Configuring VMware Horizon View Administrartor – Virtual Desktop Infrastructure
Configuring VMware Horizon View Event Database
VMware View Agent Download and Install on Win7 Master Image
Understanding VMware Virtual Desktop Pools – Horizon View 6
Creating Manual Desktop Pool -VMware Horizon View 6.x
Creating Linked Clone Desktop Pools in VMware Horizon View 6.X
Install Remote Desktop Session Host to Setup RDS Host Farm in Horizon View
VMware View Agent Installation on Remote Desktop Session Host
Creating Remote Desktop Session Host Farm in VMware Horizon View
Creating RDS Hosted application pools in VMware Horizon View